Reporting a user on YouTube is a step anyone can take as long as there's some offensive content being posted and shared. YouTube has set aside a detailed description about what actually counts as offensive, and the kind of content that is worth being reported. Once you know how to report a channel on YouTube, you can exercise this authority to do good and prevent wrongful spread of offensive content. Reporting a channel and reporting and/or blocking a user on YouTube are all interchangeable terms. However, all these actions are aimed at making YouTube a prejudice-free, fair community.
How to Report a Channel on YouTube in Easy Steps:
1. Launch the YouTube app or website.
(The method is the same for both.)
2. Locate the video who's channel you wish to report.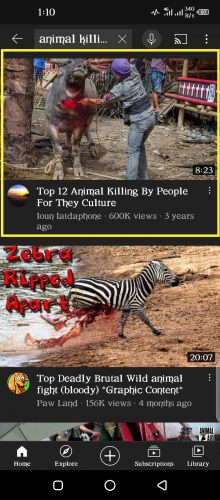 3. Tap on the name of the channel, shown below video.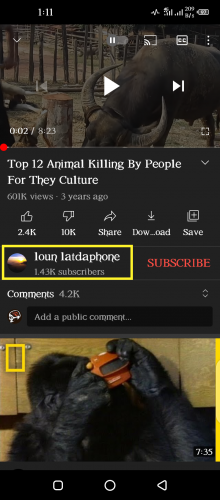 Alternatively, you can also type the name of the channel in the search bar. When you find the channel you wish to report, proceed as shown below:
4. Tap on Settings > Report user.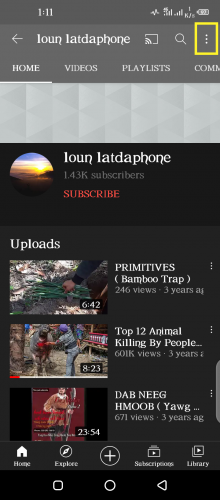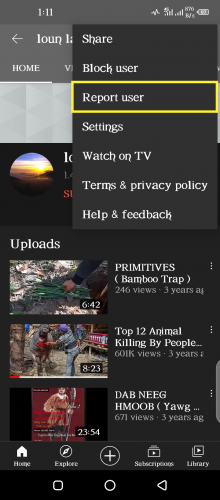 5. Hit highlighted option if none of the given suit you > Next.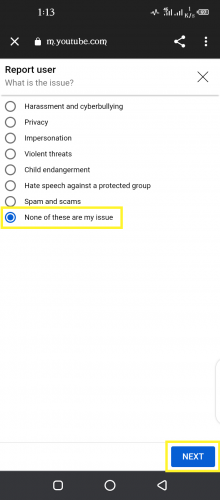 6. You will be redirected to YouTube's Community Guidelines.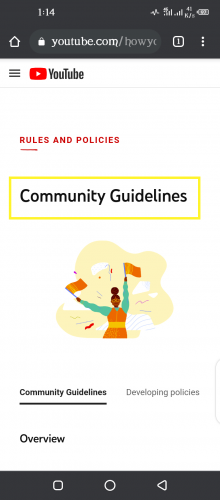 7. Locate the section relevant to your reason for reporting.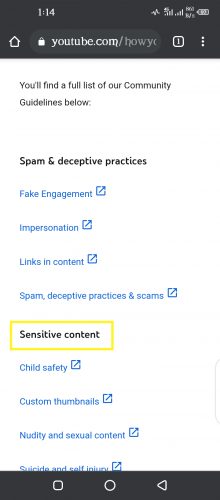 8. Go through it thoroughly.
Once you think you've looked at everything their guidelines have to say, all the whats and whys behind reporting users:
9. Select one of the following options most relevant to you > Next.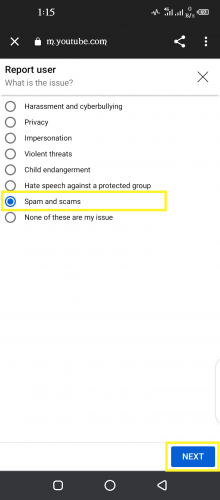 10. Select the channel's video you wish to report.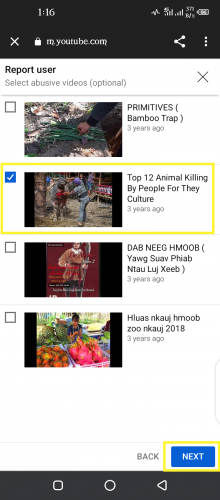 In case you find all videos posted by a certain channel offensive in some way, and wish for all of them to be taken down, skip this step. It's optional after all. Skipping it will let YouTube community know you intend to report the channel as a whole, not just specific content.
11. Give additional reasons for reporting given channel (optional) > Submit.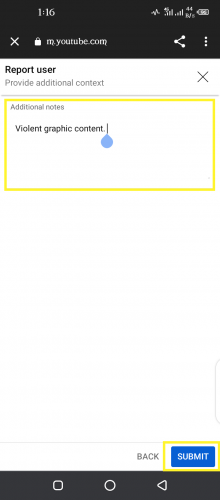 12. Hit OK.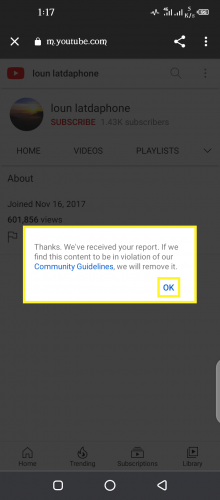 Wait for YouTube to get back to you (via email) regarding the issue. If it turns out your reasons for reporting a user don't fit their criteria for when a user can be blocked, your report will be dismissed. Otherwise, the reported content will be removed.
About YouTube Community Guidelines
Even though it might not seem as such, going through such sections under YouTube's community guidelines is really important. It shows you've read their rules, know the ins and outs of their policies, and can back up your claim to report a certain channel.
The stronger your claim and reasons for reporting a certain video or user on YouTube, the more likely YouTube is to fulfil your wishes.
More on YouTube
How to Add Watermark of Your Brand in a YouTube Video
Change your Profile Picture on Youtube Easily
How to Start a Group on Youtube Just like Whatsapp
Use Youtube Messenger to send and discuss Videos with Friends