When you have many documents in a folder, it is hard to figure out which document is the one you really want. We have all experienced this common problem. By displaying your documents with a thumbnail, documents become easier to identify.
I have folders that are packed full with documents. By using this method, the thumbnail actually becomes a very useful way for identifying what a document is about.
1. Open your word document.
2. Go to File->Save As.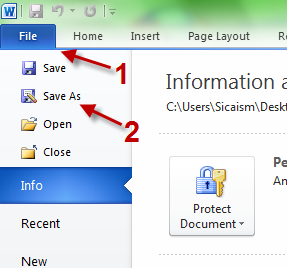 3. In the Save As window, check Save Thumbnail and click on Save. (This will overwrite your previous document)

4. Go to your document folder, right click on any emty space and choose View->(Extra) large icons.
5. Now, your important documents will stand out of default word icon so you can easily spot them.