iTunes 10 has a different user interface. Many people want to know how to change the size of the displayed album artwork. This tutorial shows how to either decrease or increase of size of album art that is displayed within iTunes 10.
I'm still not sure I like the new iTunes interface. It sure is… gray. I'm assuming this is to highlight the album art.
But if you are going to highlight the album art, you probably want to make the size bigger. Here is how to do it.
iTunes 10 defaults to the new album view. This is the old list view except albums from the same album are grouped and shown beside the artwork from that album.
1. Click Album by Artist column header. (This is the column that contains the album art and could be titled different based on your preferences. See picture below for details)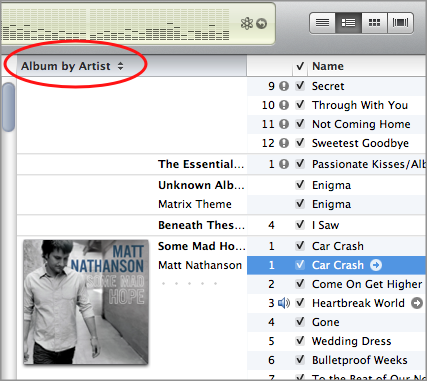 2. Select the size of album art you wish. (I have also highlighted the album hybrid view button in this screenshot.)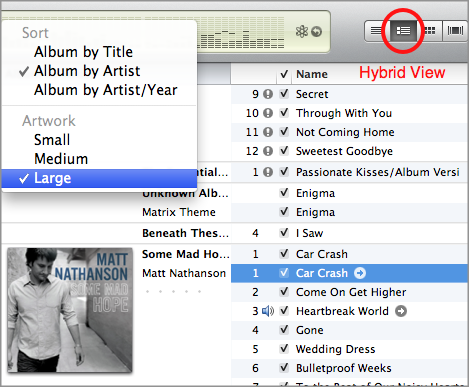 You may want to resize the album art in the Now Playing box as well.
1. Resize this area by dragging the column divider that sits beside the Now Playing box. I've highlighted the action here.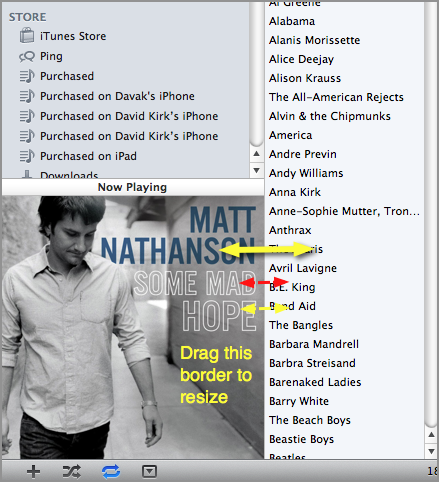 You can also double click on the album art in the Now Playing box to get a new miniplayer that shows the album art is a larger popout box.