Soundcloud is a cloud-based music streaming service. It differs from competitors such as Spotify and Pandora in that it focuses on the social sharing of music and account holders can upload their own audio files to the site. Soundcloud offers a free account, or you can opt to pay $9.99/month for a "Soundcloud Go" account that gives you access to offline listening, more songs, and no ads. This tutorial describes how to create a playlist once you have a Soundcloud account.
You can make your own Soundcloud playlists using the android or iPhone app or using the web player. The steps below will walk you through how to make your first Soundcloud playlist on the web.
1.Log in to your Soundcloud account, and search for a song you want to add to your playlist.

2.Click the Add to playlist button.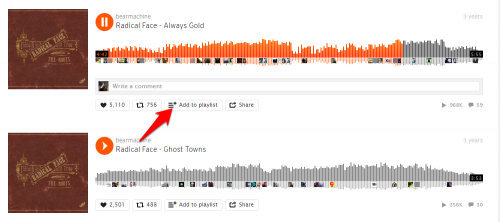 3.If you do not already have playlists created, you will see this screen. Type in a name for your playlist, choose whether you want it to be public or private, and then click Save.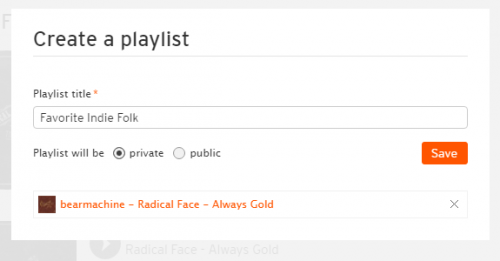 4.Now let's add another song to the playlist. Go to another song, and click the Add to playlist button under that song. You can now choose to add the song to an existing list or create a new playlist. We want to add it to a playlist, so we make sure that it is highlighted at the top. Then click on the Add to playlist button next to the playlist to which we want to add this song.

5.To view your playlists, click Collection at the top of the page, and then click Playlists in the submenu. All of your playlists will be listed here.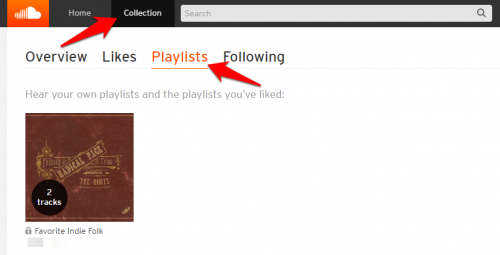 6.You can upload your own image for the playlist. Open up the playlist by clicking on the playlist name under the image in Collections>Playlists, and then click the Update image button on the image in the top right corner. Navigate to an image you have saved on your computer, and enjoy the new image whenever you view your playlist.