In Office 2013 whenever you save a new document using the Ctrl + S shortcut, the program will open the Backstage view and ask if you want to save the file to Skydrive or to the computer hard drive. If you always save your files to the computer, you can configure the applications to skip this step. This reverts to the familiar save mechanism found in prior versions of Office. This works with Word 2013, Excel 2013, and Powerpoint 2013.
Displaying the Backstage view when saving a file is time-consuming if you never use Skydrive. If you enjoyed the way Office saved files in previous versions, you can tweak Office 2013 to behave the same way. Performing this change in one Office application will make the same changes to Word 2013, Excel 2013 and Powerpoint 2013. The setting is universal. When this option is disabled in one application, it will be disabled in all others automatically.
1. Launch Word 2013.
2. Click the File button at the top of the program's interface to open the Backstage view.
3. When the Backstage view appears, choose Options from the left side bar.
4. In the popped-up Word Options window, choose the Save section from the left side. This window interface is similar to the previous Office version so it is very to navigate around.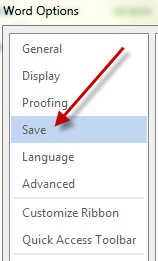 5. Find the Don't show the Backstage when opening or saving files option and put a check on the box at the beginning of the line. This will disable the backstage view when saving files. When you press Ctrl + S on your keyboard to save the document, the Windows Explorer window will pops up just like in the older office versions.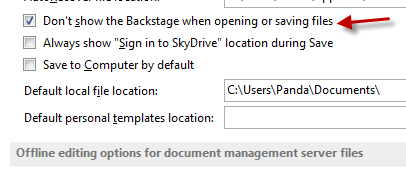 6. Click the OK button at the bottom of the window to save the changes.