Calligraphy is a lost art for those who use computers and the Latin alphabet (e.g., English, French, and Spanish speakers). Nevertheless, creating electronic fonts for computers is still artwork. Here is how to add additional fonts to Microsoft Word so that you can use them with Word.
Back when printing was done with printing presses before computer typesetters, much effort was put into designing handsome fonts and then drawing them by hand onto metal plates so that they could be printed. This world famous New York Times logo is one such example of an elaborate handmade font:
Calligraphy still exists in the Arab world and in China and Japan. These written languages are more elegant than Latin letters.
Here is an example of Arabic writing:
Here is an example Japanese writing:
Here is an example of ancient Chinese writing:
Font Basics
Calligraphy still exists as an art form if you consider designing fonts an artistic endeavor.  Many of these are quite elegant.  Most are given away free on the internet.  Some belong to a particular company such as The New Yorker magazine, which has its own font.
In this example, I show how to install a font called Open Sans.  It not only includes Latin letters, but it also contains Greek and Cyrillic.
There are basically three types of fonts:
typewriter fonts: These take up equal space for each letter (e.g., courier).
serif fonts: These have small lines at the ends of characters (e.g., Times New Roman).
sans serif fonts: These have no small lines at the ends of characters (e.g., Arial).
Install Fonts in Microsoft Windows
You add fonts to Windows, not directly to Microsoft Word.  When you do that, you can use them with Microsoft Word, PowerPoint, or other programs.
1. First, you download a zipped up font file.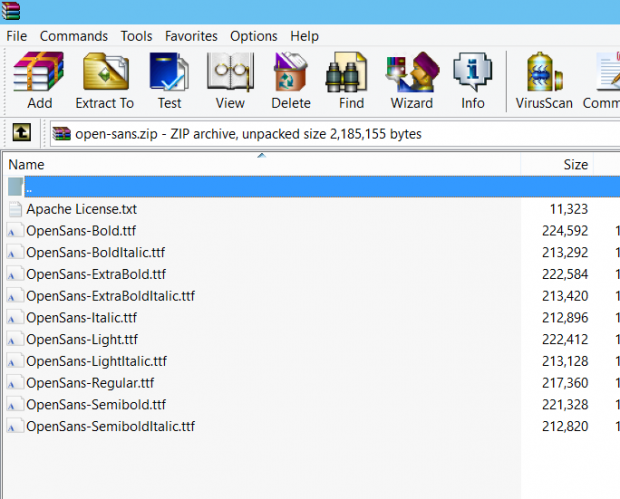 2.Highlight all the font files (.ttf) inside, and click Install.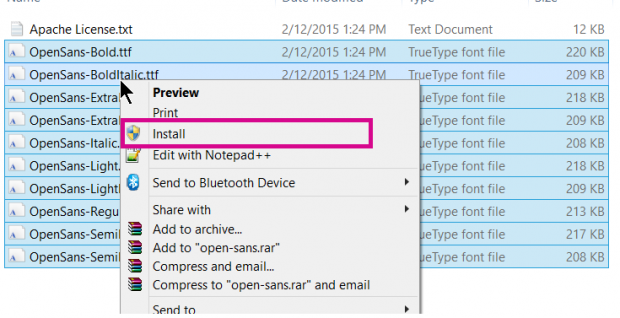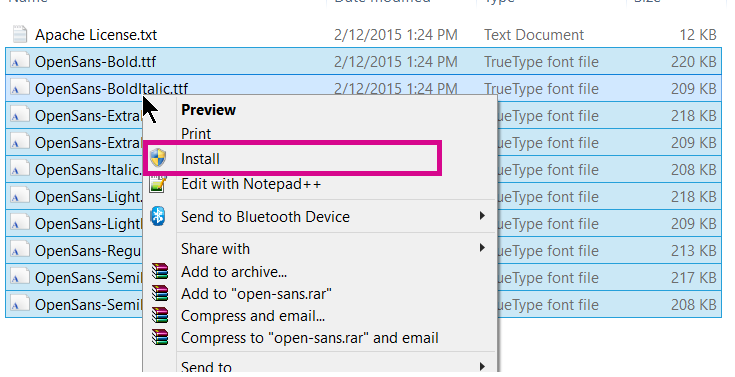 3. I installed the OpenSans fonts. Now, you can see they are available in Microsoft Word.