A simple mouse-hover can be used as an effective way to launch an external application from within a PowerPoint presentation.
If you are a developer, for example, you will first want to introduce your new program in your slide show. Then, after explaining and outlining the way things work, you may want to do a little demonstration. Simply hover over the trigger text, and launch your program without a single click.
The application itself will not be embedded in your presentation. The program will launch externally just as if you had clicked the shortcut.
1.First, we will select our trigger text. Hovering over this text will launch the desired application. With the text selected, click on the Action option under the INSERT tab of the PowerPoint ribbon.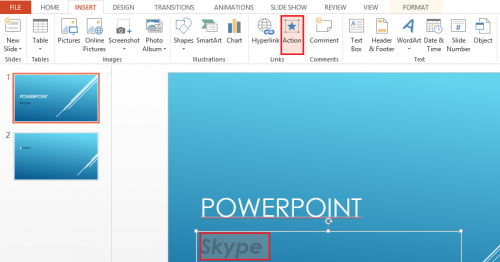 2.From Action Settings, you have two options. You can either Mouse Click or Mouse Over. Each one works exactly the way it sounds. For this tutorial, we will choose Mouse Over. Then, from the Action on mouse over options, select Run program, and then click Browse….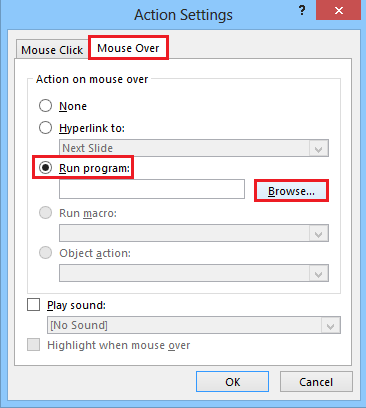 3.A Windows Explorer window will come up. From here, look for the program you want to launch by hovering over. In this case, it is Skype. Once you have located and selected your program, click OK to save it.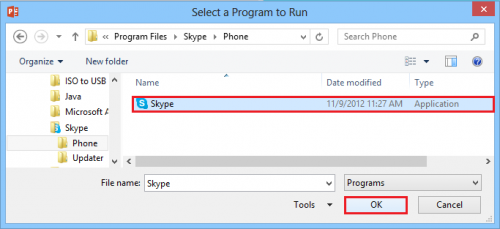 4.Look over your settings, and if you are satisfied with them, click OK to apply them to your slide show.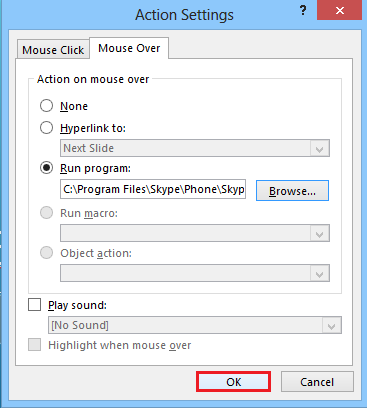 Below is the final example. When you hover your mouse over the trigger text, the desired program will open up from a separate window. Keep in mind that it will not be embedded in your slide show, but it will run externally. If you want to resume your presentation, simply select PowerPoint from the taskbar and continue.