Since it's initial release, computers have come a long way and so have the applications and games that all of us love and use. Even though there are tons of software solutions for almost anything that you might ever need for productivity or fun, there are still some useful apps or games that are not released for the common computer platforms.

This can be a problematic situation in cases where you use the app on your Android phone or tablet and you are not interested in using an alternative on your machine. You want the real deal. Lucky for those that fall in that category, a tech company founded in 2011 in California has the solution. The name of the solution is BlueStacks, same as the company's name. BlueStacks develops cloud-based cross-platform products and the one that they are most "famous" for is the BlueStacks App Player.
What this application does is that is simulates an Android environment for a certain app or game so that you may run it on your computer. There is a reason why this emulator is the most popular one. It provides you with a so called Layercake technology that improves graphic intense applications by using hardware acceleration. The emulator comes with an easy to use graphical user interface and installing it and using it is extremely easy.
1.Navigate to BlueStack's website and download the App Player
2.Once the download is completed open the installation package
3.You can customize the installation by clicking on "Customize Installation". The only customizable option available is the installation directory. This step is optional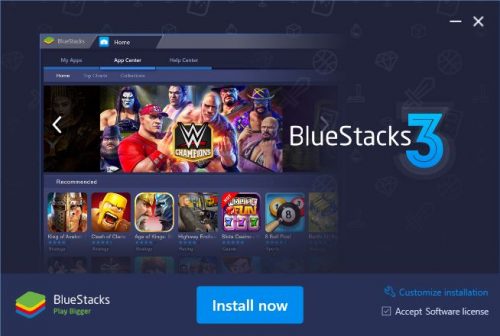 4.Click on "Install"
5.When the installation process is completed you can run BlueStacks. Note: since this is the first time you are running the emulator it might take a few minutes before you can start using it
6.During the first start-up of the application you will see a very familiar screen, the same one that you would have seen if you are setting up an older version of Android on your phone. Select the language and click on the triangle shaped arrow on the right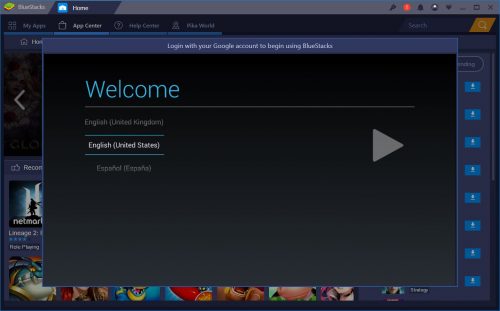 7.Next you will need to log in using your Google credentials. Note: this is another process that might take a minute or two
8.Select the Google services that you wish to continue to use and click on the arrow on the right to continue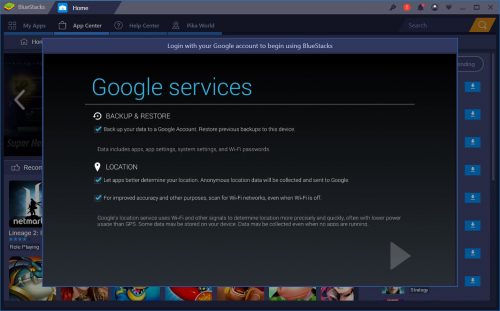 9.You can set up your payment info. Since this part is optional you can skip it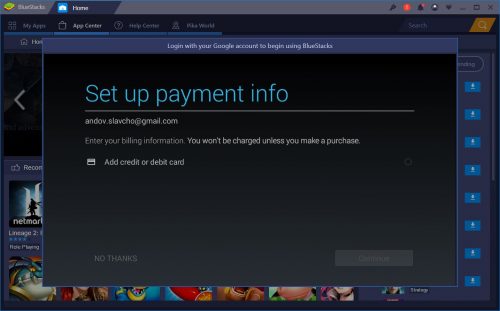 10.The final step in setting up is the personal info. Here you will need to enter your first and last name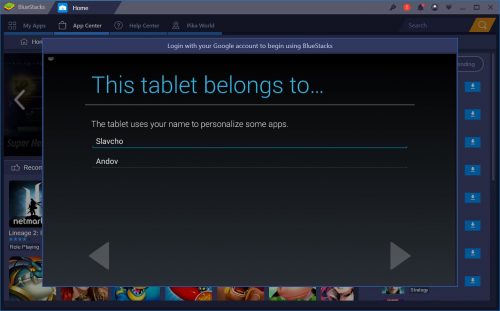 Installing applications or games is same as it is on an Android device. From the top right corner you can search for the desired app and once you find it you will see the same visual interface as you would see when installing an app on your Android device.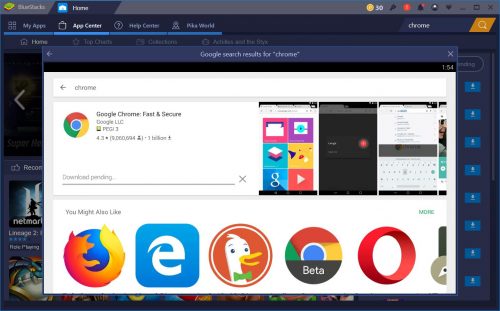 Every time you run an app or game it will be opened in a separate tab on the top, similar to how you open up tabs on your browser. on the bottom you will see a bar that resembles the android bar that you normally see on your phone or tablet. You have the back and home button and on the right side of the bar you have a few controls such as taking a screenshot, controls, full screen toggle, toggle keys size and an option to share the window.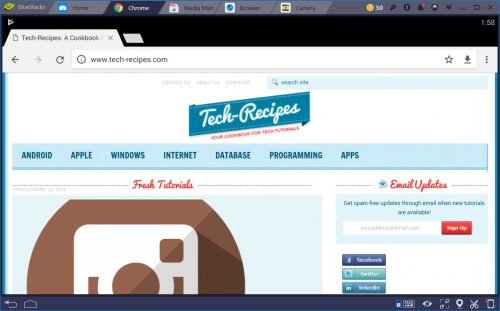 You are now prepared to run your favorite Android app on your computer.
Frequently Asked Questions and Answers
Q: I have a mac, will I be able to use BlueStacks?
A: Yes, the BlueStacks App Player is also available for mac OS.
Q: Is there a homescreen where I can add widgets?
A: No. BlueStacks only simulates the Android environment for the applications so that you can run them on your computer. It does not simulate a full Android experience for you.
Q: What are the system requirements?
A: In order to run BlueStacks you need 4GB ram, 2GB storage and DirectX 9 or newer.
Q: How much storage do I get for installing apps?
A: As much as you have on your hard drive.