Snapchat is a great medium to stay in touch with your friends. You can see what they have been up to by viewing their stories or chatting with them or simply stalking them. You can also interact with them through texts written over pictures or by sharing videos, whatever floats your boat. If you're new to Snapchat and are having trouble contacting your friends, then follow the steps mentioned below to add Snapchat friends:
Method 1: Add Snapchat Friends The Easy Way
1. Open the Snapchat app. Tap on the small Bitmoji icon or Snapchat ghost icon you see on the top left corner of the camera screen.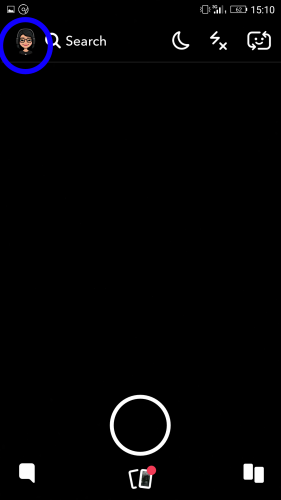 2. Now a screen will appear, showing your display name, username, score and various other options. Among them, you will see an 'Add Friends' option. Tap on it.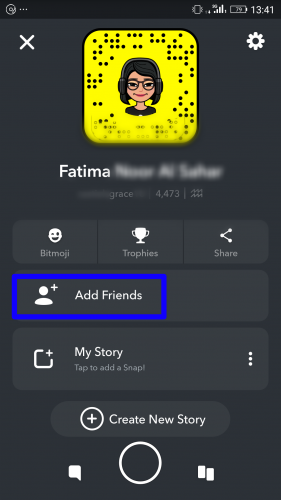 3. Another screen will appear from where you will be able to add your friends through various options. You can choose whichever suits you the best. These methods are listed below:
Method 2: Add Snapchat Friends by Username:
1.You can add your friends by tapping on the bar at the top of the screen and typing your friend's username there. You will have to know the complete username of your friend. You will not be able to search for your friend with only half a username because Snapchat does not offer to complete the username for you. You cannot add your friends by entering their name, phone number or email address either. Knowing the exact username of your friend is necessary for this method.

2. After entering the username, you will see your friend's profile listed below and a '+ Add' option in front of it. Tap that '+ Add' option to add your friend.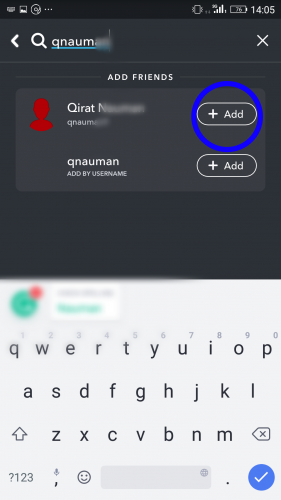 Method 3: Add Snapchat Friends Through Contacts
1.'Contacts' is mentioned beside 'Add Friends'. By swiping left on the screen you can get to 'Contacts'.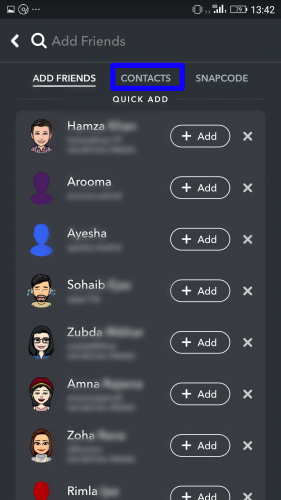 2. Snapchat will ask you if you want to link your contacts to your Snapchat account. Tap 'Continue'.

3. Your phone will ask you if you want to allow Snapchat access to your contacts. Tap 'allow'.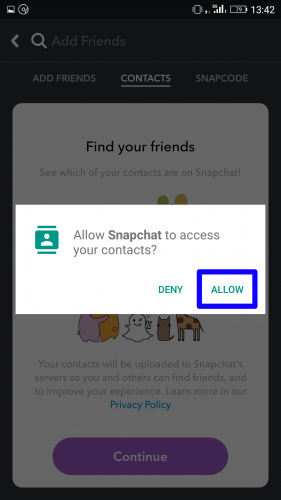 4. Now you'll see a list of people appear below 'contacts'. These are the people in your phone's contact list that have linked their Snapchat accounts with their phone number. If your friend has done that too, then you'll see them listed down. Search through the list to find them and then tap the '+Add' option next to their name.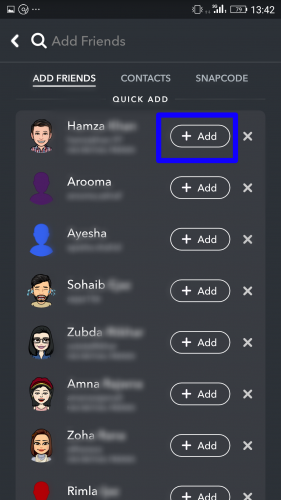 Method 4: Add Snapchat Friends by Their Snapcodes:
1. 'Snapcode' is mentioned next to the 'contacts'. If you're on the 'Add Friends' screen then swipe left twice to get to 'Snapcode'. Or swipe left once if you're on the 'contacts' screen.
2. Now you will see your phone gallery displayed in front of you. Select the image of the Snapcode of your friend. Snapcode is the array of black dots around your Bitmoji or Snapchat ghost icon in a yellow box. You'll have to take the picture of your friend's Snapcode before using this method to add them. Or you could simply ask them to send you a screenshot of their Snapcode through WhatsApp or Messenger, or whichever medium they find easy.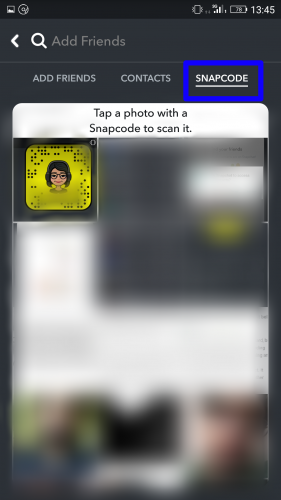 3. Snapchat will scan the snapcode and give you the 'Add friend' option. Tap on it to add your friend.
4. You can also use your own Snapchat camera to add your friend by using their Snapcode. Ask them to show you their Snapcode, then scan it by using your Snapchat camera while tapping and holding on the screen. Snapchat will scan the code and display the 'Add Friend' option. Select it to add your friend.
Frequently Asked Questions:
Q: Will other people get notified when I add them?
A: Yes, other people will get a notification when you add them.
Q: If I link my contact with my Snapchat account will other users get access to my phone number?
A: No, Snapchat does not show your phone number to anyone else.
Q: If I remove someone from the friend list will they be notified?
A: No, Snapchat does not notify users when somebody removes them from their friend list.
Q: Is there a way to know if someone has removed you from their friend list?
A: Yes, you can tell if someone has removed you from their friend list by checking whether you can see their Snapchat score or not.
An established copywriter, with a longstanding experience in a vast array of industries, including but not limited to spirituality, technology, cannabis and travel.