Do you find some notifications offensive on Twitter? or do you want to see some specific notifications on twitter? Well, I presume you didn't know that there is an amazing feature that enables you to mute notification on Twitter. Nevertheless, this article is basically centered on teaching you How to Mute Notification on Twitter which is going to help many individuals who have been experiencing challenges on how to finally resolve this issue.
Trust me today's guide is going to demonstrate to you a well-ordered way to mute notification on Twitter because Twitter enables its clients to mute notification they would prefer not to see. Twitter has introduced new advanced filters so you can get rid of notifications on accounts that are not following you and the new update also give you the privilege to mute account that has a default photo, without a phone number, a confirmation email and the account you don't follow.
Sometimes those endless alerts from a DM can be very distracting when you are working. But the good news is if you don't want those alerts to keep boring your life any longer, read on and get the steps on  How to Mute Notification on Twitter.
Note: Twitter gives you the ability to disable notification for 1 hour, 8hours, I week, or Forever. And even if you turn off Direct Message conversation, you will continue to get new messages.
Alright, after all, said and done, I will not want to bore you with long talk but move on with the steps on How to Mute Notification on Twitter. Like I said earlier, the steps are going to be very short and understandable if carefully followed.
Here goes:
How to Mute Notification on Twitter
1. Log into your Twitter account
2. Tap on messages at the bottom right corner.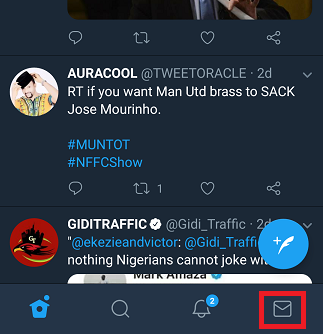 3. Tap and long press on the contact you want to mute.
4. And then tap on Mute notifications.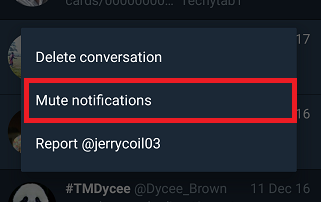 If that is done you will see options to mute for 1 hour, 8 hours, 1 week and Forever. Choose one of your choices to mute notifications.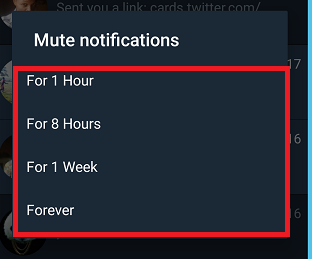 And there you have it. That's How to Mute Notification on Twitter. I hope this article has helped you. Don't forget to use the share buttons to spread the word and also feel free to use the comment section to get to us if you encounter any issues pertaining to muting notification on Twitter.
Thank you for sticking around to the end of this post, I hope you enjoyed reading this article as I enjoy writing for you.
Frequently Asked Question And Answers
Q: If I successful mute notification on Twitter, can I unmute it later and how can I do that?
A: Yes you can unmute notification at any time by following the same steps and unmuting it.
Q: Will my followers know that I have Muted notification on Twitter?
A: The answer is No! they can't.
Q: Is there a specific time that I can mute notification on Twitter?
A: There is no specific time, you can do that at any time of your choice and even until the end of time (Forever).