It is affirmative that Facebook is a social media that has gone viral with approximately 2.13 billion active monthly users, every user on Facebook carry out different personal activities on daily basis and Facebook has provided useful and amazing features that keep you going. This has prompted me to talk on One of Facebook's amazing feature, which is the camera effect. I am going to show you how to use Facebook camera effects.
How does Facebook camera effect work?
First off, in my own words, I would say Facebook camera effect is a really cool feature for exploration because it displays some crazy unimaginable effects that can wow you. This effects can be applied to photos or while on video calls.
Facebook has experimentally embedded loads of filters, frames and effects to its Camera, making it look somewhat like snapchat and even more, virtual effects appear on the Facebook camera, Facebook regards this as "reactive effects" because it is motion sensitive, it can detect movement and touch gestures. Facebook camera effects also helps you design custom frames that overlay your Facebook stories and you can share with friends/fans. You can basically apply Facebook location and events frames to your page photos.
These days, images speak louder than words, instead of adding your location and telling everyone what you are doing and where you are, a simple image with a frame effect or an expressive emoji effect tells the whole story.
I am sure you now have a better knowledge of what Facebook camera effect is and what it offers, without further ado lets proceed to the steps on how to use Facebook camera effects.
How to use Facebook camera effects
1. Login Facebook app.
2. Tap on the camera located at the top left of your screen.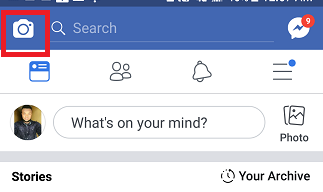 3. Tap "Enable access". (If prompted)
4. Tap on the magic wand.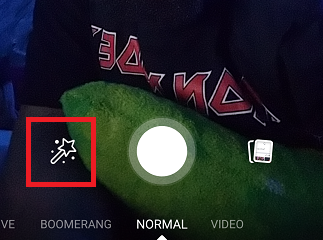 5. Scroll sideways and tap on any effect you want to explore.
Another easy way of accessing your Facebook Camera is by swiping right from your Facebook Newsfeed.
You can also take pictures normally or make videos before adding effects on them. You can create videos just the same way you do on snapchat by holding down the capture button for as long as it can record clip. You can also add effects when doing a live recording. This feature is very useful and interesting too.
Facebook effects are created only by the community but like I said earlier, you to create custom frames and effects in frame studio. The tool will guide you through the submission process. After creation, it can be added to Facebook's camera effect database as long as it follows the Facebook community standards, Their best practices, and the Camera Effects Platform Policies.  You would receive a notification from Facebook when your effect has been approved or rejected.
Frequently Asked Questions and Answers
Q: Do images taken through the Facebook in-app Camera save to my device gallery?
A: After the image is captured; you have an option to save or next
Q: Can I upload images directly to my story on Facebook?
A: Yes, the option is provided just below the image you have captured.
Here are some links you may find useful;
How To Stop All Friend Requests On Facebook
How to Disable Automatic Facebook Updates on Android
How to Hide Active Status on Facebook Messenger
How To Report A Problem on Facebook