Reminiscent of Facebook's privacy issues, LinkedIn by default will use your personal information for advertising unless you request otherwise. These directions will walk you through protecting your name and photo from being used by LinkedIn.
Without notification LinkedIn has decided to automatically include its members in their new social advertising campaign. So if you like a company and that company is running ads on LinkedIn, your name and photo will appear as a commercial to your LinkedIn friends. Do you really want your name and face showing up in ads for all the brands you follow?
If you are logged into LinkedIn, you can directly change these settings by altering your Manage Social Advertising settings. Just uncheck the box and save.
If you want to find this again in the future, here are the manual steps to find these settings:
1. Log into LinkedIn.
2. Click your name and then select Settings from the upper right hand corner.

3. Select Account button.
4. Then click Manage Social Advertising. A dialog box will appear.
5. Uncheck the LinkedIn may use my name, photo in social advertising box. (By the way, for LinkedIn to be a professional site, that is awful grammar.)
6. Click the Save button.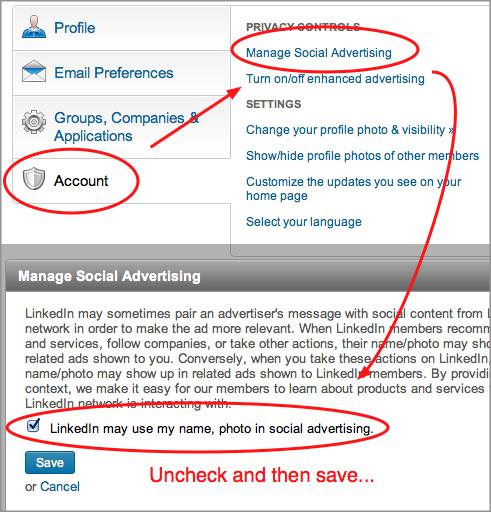 If you really want to make friends and influence people on LinkedIn, share this link. I am sure all your LinkedIn friends will appreciate it.