LinkedIn offers lots of interesting features to hunt for jobs and contact potential clients. But did you know you can browse for those jobs and clients privately too if you wanted? LinkedIn's private mode feature enables you to view any profile and search for any LinkedIn user…and they won't even be notified you're stalking them! And it's super easy to go private mode. So, keep reading to find out how you can turn on the private mode on LinkedIn. You will learn how to set this feature up from both the LinkedIn desktop version and the Android app. But both are pretty much the same and easy.
Turning on Private Mode in LinkedIn (Desktop version):
1. Sign in to your LinkedIn account through desktop.
2. Select the Me icon.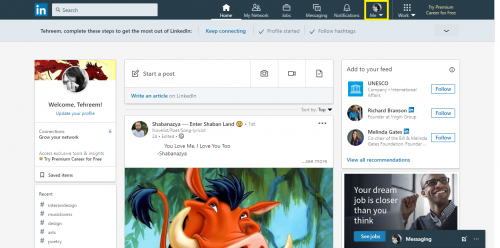 3. Go to Settings & Privacy.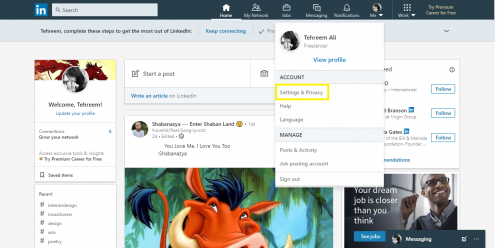 4. You will be redirected to the Privacy settings page.
5. Scroll down to How others see your LinkedIn activity.
6. Click on Change next to Profile viewing options.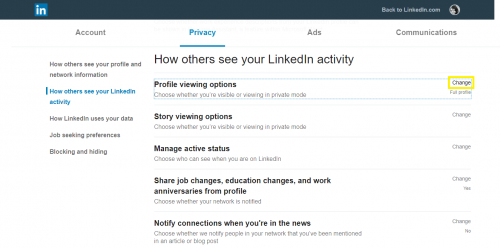 7. Turn on toggle for Anonymous LinkedIn Member under Private mode.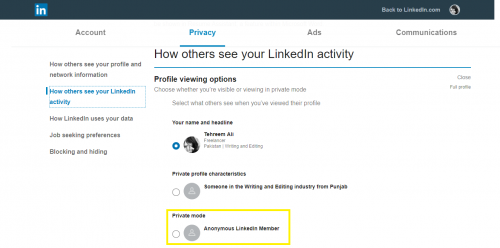 8. Your updated setting is now saved.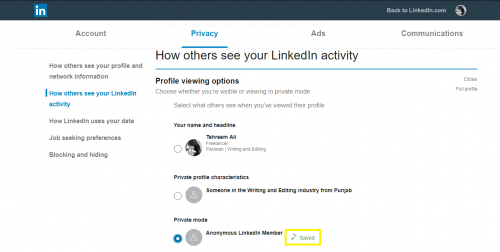 9. Hit Close.
Turning on Private Mode in LinkedIn (Android app):
1. Sign in to your LinkedIn via your Android device app.
2. Tap on your profile image.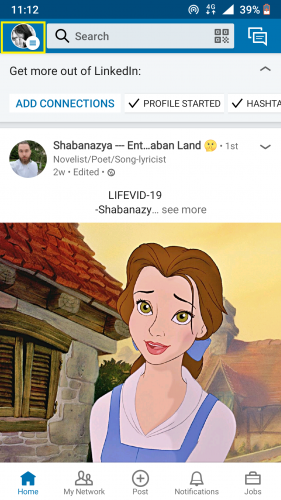 3. Select Settings. OR Go to View Profile > Settings from top right corner.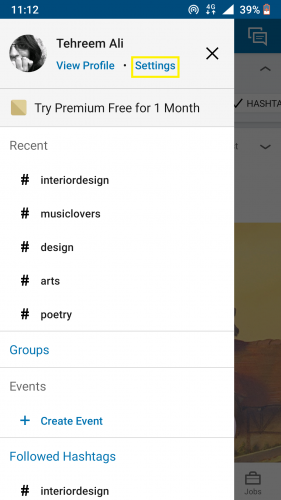 4. Tap on PRIVACY.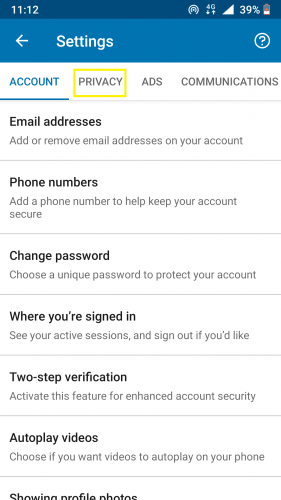 5. Scroll down and tap on Profile viewing options.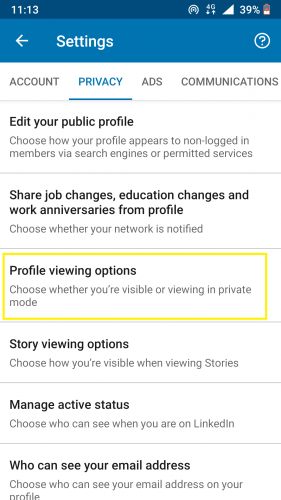 6. Then tap on Private mode.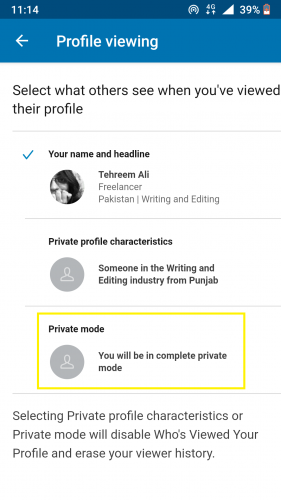 7. Your setting has been updated automatically.
Things to Know before Activating Private Mode
As useful as this feature might seem, there are a few downsides to it. Firstly, you cannot see who has viewed your profile once you turn on private mode. It goes both ways; others won't be able to see when you view their profile and vice versa.
Secondly, if your profile appears in searches, you will not be able to see who has searched for you. All you will see is the profession of the user(s) who has/have searched for you.
Thirdly, the only way you can view who visited your profile and/or searched for it is if you go Premium. LinkedIn premium allows you to browse privately yet at the same time letting you see who is viewing your profile.
You WILL be notified via email/LinkedIn notifications that your profile appeared in, lets say, 4 searches in the past week; or that someone viewed your profile. However, you will not be able to see who it is.
Also, other LinkedIn members will not be able to see when you are active on the site/app. Even if they are your followers or connections.
So, all in all, the private mode on LinkedIn is a great feature especially when it comes to stalking, truth be told. But it does come with some strings attached.
Other Useful Topics
Check out the following topics that might come in handy as far as online privacy is concerned: