More than anything, LinkedIn is the primary job platform today. Every professional (and even amateur) has a LinkedIn set up. Whether you're a high school student seeking a part-time job or a huge conglomerate offering one, LinkedIn saves the day for everyone. As such, it has made operational such settings that make it smooth to apply and/or post jobs. Some of those setting are repetitive, in that they pop up in the job application/posting process more than once. LinkedIn goes beyond the run-of-the-mill share, like and comment features. So, keep on reading to find out what those multiple features are and how they benefit you while applying to jobs through LinkedIn.
Applying to Jobs through LinkedIn
Some job-related features can be accessed in two ways, as you will see below. The following actions appear pretty much the same in the LinkedIn Android app plus desktop version.
To search for jobs,
1. Open homepage > search.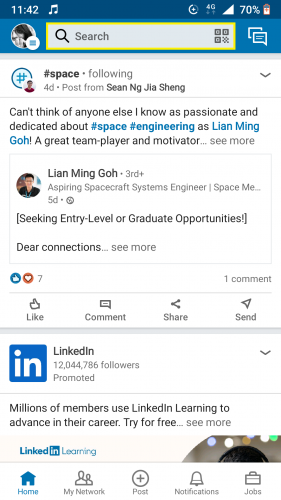 2. Type in desired job title > view in Jobs.
3. Use filters on top to narrow search.
4. Turn toggle below on to receive similar job alerts.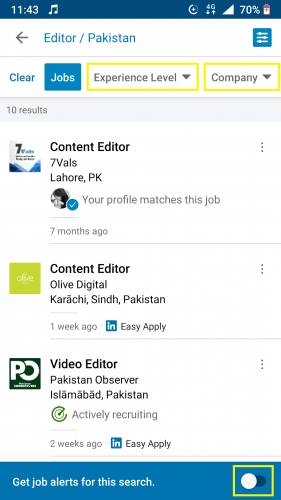 Searched Jobs and Related Settings
To apply to a job later, you can save it from job search list. To do that,
5. Tap on More > Save.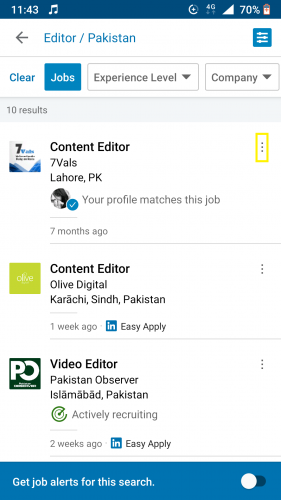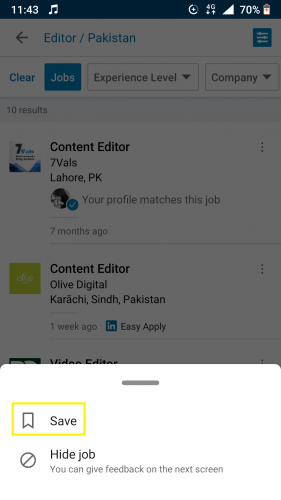 You can ignore a job showing up in your search list. In order to do that,
6. Hit More > Hide job.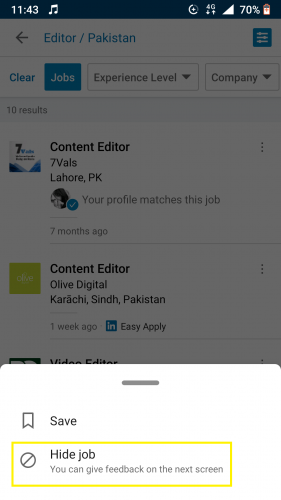 7. Select reason.
8. OR Undo, if needed.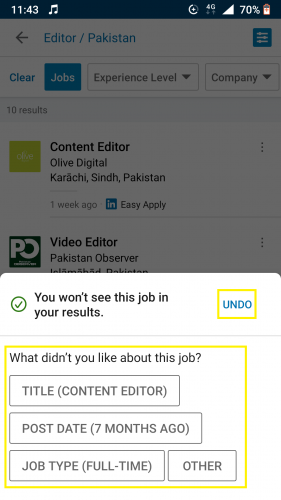 9. Follow prompt.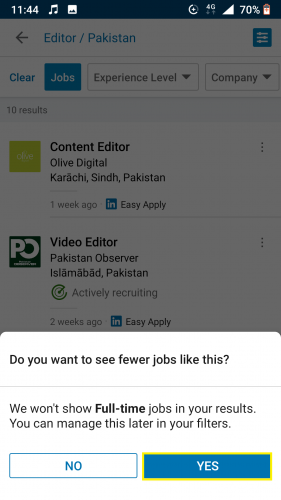 Applying to Jobs
10.To apply, tap on a job.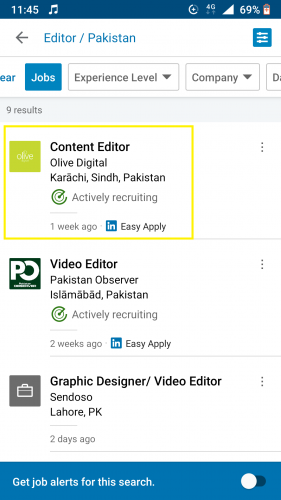 11. OR you can also save it from here.
12. To apply instantly, select EASY APPLY.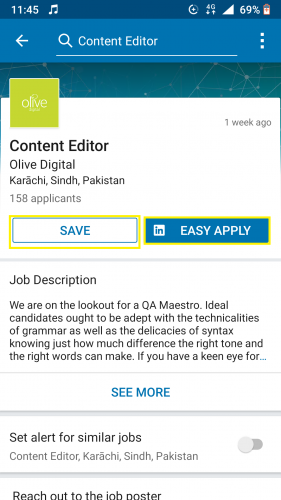 Easy apply feature is applying for a job within LinkedIn. However, some jobs will have Apply instead of easy apply button. They'll redirect you to the job's main page/website.
13. Fill in required fields > SUBMIT APPLICATION.
Sharing and/or Reporting Jobs
To do this, go to the job's main page and from there:
14. Hit More.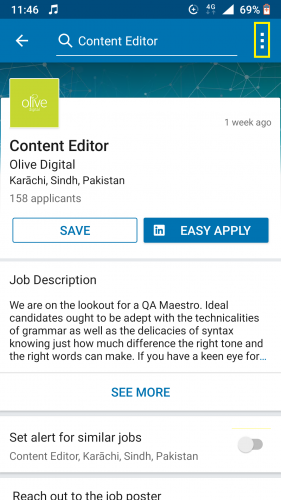 15. Select desired option from drop-down menu.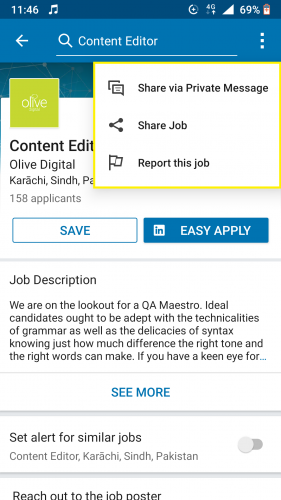 You can also turn on job alert from a job's main page. To do that,
16. Turn toggle on, as shown below.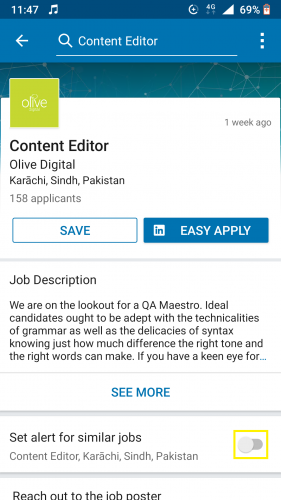 17. Wait for setting to be saved.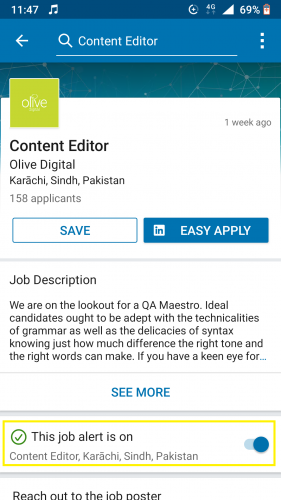 Job Suggestions and Related Settings
Based on jobs you search for, LinkedIn suggests more. To view those suggestions, go to:
18. Homepage > Jobs.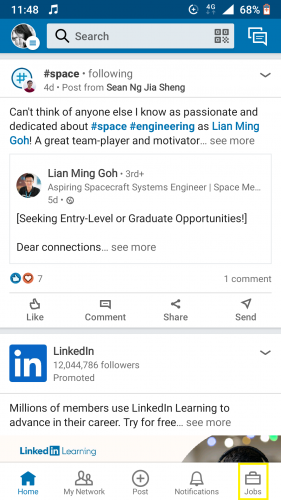 19. To save a suggested job, hit More > Save.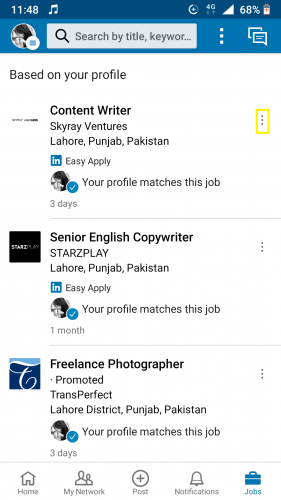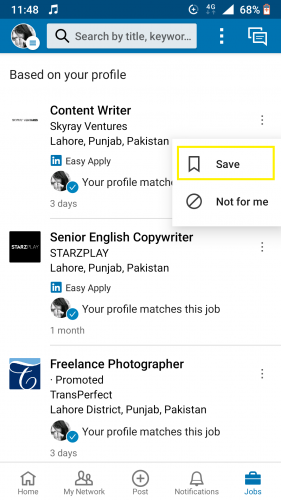 20. Wait for job to be saved.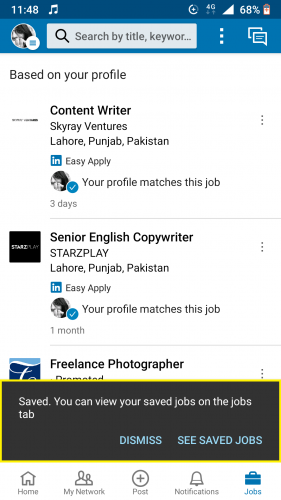 21. Also access saved jobs by tapping SEE SAVED JOBS from here.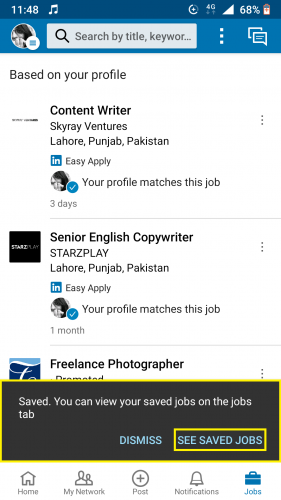 22. To unsave suggested job, tap More > Saved.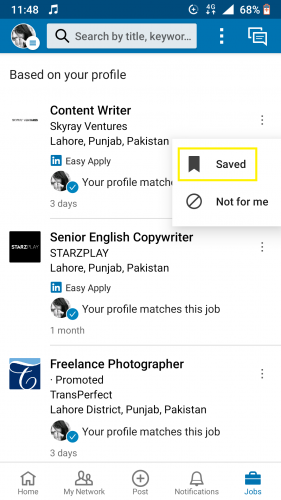 23. Wait for setting to be saved.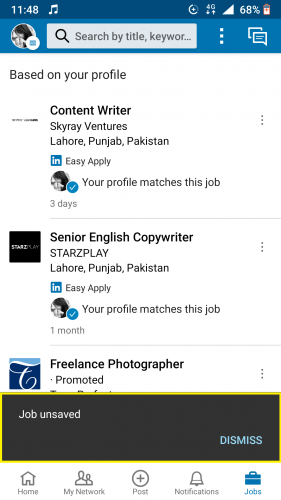 You can also hide suggested jobs.
24. Go to More > Not for me.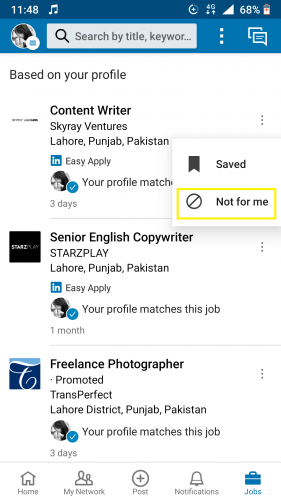 25. Follow prompt, as required.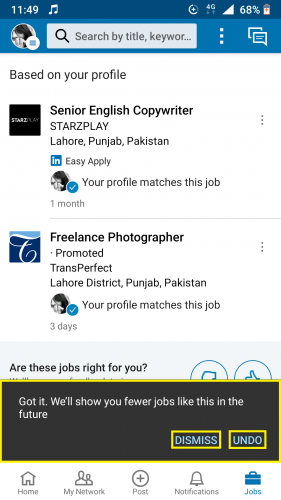 26. To view saved jobs, open Jobs > More > Saved jobs.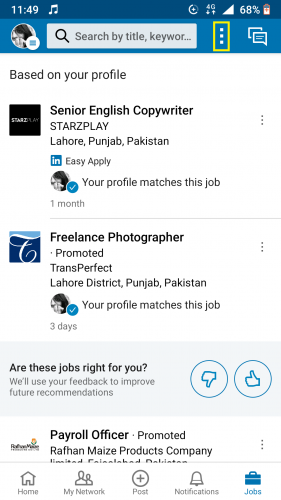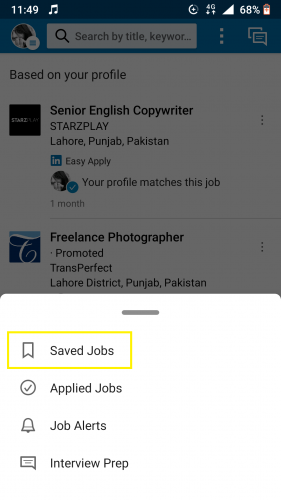 27. Open Jobs under Saved items.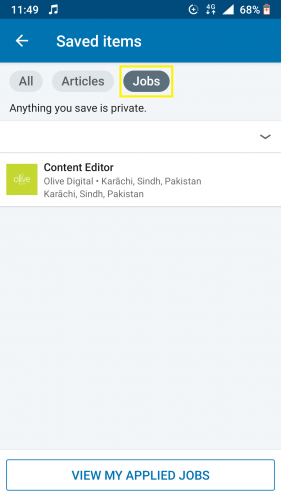 Accessing Applied Jobs
28. Open homepage > Jobs > More > Applied Jobs.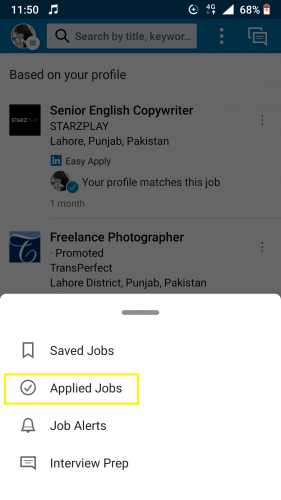 29. OR you can also view applied jobs from saved items.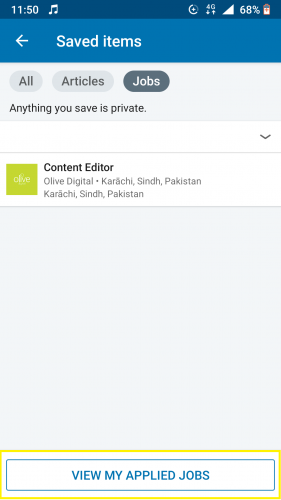 You can view date of application, as shown below.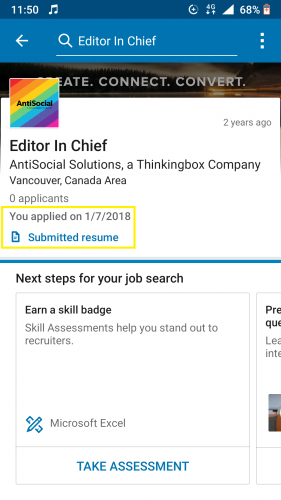 Removing Saved Jobs
30. Go to Jobs > Saved items > All.
31. Tap downward arrow in front of saved job.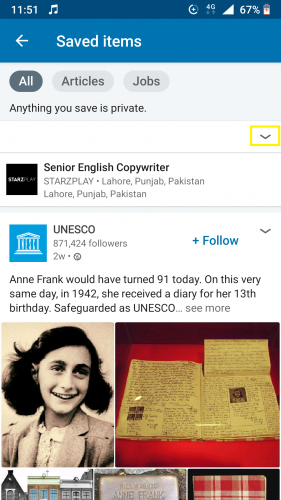 32. Hit Unsave.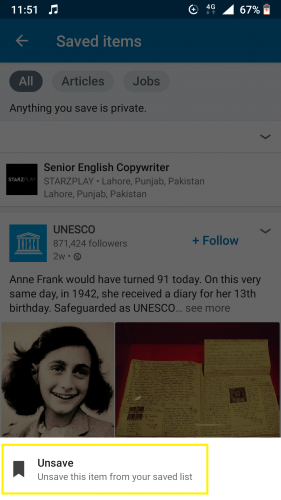 33. Wait for job to be removed.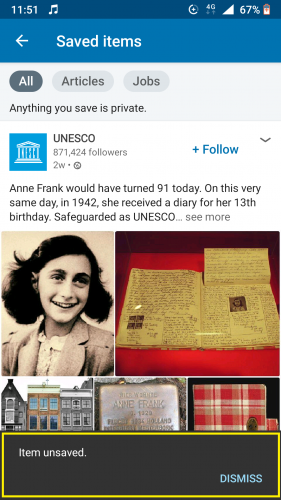 And there you have it! The complete A-Z guide about applying to jobs through LinkedIn.
An established copywriter, with a longstanding experience in a vast array of industries, including but not limited to spirituality, technology, cannabis and travel.