By default, Internet Explorer will keep a list pages that you visited in the History for twenty days. However, if you want to clean the history more frequently or if you want to keep the history longer, these directions will show you how to change it. This works for IE 9 and the upcoming release of IE 10.
A browser's history is a listing of websites that have been visited over the specified number of days. The larger the history, the easier it is to find previously visited sites. The privacy paranoid may want the history set to only a very few days.
1. Launch Internet Explorer.
2. Click on the small gear icon at the top right -> Internet Options.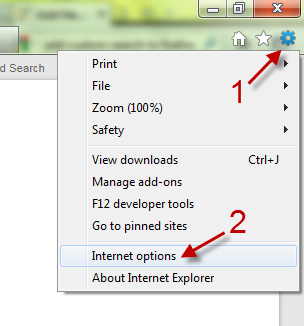 3. In the Internet Options window, go to the General tab.

4. In the General tab, go to the Browsing history section and click on the Settings button.

5. The History section at the bottom of the Settings window will let you change the number of day to keep pages in history. The default value is 20. You can manually type in the number or use the arrows to increase or decrease it.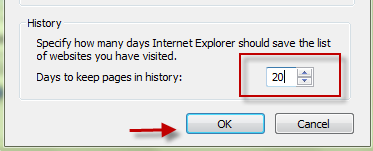 6. Hit OK to save the setting.