You already add all your new pictures to Google Photos as you take them. (Click here if you still need to set this up.) What about all the old photos still sitting on your hard drive? Storing them on the cloud makes sure that they will not be lost if something happens to your computer. Uploading them to Google Photos is easy.
1. Go to photos.google.com.
2. You have two options for uploading photos from your computer. You can click on the upload to cloud icon to the right of the search bar on the top of the screen and then navigate to the files you want, or you can find them first and drag and drop them from your file explorer to anywhere on the page. You can upload multiple files or folders at a time, and you do not have to wait for them to upload before adding more to the queue.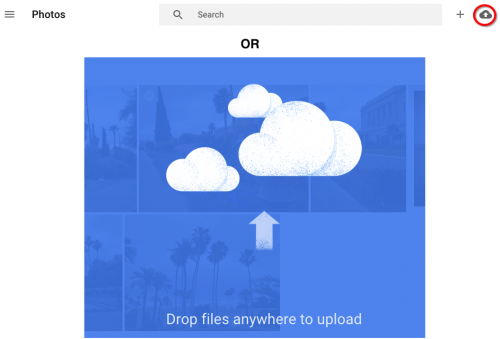 3. You will be asked what size you want your images to be. High quality is the default setting and is recommended for the average user. High quality images are up to 16 MP for pictures and 1080p for videos, and there is no limit on how many images of this size you can store. If you have a DSLR camera or have images of higher quality than this, you can choose to keep them at their original size, but it will eat into your 15 GB quota that is shared by Gmail and Google Docs.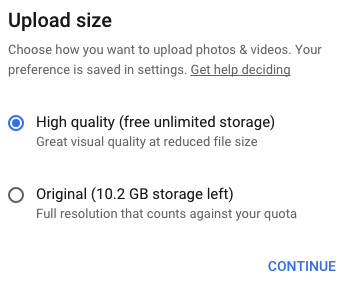 4. A progress box will appear in the lower-left corner of your screen. If you want to stop the upload for any reason, you can do so here. If you have a large library, uploading all your images can take quite some time.