Whenever you open a link from your Facebook app, the app will try to load the webpage using its built-in browser, not the one that you set as the default on your phone (e.g., Chrome). This behavior could cause a lot of frustration because the Facebook app's built-in browser lacks a lot of important features. For instance, it sometimes fails to load the webpage or renders the page incorrectly. Luckily, there is a way to force the Facebook app to forward the link to your favorite browser so that you can view the webpage without any problems.
The picture below shows the basic interface of the browser included in the Facebook app. While a simple interface is welcome, the browser lacks too many features. As you can see from the context menu, there are only a few options available: Share in New Post, Send in Messenger, Copy Link, Open in Chrome, and Save Link. To make the matter worse, it fails to load many webpages at first try; I have to manually refresh the browser to see the pages. Overall, the built-in browser does not provide a positive user experience. If you already have your favorite web browser, it is recommended that you use it to view it to surf the web instead of the Facebook browser.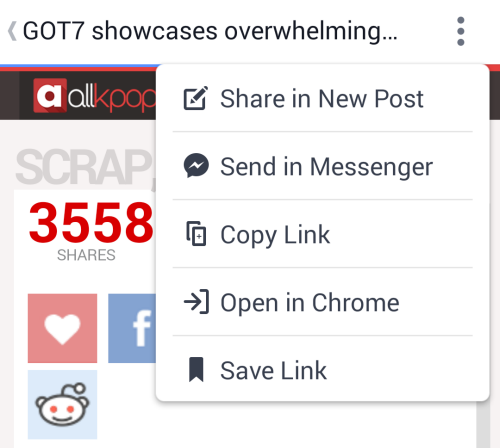 Please note that the tutorial is written for Android phones only.
1. Open the Facebook app on your phone.
2. Once the app is loaded, tap the overflow menu icon.
3. Scroll down to the bottom of the screen, and choose App Settings.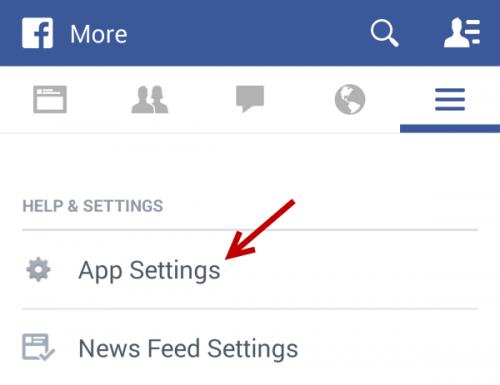 4. In the Settings screen, activate the Always open links with external browser option.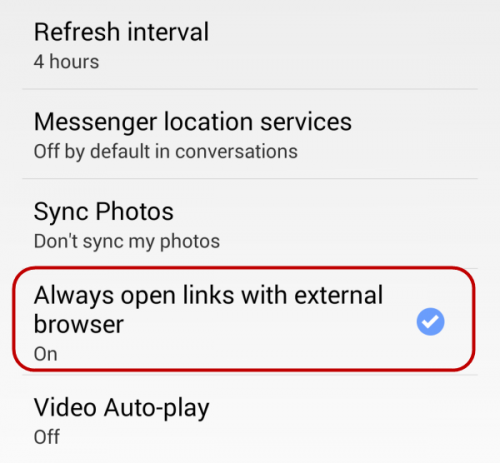 5. Exit the Settings screen, and then open a link posted on Facebook to see if it is opened in an external browser (e.g., Chrome). If it does not work, double-check that the external browser option is turned on, then restart the app.