In addition to the Unfollow feature, which lets users stop receiving their friends' updates without unfriending them, Facebook offers another feature to reduce the number of updates posted by a particular user on your news feed. This option can be very useful if some of your friends post too many updates on Facebook. You may still want to see them, but you do not want your feed filled with their posts. Continue reading to find out how to use this feature.
In addition to the See Fewer Posts feature, this tutorial also shows you how to unfollow users in bulk using Facebook's built-in tool.
As of this writing, the mobile version of Facebook does not have these features yet. However, the team is working hard to bring it to mobile users as soon as possible. Make sure that you are using the latest app version before you follow the tutorial.
1. Log in to your Facebook  account, and then find the user from whom you want to see fewer updates on your news feed.
2. Next, click the arrow button to open the context menu for the update. In the menu, select I don't want to see this.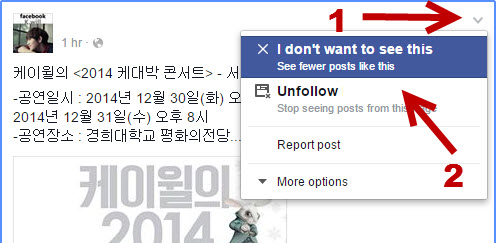 3. After the update is hidden, you can tell Facebook that you want to see less updates from that particular user by clicking on See less from X.

4. In addition to the feature mentioned above, Facebook provides a way to identify the users whose posts you often see most on your feed and to unfollow them if you want. To access this feature, click the small arrow at the top right of the screen, and then choose News Feed Settings.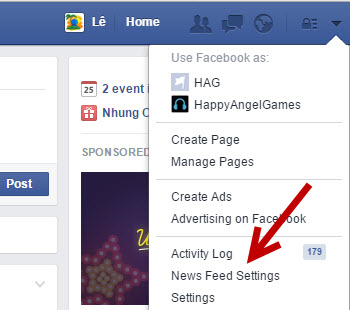 5. In the News Feed Settings window, you will see a list of the most active users or pages on your feed in descending order. To unfollow any of the listed users, simply click the Following button. If the button turns from Following to Follow, you have successfully unfollowed that user. You can take advantage of the News Feed Settings to unfollow users in bulk if you want.