Hey there, It's your favorite tech guy here again with an amazing tech-recipe that you are sure to love. Today's recipe will be about Google's platform "GMAIL", after this article you will have learned how to mark all emails as read on Gmail. So, are you ready for this sweet and epic ride? Okay, let's begin.
As you should already know, Gmail is a cool platform from Google, we can't doubt that. In fact, Gmail could literally be described as one of the best electronic messaging platforms in our world today. Permit me to go way back. Back in the day, platforms such as Yahoo mail and some other platforms where the talk of the day. 90% of my friends didn't know about Gmail, not until later when Gmail became amazingly popular and mostly used.
Let's go back to the post of today. If you are like me, who receives tons of Emails via Gmail then this is really for you. Most times we subscribe to newsletters and a bunch of other stuff that ends up flooding our Gmail inbox with so many messages. When you have too many unread messages on your Gmail account, it becomes difficult to know when you have received a new Email. If you are a constant user of Gmail, then you'd agree with me on this.
When your Gmail Inbox is full you might use two options. You might decide to open all the received emails one after the other or probably mark most of the emails and delete them. But you really don't have to open all received emails or delete them when you could simple Mark all emails as read on Gmail. You might lose vital information if you delete unread emails.
Okay, without further ado, I'll cut to the fun part where I give you short and simple steps on how to mark all emails as read on Gmail.
How To Mark All Emails As Read On Gmail
1. Open Gmail.
2. Log in to your Gmail account.
3. Make sure you are in the inbox pane.
4. Click on more just right above the primary tab.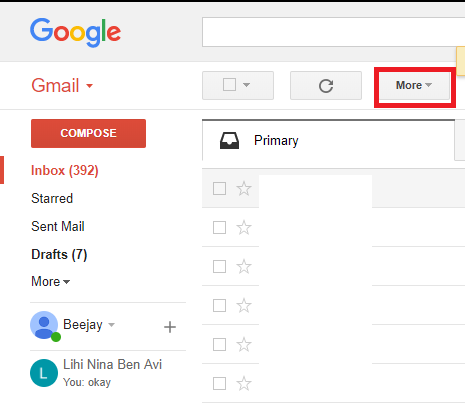 5. Click on Mark all as read.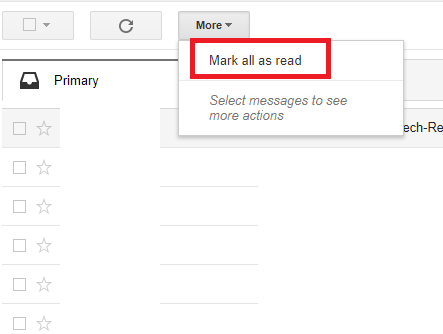 You should receive a notification once done.
Okay, let me hear you say it!. I know this was so easy to achieve right? Yeah, I thought so too when I first tried it. Trying out all the steps listed will enable you to mark all emails as read on Gmail. There's also another method of achieving this just in case you find the ab0ve step too easy.
Click on the select button, It is the first button above the primary tab.
Click on the drop-down and select unread.
Now, click on more above the promotions tab.
Click on mark as read.
And that's a wrap. Em, if you have been reading my articles for a while, you'd notice that I also use "And that's a wrap" at the end of my articles. Well, I know you might think of it as a cliche, but I love it so much and will stick it until I can figure out a better way to end articles.
Thanks for reading. Don't forget to inform us if you encounter any issues while trying to mark all emails as read on Gmail
Here are some related links.
How to Sync Gmail contacts to Smartphone within few clicks
How To Add Social Media Icons To Gmail Signature
How to setup Gmail with Aliases
How to Use Gmail as a To-Do List Manager Using Google Tasks
How To Delete Gmail Account Permanently | Easy Method