Setting a professional Email address with Gmail is a great way to attract customers. No matter what others say, these small things are critical in achieving success in this age of competitive corporacy. A Gmail account with your company domain name can come in handy in a variety of ways.
The Impacting effects of a Professional Email Address
Research has shown that the first time you get in touch with potential customers via company email address instantly impresses them. It shows that you conduct your business in a professional manner. Moreover, it has also been proven through some studies that such address are a great way to bolster consumer trust. How? Consumers can use your company domain name to validate its authenticity and reputation by doing a simple Google search. Once they know that you're on the map, and have a fully operational website or a Wikipedia page or even a slight mention on the Internet, they will be inclined to put their trust in you.
And I mean come on, despite the obvious benefits of a Professional Email Address, you definitely don't want to send an email with a bland address. Think of linking your company domain name to your Gmail account as putting on a well-knitted Italian suit. It makes you presentable, people think you're a hot shot, they respect you and actually listen to what you have to offer.
My business has profited a lot from this simple practice. It's not like setting up a professional business address is an arduous ordeal. It takes just a few minutes and gives you numerous boons.
How to Setup a Professional Email Address with Gmail : Step-by-Step Walk-through 
I have devised this guide to help anyone who is interested in doing Email Marketing the right way. In a few simple steps you'll have your own Professional Email Address linked to Google services. All you have to do is follow this simple guide.
Before we start the steps to achieve this, let's make sure you have the basics – a domain under your or your company name. As we said your domain name will probably be searched for on the web so you should make sure your business card, that will be translated to search results on your company name and domain, will lead to what you want it to be, and what is a better way than having your own site with the info you want added to it. I'd advise you to take some time and build your website – this is where your potential customers will learn about you and your company – don't take it lightly! It starts with the smallest thing like finding a good domain hosting service that qualifies to your needs, deciding what kind of site you want and providing the content and info you'd like your potential customers to find when searching your name.
Pleased with your "business card" search results? Let's get back to the steps to let those email recipients know who you are with your new email address:
1.Go to Google.com and Click the Sign-in button on the top right corner of your screen. Make sure you are logged out of Gmail. If you're not please Sign out first.
2.In the Sign in with your Google Account Window, Click Create Account.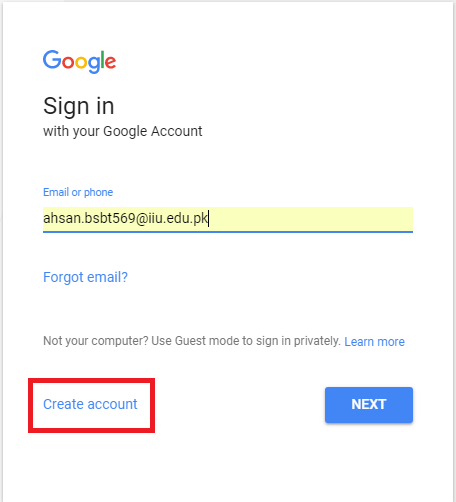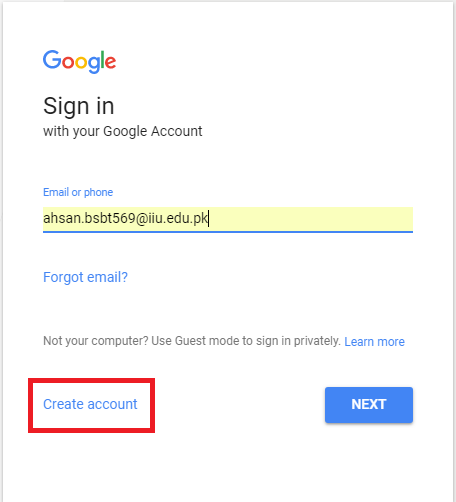 3.Fill the Google form according to your preferences. Write your first name and Last name. Beneath the Choose your username field, there will be a "Use my current email Address instead" option.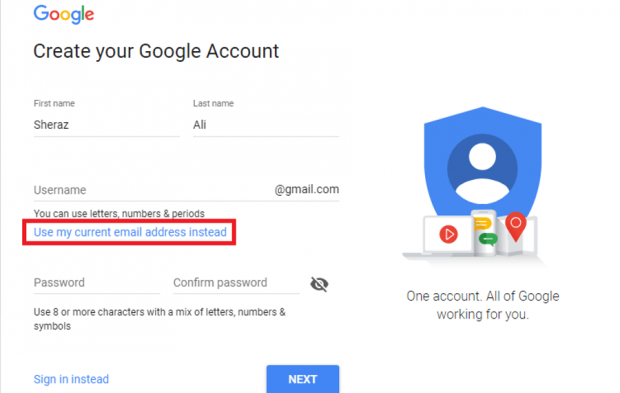 4.Then, you will have the liberty to type your current non Gmail-address like Sherazali@Tech-recipes.com. The rest of the steps are pretty self-explanatory. Choose and verify your password. Once you've done all that, click Next.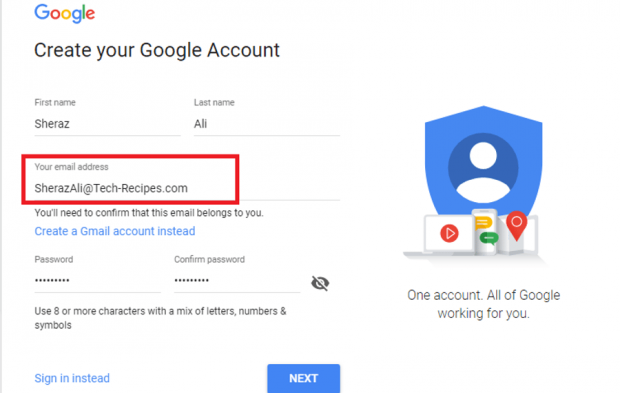 5.Finally, verify your account by going to your Email Address that you mentioned and finding the verification code or link and typing it here.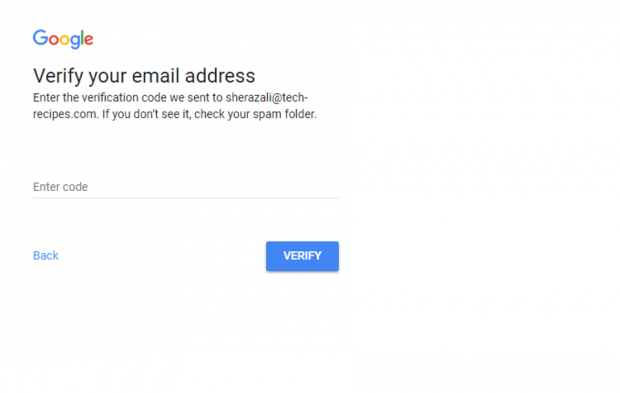 Click Agree when the Google's terms and conditions appear in front of you.
That's how simple it is to setup your Professional Gmail Address. You don't even have to break a sweat.
Need additional assistance or have some queries and questions for us? leave them in the comments section below. Our tech-savvy team will honor all your demands at the earliest. You can also check out FAQ to clear out any confusions.
Frequently Asked Questions
Do I have to always sue my own domain while creating a professional email address?
Yes, we would strongly suggest you to always your company name as your domain during this process. Choosing anything else would just be an utter waste. It would just destroy the purpose of a professional email address.
Would I be able to login to multiple accounts simultaneously with a professional Email Address?
Yes, certainly! With a simple gmail account, you'll be able to login to just one email account but with a Business Email Address, you'll have the option to sign in to multiple accounts simultaneously. This saves you the hassle of switching between different Gmail accounts.
Do I need a domain prior to setting up a business email address?
Yes, without it, you can't link your Company domain mail with Gmail.
I've tried out many Email service providers, but in my opinion, Gmail is kind of awesome. That's why it's pervasively popular. The benefits that it provides for entrepreneurs and business owners are just amazing. So, that's why I chose it over other Email providers like Hotmail and Yahoo.
Still having problems with setting up a professional Email Address with Gmail? Don't fret! Just reach out to us and we'll help you every step of the way. That's what we're here for.