Booking cheap flights to your favorite destinations used to be an uphill task. You had to go through the tedious hassle of finding individual flights and comparing rates.
Enter Google flights and its glorious overhaul of 2018, which introduced a host of new features and made itself a juggernaut of the airline booking industry in the process. Courtesy of this new and much improved Google fights, booking the cheapest seats on the most coveted of airlines has become as easy as ABC.
In this tutorial, we are going to teach you everything there is to know about Google flights, from the basics of booking flights to finding the best possible rates for your next trip. After we're done, you're never going to use Kayak or Expedia or any other booking service.
Why Google Flights should be Your First Choice
Google flights should be your go-to booking service for a variety of reasons, but mainly due to the following.
The Google flights service is akin to its enormously popular search engine: Google. It shows years of fares in a matter of seconds, with lightning-fast accuracy and preciseness.
Finding cheap flights with Google flights is a piece of cake. Its calendar view displays the cheapest fares over a span of 12 months.
The multiple airport search feature allows users to find the cheapest price in 7 destination and airports.
How to Calibrate Google Flights to Book the Cheapest Fares
Before understanding how to calibrate the Google Flights search engine to find the cheapest flights, here are some things to know beforehand.
Dates set-in-stone are going to decrease your chances of findings cheaper rates. Flexible travel times and dates, on the other hand, are going to give you more options and better chances of finding cheaper flights.
The incognito mode of your browser is also going to come in handy. Accumulated cookies may result in increased flight prices, whereas a clean search may not.
Credit card with travel reward points will help you avail considerable discounts. I personally use the Platinum card from American express and it has helped me reduce the cost of some flights by a staggering $3k.
How to Find Cheap Flights with Google Flights: Step-By-Step Guide
How to set Departure and Arrival Destinations
1. Go to Google Flights.
2. On the homepage, select your current and desired destination and your preferred dates of travel
For example, let's say that I want to fly from Islamabad to Chicago on the following dates. Here's how I'll set this up on Google flights.
How to select the Cheapest dates on Google Flights
To select the cheapest dates, head over to the dates box and tap it. It will display the cheapest dates highlighted in green, as follows.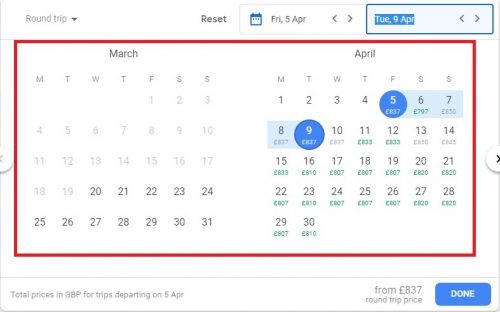 Keep in mind that the dates box will only show you the cheapest dates in the months you've told it to. There might be even cheaper seats available in the coming months. To search in those months, tap the right arrow to scroll to future months.
Once you're thoroughly studied the calendar for the best possible fares, select your date of departure and return.
How to Book Flights With Google Flights
1. After selecting where your departure and arrival locations and preferred dates, a list of available flights will show up on your screen.
2. Google Flights will list flights most suitable for departure, according to price and routing, from top to bottom. However, I would still advise you to look further down and see if some other flight best suits your needs.

All displayed times are in local time. A +1 written beside an arrival time means that the flight will reach its destination the next day.
3. After carefully choosing the departure flight, you'll have to select a return flight, in the situation that you're going for a round-trip, which is what we're going for in this case. The return flights will also be ordered, with the best possible flights with the cheapest fares appearing at the very top.

Note:  The Google flight price is inclusive of taxes. Keep in mind that Google flights service isn't an online travel agency; it's merely an airline booking search engine. Google flights won't sell you the plane ticket itself; it will redirect you to the airline's website, where you will have the option to book directly.
After you've chosen your return flights, you'll be asked to confirm the booking options.
‍In this case, I chose to book with Etihad after which I was taken to their website where I was asked to input my payment and other billing information.

How to View a Map to Find Cheap flights on Google Flights
The google maps feature lets you get an eye bird's view of the cheapest fares available across an entire country or region. But this feature is only accessible through desktop, not your smartphone.
To open Google Maps view feature.
Tap the three horizontal lines in the upper-left-corner.
Choose Explore Map.
Google flights will now switch to map view and you can close in on any place within the map to check more fares.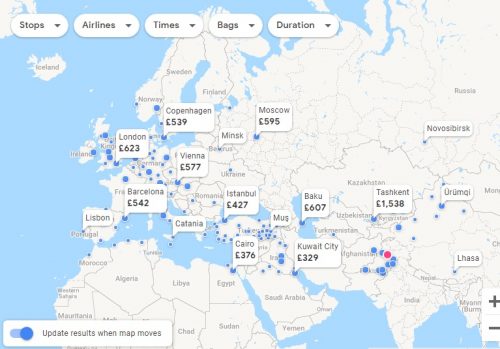 You can even use the explore map feature to search entire continents instead of cities or countries. You can also switch to flexible dates if you have some leeway in terms of your dates and find the cheapest fares available over an extended period.
The Mysterious Case of Ghosting While Booking Cheap Flights With Google Flights
Unfortunately, sometimes when you book a cheap seat through Google flights, it abruptly disappears or hikes in price. This phenomenon is referred to as ghosting and can cause problems.
In this situation, don't bother calling the airline because this ghosting only happens when the seat is either unavailable or isn't available at the listed price.
How to filter results in Google Flights
What makes Google flights an elite airline booking service is its customizable filters. This ensures that your search results are highly targeted.
These filters include:
Price ceiling
Layover duration
Number of stops
Flight times
Length of flight
Number of stops
Connecting airports and their names
Flight times
Total length of flight
These filters are accessible just below the dates.
How to find basic economy fares on Google Flights
Once you're done with the booking process, a page will pop up displaying the final price and links to book your seat with your preferred airlines. Just above that, and below the destination and departure cities, you will have the option to switch between your classes: basic economy or economy.
Tap the suitcase button and choose your preferred class of travel.
How to activate price alerts on Google Flights
After setting your dates and destination and departure cities, look for the track prices button on the results page. Sign in to Google if a message compels you to do so and toggle on that button.
After toggling on the track prices button, a view all button at the bottom of the page will appear. Click it to check all the flights you're tracking.
Google will alert you when the prices of these flights fluctuate.
However, keep in that if you're someone who doesn't like the idea of notifications swarming your inbox like a thousand buzzing bees, you might want to refrain from enabling this option.
The Demerits of Choosing Google Flights
Keeping all the good that Google flights service has to offer in mind, here are certain limitations I've observed in an otherwise flawless service.
The Google flights service only has a rapport with top online travel agencies. It's quite possible that the cheapest fares may be available at a subpar southwest airline, which unfortunately may not be listed in Google flights. You will have to do your own research in this case. There's no other way around it.
This service also doesn't pinpoint mistake fates and they are only visible of less popular travel agency websites.