If you are looking for a way you can customize Google Chrome background to any image of your choice, it's very possible. Customizing your Google Chrome background is very cool, it adds beauty and a bit of yourself into your Google Chrome background and makes it come alive. You can customize Google Chrome background to make it look like whatever you want it to look like.
Just tush up your Google Chrome background with different images from your PC and upload to set as new Chrome background. You can download the image you wish to set as the Chrome background from any source you wish and set it as your Chrome background, with just one idea in mind, adding beauty and style to your Google Chrome background.
Now, if you do not like or prefer the image on your PC theme to be used as a background image. then there is nothing to fear. Google Chrome has its own featured images and wallpaper background, some already saved with the PC, while some can be downloaded from Chrome's Apps store, where not only Apps can be gotten, but images and wallpapers can also be downloaded, just for Google Chrome use only. If eventually, you get tired of the images that you will be using, you can easily change the image, through the same process you used to set the image in the first place and return or revert all the new set images to the default plain white in color. Here we go.
---
How To Customize Google Chrome Background
1.   Open the Google Chrome web browser installed on your Pc.
2.   Click on the settings icon, located at the bottom right corner of the screen.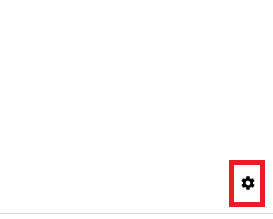 3.   A dialog box will pop up, when this happens, click on either 'Chrome backgrounds' or you can click on 'upload an image' and either use the Google Chrome backgrounds or you can just simply upload an image from your photo file on your Pc.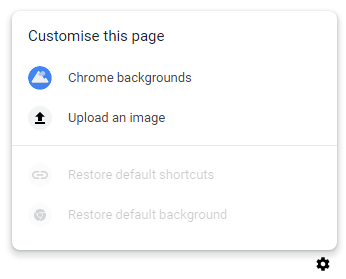 4.   When you click on 'Chrome backgrounds' it will take you to a new dialog box, choose a category and then select an image, and then click on 'Done' to complete the process of setting a Google Chrome background with the in-built Chrome backgrounds.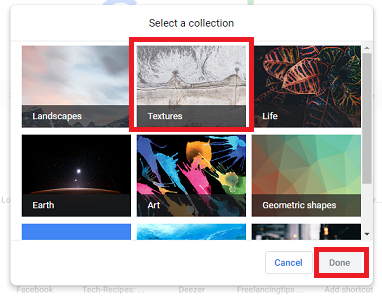 Additionally, you can Tap on 'Restore Default background'. (Do this if you want to restore Google chrome's background to its original.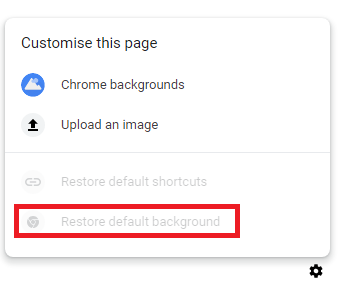 ---
When you click on the 'upload image' your Pc's windows explorer will open your recent activities on the explorer. there you can search and look for all the images that are pretty nice to be added to your Google Chrome background, or you can select any image or wallpaper from 'Chrome background' and set it as the new latest Google Chrome background image. From time to time, you can be changing your Google Chrome background images as frequent as you like, but mind you, the Chrome background image will not change your Chrome tabs and all.
Summary
Customize Google Chrome background as much as you want, lovers of wallpapers can easily download a wallpaper and then upload that same wallpaper as your new Google Chrome background. I prefer using my own downloaded image, access the settings icon below and set the images as an inspiration, while working or switching between tabs.
It is really an amazing feeling, knowing that you can change your Google Chrome background anytime, anywhere. Google Chrome has different categories of images, you can download numerous images and set as Chrome background.
Thank you so much for your time, till next time.