A whopping one billion use Google Chrome as their default web browser. It has its own web store. One can install amazing themes and accessibility extensions from the Webstore. This Tech-Recipe is a review and a how-to tutorial on Three amazing Accessibility extensions.
Google Chrome is the web browser of choice of a billion people. Why? Simple. It's because of Chrome's simplicity and speed. Chrome has the best UI and GUI. Better yet, it's owned by Google and runs many integrations through Google's services. In comparison to other websites, Chrome loads website far more quickly and efficiently. The greatest advantage is it being a Google product. Integration through Google services and accessibility extensions provide great convenience.
What are Accessibility Extensions?
Accessibility extensions improve the browsing experience. The use of Accessibility extensions broadens a wide variety of advancements across the web. These include services such as converting a presentation to pdf or grammar correction in real-time.
Let's review each Accessibility Extension one by one.
1. High Contrast
This little extension eases reading from websites. You can easily install it. During browsing, the extension automatically changes the background and text color. Reading gets very easy and eyes get really comfortable.
Here's how you can use it
1. Visit the link High Contrast.
2. Click on "Add to Chrome"

3. Select the color scheme.

4. You can even customize settings for any website. This is how an inverted color setting appears.

2. Private Internet Access
With this extension, you can defeat censorship. You can unblock any website. This extension protects your privacy with Private Internet Access. PIA enables users to encrypt their network traffic and stay protected when online. This Adds privacy and security to unprotected networks. List of VPN features that they provide.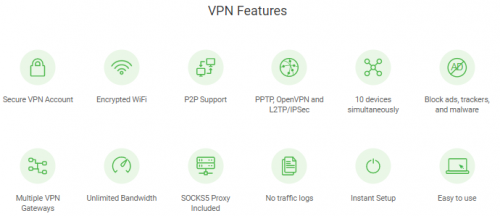 Here's how you can use it
1. Visit the link PIA
2. Click on "Add to Chrome".

3. Enter your registered account and other credentials.

NOTE:
I don't own an account, so you're going to have to discover further on your own.
3.Google Similar Pages
Now you can quickly preview and explore other pages that are similar to the one you are browsing on the fly.
When you click the Similar Pages button, your browser will send a search query to Google to see if there are any similar pages for the page you are viewing. With a single click, you can see other pages with similar content.
Here's how you can use this extension.
1. Visit the link Google Similar Pages
2. Click on "Add to Chrome"

3. Click the icon while you are on a web page

Have a great Browsing Experience Y'all!!
Before you leave take a look at our other tech-recipes
How to Avoid Typos and Grammatical Mistakes Using Chrome Extension
How to Stop Procrastinating on the Internet Using Chrome Extensions