Want to import your schedule from Outlook into Google calendar? Importing from any CSV or iCAL file is very easy.
Users frequently need to get schedules exported from Outlook and imported into Google Calendar. These directions have been updated for the latest changes in Google Calendar.
Export from Outlook
1. Open Outlook
2. Click File menu
3. Click Import and Export
4. Click Export to a file
5. Click Comma Separated Values (DOS)
6. You may be required to install the possible translator here. Just follow the directions on the screen.
7. Select folder to export from: Calendar
8. Browse, name, and save the file some place easy to find it. (Desktop)
9. Click Next
10. On the follow actions will be performed screen click the Finish button.
11. Allow the export to perform
Import into Google Calendar
1. Open Google Calendar
2. Click the small arrow in the upper right corner of the "Other calendars" box that is on the left side of your calendar page.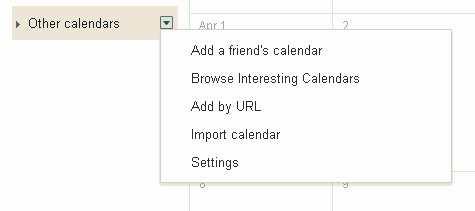 3. Click the Import Calendar link under Calendar settings
4. Click the Browse button and select your exported file
5. Choose your calendar
6. Click Import and wait. It may take a bit.
7. You will be notified when the process is completed.
Congratulations. Your Outlook Calendar is now entered into Google Calendar!