Hi there user, Welcome to yet another amazing article in our cookbook filled with amazing tech-recipes, today I am specifically going to teach you how to delete spam emails in Gmail. First, we need to understand what Gmail is. Gmail, also known as google mail is actually a free advertising-supported email service developed by Google that helps users to perform certain Email tasks. That's not all
Gmail is a messaging platform used to send and receive emails. it has recently been modified to receive instant notifications from linked websites or from websites that are affiliated with it via registration or some other means
Talking about Gmail would be kinda boring for you, I think you already know what Gmail is and all the definitions and explanations that could be attached to it.
Now let's understand what a spam is.
A spam is known as junk email, where unsolicited messages are sent by email. Spam messages are automatically pushed into our spam folder by Gmail. Why? Most people have flagged certain Emails from specific companies as spam and that in turn automatically makes Google mark it as spam.
We can also be responsible for sending certain Emails to our spam folder.
Having understood what spam messages are, I guess its time to cut to the chase and show you how to delete spam emails in Gmail.
Follow the steps listed below and you'll find ease in deleting spam Emails from your Gmail.
How To Delete Spam Emails In Gmail
1. Log in your Gmail.
Input your details in the login text box provided by Gmail web.
2. Click on more.
The more option can be located At the left of your screen, where you would find a list of options like inbox, starred, sent mail, drafts, just under drafts you would find more.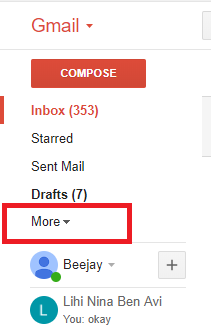 3. Click on spam.
4. Click on delete all spam messages now.


5. Click on Ok.

N/B: Messages that have been in Spam more than 30 days will be Automatically Deleted, but you can try the steps listed above if you want to get rid of spam emails quick.
Clicking on that Ok button will begin the deleting process immediately. You can quickly click on stop if you are not sure of the messages you are deleting or perhaps you want to retrieve an information from one of the messages. If you don't stop the deleting process immediately, all spam messages/conversations in your Gmail will then be wiped off your spam messages.
Did you know that spam has effects on your Email?
Here are some effects:
It Fills your Inbox with a large number of ridiculous emails.

It can degrade your Internet speed.

Spam emails can steal useful information from you.

Spam emails can Alter search results on search engines.
Here are some articles related to Gmail.
How to Add Another Email Account to Gmail App
How To Add Social Media Icons To Gmail Signature
How To Change Gmail Password | Very Easy Steps
How to Use Gmail as a To-Do List Manager Using Google Tasks