Gmail has added the ability to have a Preview Pane to view email messages without leaving the inbox. This feature has long been standard on other email clients such as Outlook and Thunderbird. The feature is not displayed by default, but these instructions will allow you to enable it.
1. Go to Gmail and login to your account.
2. Go to the upper-right corner of the page and click the Options icon (gear icon).
3. Select Mail Settings.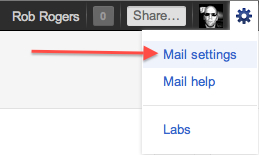 4. When the Settings page appears, select the Labs tab.
5. Scroll down to Available Labs.
6. Locate Preview Pane and select the corresponding Enable radio button.

7. Scroll to the bottom of the page and click the Save Changes button.