Animated GIF files are surging in popularity. Google's Image Search now can specifically search for these file types.
You cannot browse a forum these days without being overwhelmed with animated GIF files. Expressing humor and emotions, these files are everywhere. While many users will use Photoshop to create their own, everybody will occasionally need to search to find the perfect GIF to fit the mood.
I am assuming the animated GIF phenomena will have completely jumped the shark when Facebook starts allowing them. However, for now, let us figure out how to use Google's image search to find these animated image files.
1.Visit http://images.google.com to start your search. Go ahead and search for your topic.
2.Click the Search tools button.
3.Under the Any type dropdown, select Animated.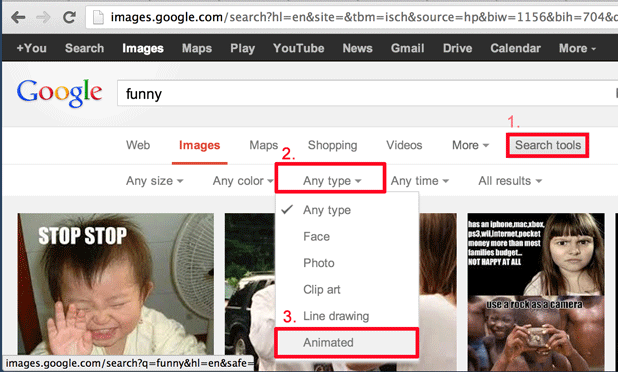 The screen will refresh and a new series of images will be displayed. They will not be animated here but you will have to click on the individual image to see the animation. The search protocol is not perfect so some of the pictures returned will not actually be animated.
If you like to hack away at URLs, you can directly jump to the animated feature through the following link. Just change the "funny" text within the URL to whatever you wish your search term to be.
http://images.google.com/search?hl=en&site=&tbm=isch&tbs=itp:animated&q=funny