Facebook is under fire recently due to a recent data breach involving Cambridge Analytica. The impact is said to be too huge and material that the breach may have affected the US polls. The breached was made by a third-party personality quiz app which passed the data to political data firm Cambridge Analytica. Millions of accounts and personal information were spilled off. If you want to protect your privacy, you may want to keep third-party apps off your Facebook data. This article will discuss how to restrict third-party apps from using your Facebook data.
Who would have thought that a fun and simple personality quiz app could affect the US elections? The incident is a manifestation of how much data does Facebook holds and how a single breach of data can alter the results of an event as critical as the US polls. The co-founder, chairman and chief executive officer of Facebook, Mark Zuckerberg, has stated in print via full-page newspaper ads to acknowledge the breach, own up the mistake, and commit to improving privacy and handling of personal data. If you are still not convinced of the data that Facebook has on you, you can download your Facebook data and see for yourself. However, be warned to keep your cool as the data Facebook may have on you may be too invasive. If you want to keep your data and privacy protected and deleting your Facebook account is not an option, then you may want to keep third-party apps off your Facebook data.
How to Stop Third-Party Apps from Accessing Your Facebook Data
Keep your personal data private by not sharing them to third-party apps. Follow the next steps to keep third-party apps off your Facebook data:
1.Login to your Facebook account.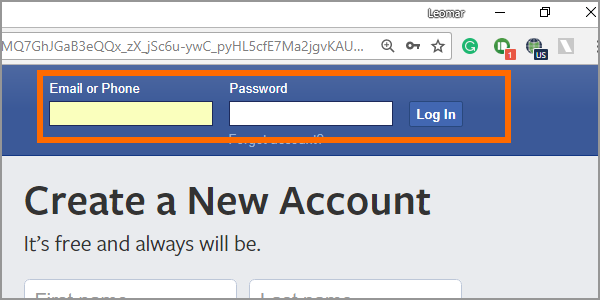 2.From your Facebook newsfeed, click on the drop-down menu icon located on the upper-right part of the page.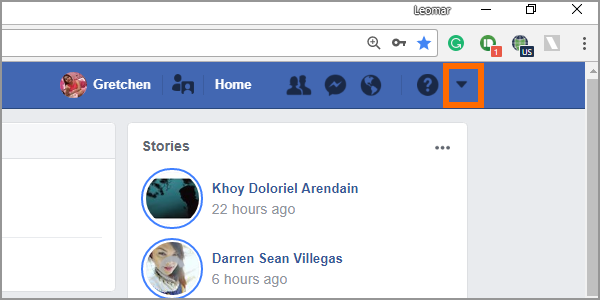 3.From the list of options, click on Settings.

4.On the left side of the Settings, locate and click on Apps.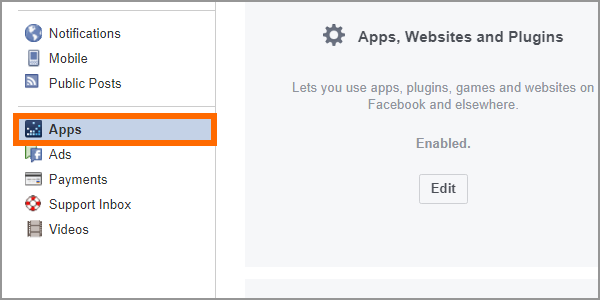 5.From Apps, locate Apps, Websites and Plugins and click on the Edit button.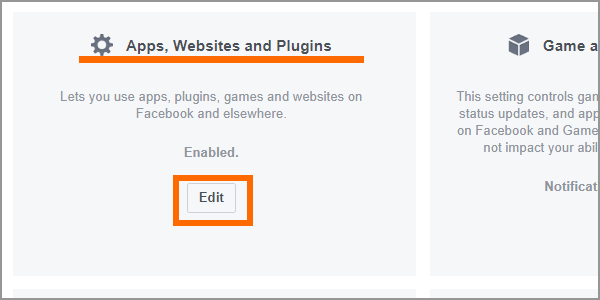 6.A dialog box appears telling you that Platform is used to integrate with third-party apps and the disabling Platform would prevent you using third-party apps. Disabling Platform would also mean that third-party apps no longer have access to your Facebook data. Click on the Disable Platform button to proceed.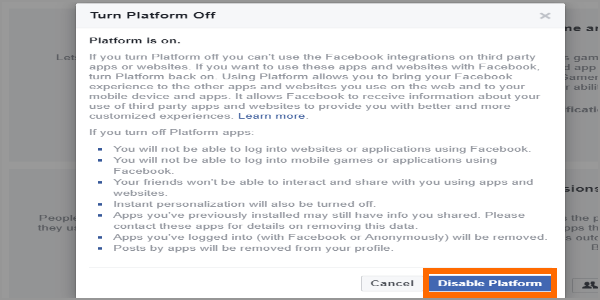 7.You can see that Apps, Websites and Plugins is disabled. The process is a success. Should you want to turn back Platform on, you can repeat the same steps.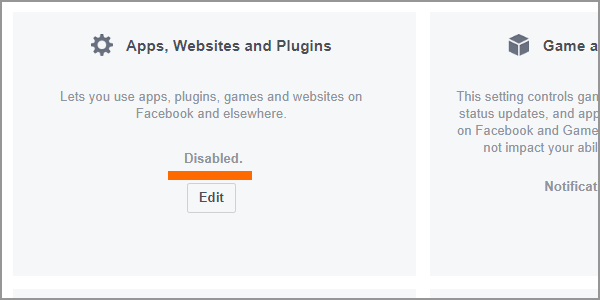 Take Note:
With Platform turn off on your Facebook account, third-party apps can no longer access your Facebook data. The action could also mean that:
• You will no longer be able to log into websites using your Facebook account.
• You will no longer be able to play games and use apps using your Facebook account.
• Your friends will no longer be able to use apps and games to interact with you.
• Other app activities will no longer be available to you.
Turning off Platform will keep third-party apps off your Facebook data. Without these third-party apps, your interaction with the social service will be limited to, and with, Facebook alone. It is a trade-off between privacy and functionality- depending on your preference. But wherever you stand on the balancing scale of privacy and functionality, you can always agree that disabling apps instead of deleting your Facebook account is still a better choice.
If you have questions about any of the information on this article, let us know in the comments section.
Does this article pique your curiosity? Why don't you check out these related articles?
Enhance Your Privacy and Security Settings in Google Chrome
Google Chrome: Clear History and Delete Your Browsing Data
Facebook: Change the Privacy of a Group – Tech-Recipes
Disable User Access to Privacy Settings in Internet Explorer
Block Contact from Strangers on Facebook – Tech-Recipes
Facebook: How to Hide Your Friends List
Facebook: Restrict Friends from Viewing Your Content
A supply chain operations manager by profession. A technology-lover and a writer by heart. I have the passion to teach and inform.