Hello, welcome to another important and interesting episode where I will be showing you how to change Facebook language. You would agree with me that not everyone understands (can read) English fluently or prefers Facebook to appear in the default language which is English. Different people from different locations/countries would want Facebook to appear in their own language for easy readability and understanding. This article will help teach you how you can change your Language on Facebook.
Well, Facebook is uniquely designed has lots of amazing features which one is its ability to change the language.
What is a language?
Language in my own term can be defined as a means of communication, either by spoken words or writing, it deals with words structured in a conventional understandable by individuals from the same locality or environment.
Sometime last year a friend of mine approached me with this question. Can I change Facebook language?  If yes, how? After I structured out the outline I'll be showing you shortly, He came back so excited testifying about how much it worked and how much he now explores that option very well.
Without further ado, let us move ahead
How To Change Facebook Language
1. Log into your Facebook account.
2. Click on the arrow icon after the quick help icon then click on settings.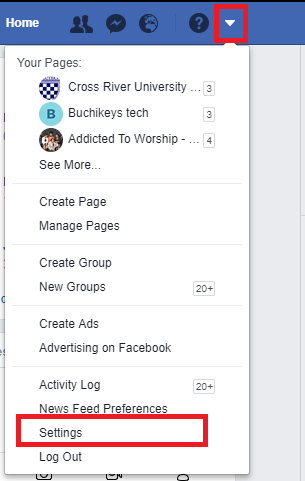 3. Click on language.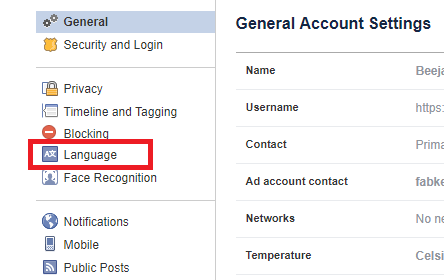 4. Click on edit beside What language do you want to use Facebook in?

5. Select your preferred language and save changes.

If you follow the listed steps you would find it very easy and interesting to change Facebook language.
After you must have clicked the language option you would see "what language do you want to use Facebook in" by just clicking the small text box beside it you'll see a long list of languages arranged alphabetically for easy search/sorting. When this number of languages has displayed, you can select your preferred Facebook language and then save.
Once saved the settings activates immediately and language changes.
In conclusion changing of Facebook language is very optional and solely depends on the user's discretion.
If you have difficulty in locating the arrow icon that presents the settings option please just look at the images attached carefully but for clarity purpose, I will tell where to find it. It is located at the top right hand of your dashboard where you have notifications and messenger you would find the arrow down icon there.
Frequently asked question and answers
Q: How many times can I change Facebook Language.
A: You can change your Facebook language as many times as you want as long as you understand the chosen language.
Q: Does Facebook support native Creole.
A: From records, Facebook now supports a vast number of languages. About 101 languages to be precise. As such we can say that it covers local languages too.
Q: Can I add a language to the list already provided by Facebook? Assuming I can't find my language on the list.
A. I am sorry to say but Facebook being a high level designed application does not provide an option to add personal Languages. You can only use the provided languages because those are the languages Facebook supports. We can only hope that the updated versions of the Facebook application would come with more languages.