Are you an active Facebook user? and is there a particular page you want to block? maybe because they post too much or engage in all manner of unpleasant conversations that you sometimes don't find interesting at all? And some time ago you spent time in removing some of these unnecessary conversations yet it keeps adding up quickly. From experience, the part that's really annoying is that some of this Facebook Pages don't just stop sending notifications, here's how to block a page on Facebook.
Don't freak out anymore because in this article you will learn How To Block A Page On Facebook in a very easy way so as to put an end to those annoying notifications from Facebook pages for good.
Facebook, as we all know, is one of the most popular social networking platforms with billions of active users and it's still growing. It has amazing features that help spice up every moment in the platform and some this features can help share live feeds with followers, create pages, groups and so on.
As the good guy that I am, I like to give my readers the benefit of doubt.
First, I will like you to be sure with your self that you really want to get rid of that Facebook page because if you succeed in the process it will stop all interactions. You will not be legible to send any page message and you will also not be able to like or reply to comments any longer. So are you really sure?
It's actually very important to note these things before moving on with the steps on How To Block A Page On Facebook
Alright, after all said, it's time to show you how it's done in a very fast and easy step. Read carefully.
How To Block A Page On Facebook
1. Log into your Facebook account.
2. Click on the drop-down icon and click on settings.
3. Click on blocking.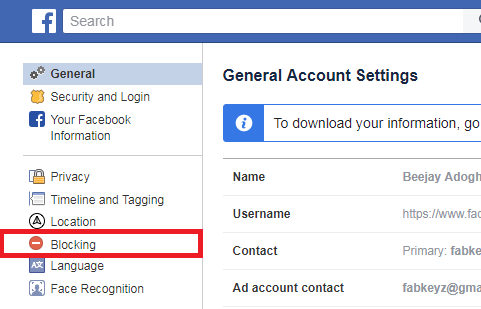 4. Scroll down to where you have block pages.
5. Type the name of a page you want to block. (select from the list of options below and that's all)

And there you have the steps on How To Block A Page On Facebook. If followed carefully, you should have successfully eased yourself from unpleasant conversations on Facebook pages. And that will make you conclude that this post has been helpful to you.
But if in the process you encounter any difficulties in the steps above, just simply scroll all the way down to where you have the comment section and drop your questions and contributions regarding this post. And we will give a quick response as possible.
Thanks for your time.
Frequently Asked Questions And Answers
Q: At what point can I decide to block a Facebook Page and for how long?
A: At any point in time of your choice and for any duration of your choice, it all depends on what you want.
Q: If I successfully block a Page on Facebook, is it possible to unblock it again and how?
A: The answer is Yes it's very possible. Simple to settings and click on the block located in the left column, select the block page section and finally click on unblock just next to the page name. And there you have it.
Q: Will there be any notification via my email indicating that I have successfully blocked a page on Facebook?
A: The answer is No. There is no particular notification for that.