When you create a Pokemon Go account, the game asks you to create a nickname so that other people can refer to you under that name instead of your real name on Google. As the game is so popular, many cool and creative nicknames have already been taken, and registering a nickname for yourself usually takes more than one try. Eventually, many people give up, choose a nickname with extensions which just do not make any sense (such as 12345), and then later regret choosing the name. Luckily, changing your nickname inside Pokemon Go is very easy.
The ability to change a trainer nickname has been added to Pokémon Go since version 0.33.0. Make sure that your game is always updated to the latest version. You can check for and download the latest Pokémon Go release in the Google Play store if you own an Android phone or the App Store if you use an iPhone.
Important: You can only change your nickname once on your Pokémon Go account. After you change the name, you cannot switch back to one you had previously, so think carefully and choose wisely. Try not to make any mistakes during the process.
How to Change Pokémon Go Nickname:
1. Open Pokémon Go, and tap the Poke ball.

2. In the pop-up shop, tap the Settings icon at the top right of the screen.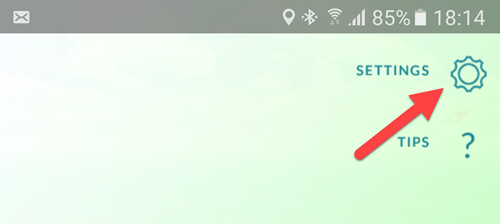 3. Select the Change Nickname option near the bottom of the setting list.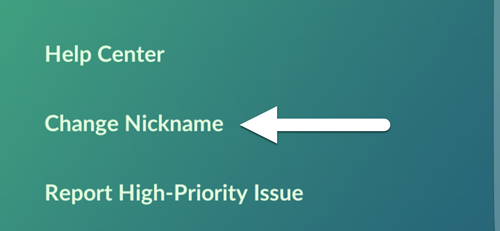 4. Tap Yes when you see the pop-up message asking you to confirm your action. Remember that you can only change your nickname once. If you make any other mistakes, you will not be able to change the nickname again.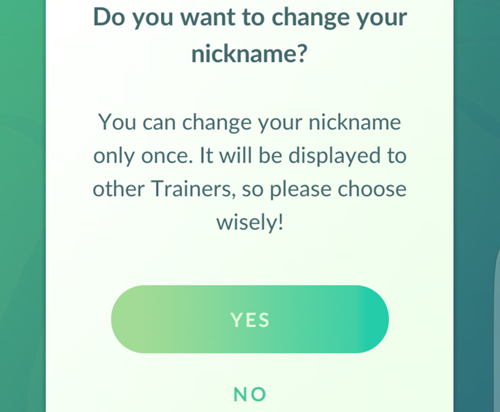 5. If you still decide to go ahead and change the name, type the new name in the Nickname field, and hit OK. If the new name is still available, it will be registered to the service, and other people will see your new name soon after that.