If you find that your Mozilla Firefox browser is running too slowly, there could be many possible reasons behind this. However, one of the most common is that the add-ons installed with Firefox are using too much memory. You can determine which of your add-ons are inhibiting the performance of Firefox using this technique.
Some installed add-ons can consume a lot of memory and cause Mozilla Firefox to run considerably slower. Although Google Chrome has its own task manager which you can use to check the memory usage of each add-on, Mozilla Firefox is still missing this feature. Fortunately, you can still find out which of your Firefox add-ons are using the most memory by installing about:addons-memory. Then, based on the information it provides, you can decide which add-ons are worth keeping and which are not.
Note: Mozilla has reviewed this add-on, so it is safe to install.
1. Go to this URL: https://addons.mozilla.org/en-US/firefox/search/?q=memory%20usage.
2. Click the yellow +Add to Firefox button to download and install the add-on.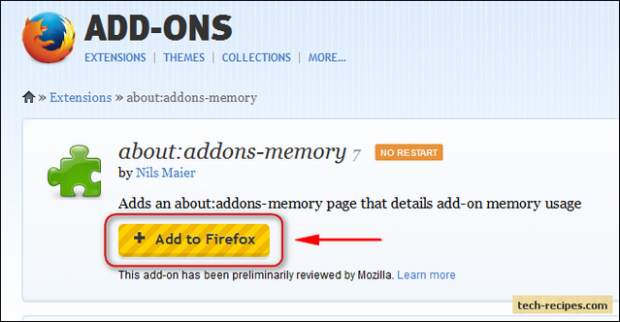 3. Firefox will download the requested add-on. It may ask you to confirm the installation with a pop-up window. If so, click the Install Now button.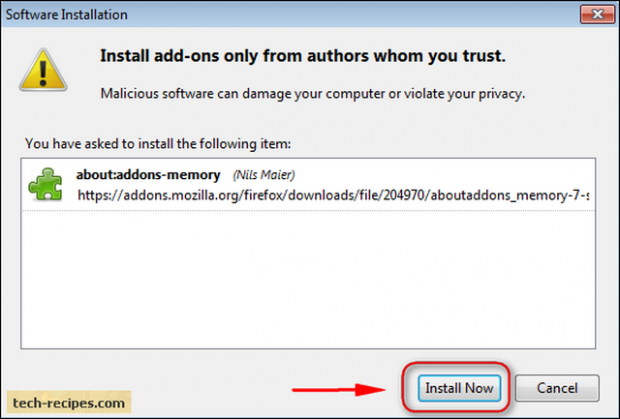 4. You will see the message, "about:addons-memory has been installed successfully," below the address bar.
5. Go to the address-bar, and type about:addons-memory. Then hit Enter. Now, you can see a list of add-ons and how much memory each one consumes.
Note: The developer of this add-on points out that add-ons which use hundreds of megabytes (100MB) of memory with steadily growing memory usage *may* be a problem. This add-on is intended to find exactly these kinds of issues more easily so that you can remove superfluous add-ons that are slowing your browser.
Do drop your comments if you find any installed add-on consuming more memory than usual. This could help others.