Pinterest is a popular site for organizing ideas, recipes, vacation spots, articles, and more. The basic idea is that you pin a website represented by an image from the webpage to a board dedicated to that topic. You then get a visual feed of all the items you have pinned so that you can refer back to them later.
If you are a frequent pinterest user, I highly recommend downloading a web extension to let you pin items to your boards from anywhere, without having to open Pinterest in your browser. These extensions are available in most browsers, including Firefox, Internet Explorer, Safari, Microsoft Edge, and Chrome. This tutorial will walk you through how to set up the Share Button for Pinterest Firefox add-on.
1.Head over to the official Firefox Add-ons site and search for the Share Button for Pinterest. Here, you can read an overview of the add-on and read reviews. Click the +Add to Firefox button near the top of the page.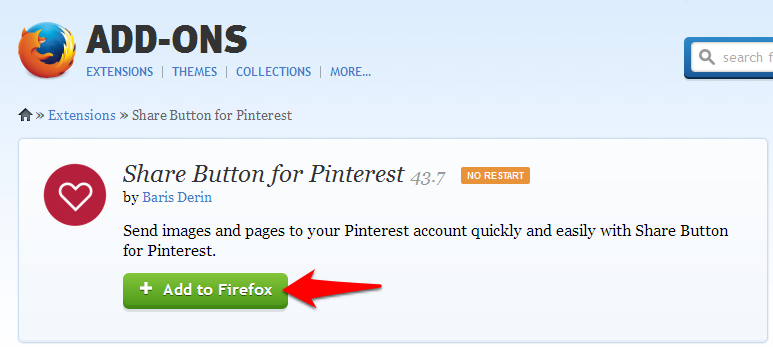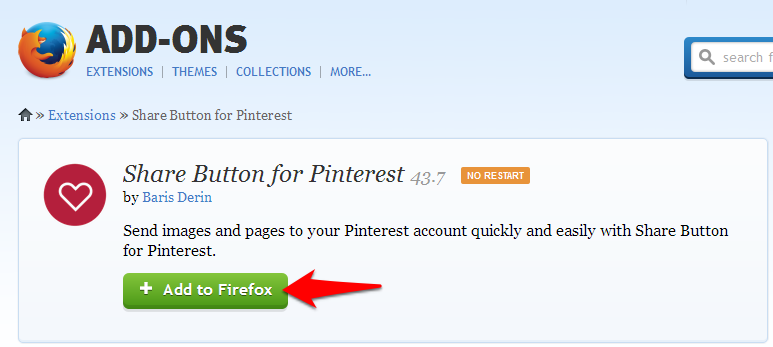 2.There will be a pop-up from the add-ons center to the right of the back button. Click Install. If the pop-up dissapears before you click Install, click the puzzle icon to display it again.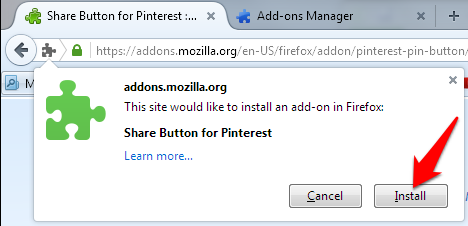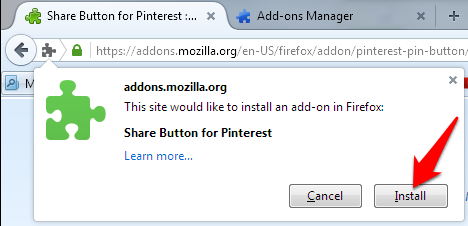 3.Wait a few seconds, and the Pin It Button will appear to the right of the address bar, along with any other add-ons you have in use. A new tab will open with instructions on how to use your newly installed Share Button.
4.Now, whenever you are on a page that you want to pin, click the button. A grid with all the images on the webpage will appear. Click the one you want to add to your board. A window will pop up where you can edit the text accompanying the image, choose a board, and optionally post the item to Facebook.