Firefox wants to remember all your browsing history, downloaded files list, searched keywords, cookies and active login information. Although this is a typically useful feature, it is not suitable when you are on a public computer. The best way to make sure your personal information is safe is to configure Firefox to clear all personal data when a session has ended.
The balance between convenience and security is something that all computer users have to weigh. By default Firefox wants to remember as much information about you as possible to make your browsing sessions as easy as possible. However, by remembering all of this information, anybody with access to your Firefox browser can obtain a great deal of your private information.
On your home system, having Firefox to remember all of this information is logical. Leaving your important personal data on a public computer, however, is very dangerous. By clearing history and other private data upon exit, you are better protected.
1. Launch Firefox browser.
2. Press Alt to show the Menu bar if it is hidden, then go to Tools -> Options.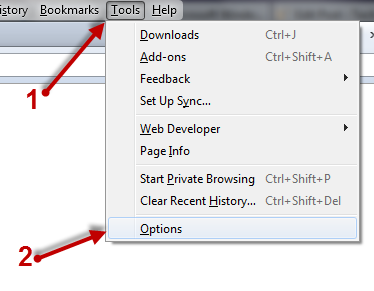 3. When the Options window opens, go to the Privacy tab.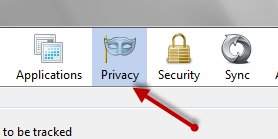 4. Click the Firefox will drop-down menu and choose Use custom settings for history.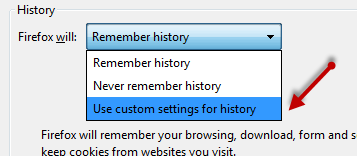 5. When the setting is set to Custom, you can check the box next to the Clear history when Firefox closes to enable it.

6. By default, data such as browsing history, download history or even cookies, cache and active logins will be erased. To take control of what will be cleared when you exit the browser, click Settings.

7. Uncheck the data that you want to preserve. You can also add other data like Saved passwords, site preferences or offline website data to the clear on exit list if you want.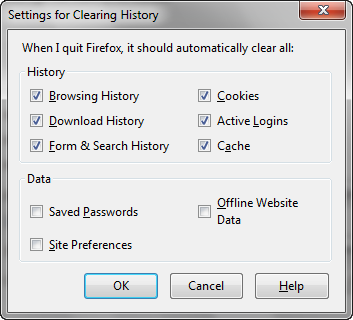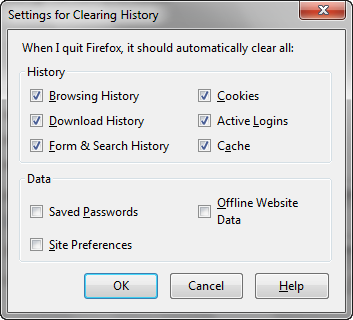 8. When you are done, click OK to save the settings and dismiss the windows.