Being able to capture a screenshot of your phone's current screen can be very handy for creating tutorials, saving data, or recording funny moments. Many Android devices that have hardware keys grab screenshots by holding the Home and Power buttons together for 3 seconds. However, the Sony Xperia Z1 lacks a proper Home button so you will need to follow these steps to get a screenshot with this device.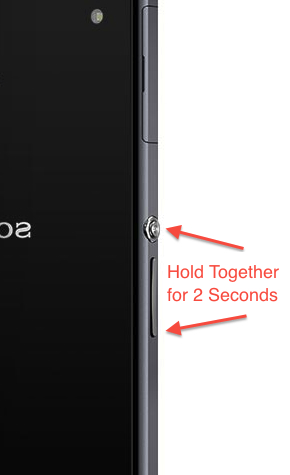 Frequently, people want to save screenshots from games or capture a funny conversation. Grabbing a screenshot on the Sony Xperia Z1 requires a slightly different technique when compared to other Android devices.
1. Using your Xperia Z1, go to the screen, setting, or app of which you want to capture an image.
2. Hold the Power button and the Volume Down button together for about two seconds.
3. When the screen is captured, you will hear a camera "click" noise. You can view your screenshot via the notification tray or through into your Albums photo app.
Additional Notes:
You can setup Dropbox to auto upload your photos and screenshots to your Dropbox account. Thus, you will have your screenshots instantly available on your Desktop PC or Mac computer.
If you setup a Sony Play Memories account on your Xperia Z1, you can also auto upload to the PlayMemories cloud. Sony is giving Z1 owners a free PlayMemories account with Unlimited upload space. The one downside to this service is that pictures are reduced to lower resolutions.