Privacy has always been a hot topic when it comes to social networking, especially on Facebook. Hiding your Friends List is one the most important privacy settings in your Facebook account. Because Facebook keeps updating its privacy settings to keep its one billion (and counting) users happy, you might have had difficulty figuring out how to do this. This tutorial explains how.
On Facebook, you can choose who is allowed to see your Friends list. The privacy options are as follows: Public, Friends, and Only Me.
Public– If you choose the Public privacy option, then everyone who has opened a Facebook account will be able to see who your friends are. This option increases the risk that you or your friends will receive a friend request from hackers with fake accounts. Both Friends or Only me are safer choices.
Friends– If you choose Friends, then everyone who is your friend on Facebook can see your Friends list.
Only Me– If you choose Only Me, then no one else can see your Friends list except you. You are probably connected with various people on Facebook including your friends, relatives, work friends, and business associates. It is most likely that they do not know each other. With the Only Me option, you can even hide your Friends list from your friends.
Let us see how to change your Friends list privacy setting.
1. Log into your Facebook account, and go to your profile page either by clicking on your profile picture or by clicking the Edit Profile link.

2. Click on Friends, and then choose Edit > Edit Privacy.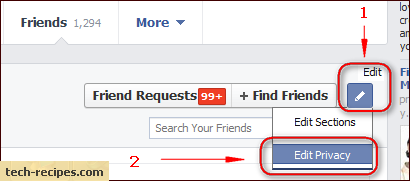 3. You will see the Edit privacy pop-up window. Then, from the drop-down list, change who can see your friends list.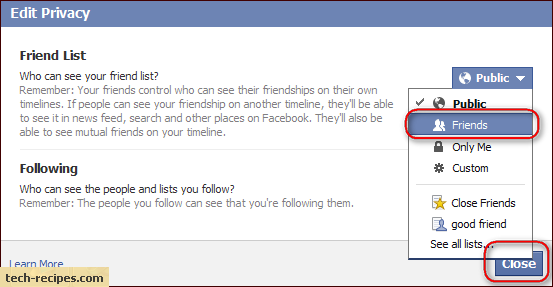 4. Click the Close button, and the settings will be automatically saved.
We Tech-Recipes writers try to stay up-to-date when providing information about Facebook's privacy and settings. You can go through our Facebook archive to find more helpful posts.