Developers are always finding ways to bring the Android experience to the Desktop. In the past few years, they have made quantum leaps in this endeavor. The google play store is a treasure trove of games, apps and so many other developmental miracles that even those who don't own an Android device want to benefit from its valuable items. There are many emulators on the market  that enable users to run Android apps on PC. But, not all of them provide the convenience and performance one desires. Most of them just slow-down your PC and create further problems for you. Amidst the heap of useless emulators, there are two emulators who have gained enormous popularity for all the right reasons. We will discuss them in this article.
Best Android Emulators to Run Android Apps on PC
1. 

Bluestacks App Player : A User Favorite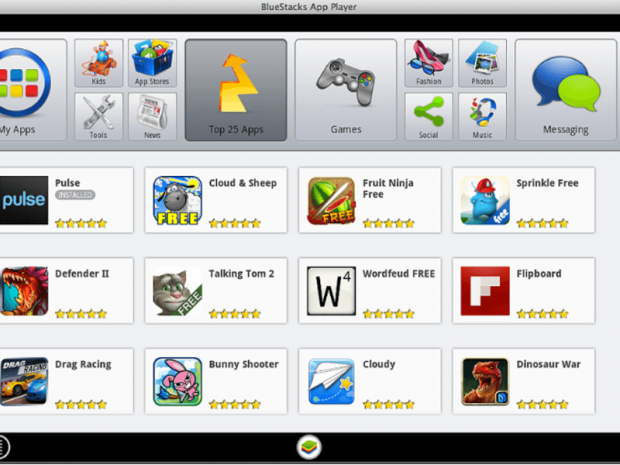 Download Link : Bluestacks App Player Latest Version
The Bluestacks app player has been the first choice for desktop users to fulfill their Android needs for quite some time now. It has a lot to offer to its users and has come really close to replicating the environment of the Android OS. It has dedicated buttons that perform the same functions an Android device normally does, such as gestures or taps, uploading Apks, taking screenshots, shaking device.
Moreover, Bluestacks has a large repository of games, including blockbuster games like minecraft. The games run pretty smoothly. Users haven't experienced any major lags or disruptions. It also gives users games suggestions on the side. Not only is this third party solution great for gaming, it also fares particularly well for social media applications like Instagram and Facebook. I also downloaded dictionaries and Ebook readers, being a big book geek, and to my delight, they worked amazingly well. At one point, I didn't even feel like I was on a Desktop.
One unique feature of Bluestacks is the BluestacksTV, which gives users the freedom to stream their games in real-time or watch other streaming videos. This show how much this platform emphasizes on mobile game streaming.
Needless to say, Bluestacks thoroughly satisfied me.However, I still think that there are some bugs and performance issues that need resolving. It is available for both Mac and PC.
2. 

Remix OS : The Fastest, Most Stable Emulator on the Market
Download Link: Remix OS
Remix OS has been my go-to emulator to run android apps on PC. In its early releases, it had a lot of bugs and didn't please users that much. But it has come a long way since then. A considerable amount of developmental work has been done on it to make it the fast-paced emulator it is today. Everything that and Android device has to offer is available for use on Remix OS. Google Drive, Gmail, Third party apps, you name it, Remix OS puts everything at your disposal.
My gaming experience has been amazing on Remix OS. I played some of my favorite games like Clash of Clans, Minecraft and was amazed by the emulators incredible stability. This was the first time I considered the possibility of a free-for-all platform in the future that could entertain applications from all sorts of platforms.
Some of the applications, like Snapchat are limited for use on an android device, so this emulator especially comes in handy when you can't access your Snapchat account on an Android device. However, keep in mind that if you're not familiar with the advanced operations of a Desktop, you might have trouble setting this emulator up. For it to work, you must know how to dual-boot windows. So, if you're having problems with Remix OS, this second emulator on our list is the one for you because it doesn't require any advanced knowledge for commencing its operations.
So, if you're looking to run Android Apps on PC, there aren't any apps on the market better than these. I've tested them several times and they haven't disappointed me. You can also use them to run Android Apps on PC and enjoy the same benefits that I'm availing.
The Final word
If you have any questions related to Android emulation, don't hesitate to leave them in the comments section below. I don't like to brag but I am certified Android expert and can resolve almost all, if not all, of your Android related problems. You can check out other articles by me by clicking on my profile link if you need assistance with other tech-related problems.
 So, folks It's time to wrap the "How to Run android Apps on PC" debate to bed. I'll be back with more tutorials soon.