In this age of digital photography and smartphones, a single photo can seriously hurt reputations, and cause rifts. We often see Whatsapp screenshots being shared in public groups like it's nothing. Unfortunately, there's nothing we can do in that instance. There's no way to protect your Whatsapp conversations from being snapped and their contents exposed. However, the photos within your Android device can evade this fate. You can hide your photos on your Android device with built-in features, or with third-party apps. In this Tech Recipe, we will discuss both.
Hiding your Photos in Android
With Built-In Support (Fastest Method)
Some phones, especially Samsung and LG devices, have a built-in feature, accessible through the default Android photos app, that enables you to secure the privacy of your photos.
Here's how you can activate it…
In a Samsung Device
A Samsung device, updated to at least a Nougat 7.0, offers you a way of creating a secure folder, where you can add your photos, and restrict their access.
Here's how to create this secure folder.
1. Go to the following directory: Apps>Setting>Security and Lock Screen.
2. Sign in to your Samsung Account.
3. Choose your preferred security method: Pattern, Pin or Password.
4. Go back to your Home and Apps main screen.
5. Open the Secure folder app.
6. Add your desired photos inside it.
That's it! No longer will your photos fall prey to suspicious predators. You can also protect your apps, emails, and other data through this method.
In an LG Device
In an LG device, this process varies.
1. Go to the following directory: Settings>Fingerprint and Security>Content Lock.
2. Choose your preferred lock. Again, you will be given a choice between a password, pin or pattern.
3. Go to your Stock Photos app.
4. Select the photos you want to make private.
5. Open the Menu at the top-right, and tap more>lock.
This will ensure that your selected photos are no longer visible in your photo gallery. To view them, head on over to the Menu again, and select "show locked files".
For Other Devices
If you're one of the unfortunate ones, who don't own a Samsung or an LG device, don't worry. There's still a solution, a way you can workaround. However, it's not that simple and requires downloading a kick-ass, third party file explorer.
The one I would recommend, and that I have had enormous success with, is File Manager- File Explorer for Android.
1. Download and Open the app.
2. Go to the folder whose photos you want to hide.
3. Create a new folder named .nomedia here.
That's it! The Android system doesn't scan the content s of any folder starting from a full stop (.). To gain reaccess to your photos, simply remove the .nomedia file, and you're good to go.
Note: This method won't keep the files hidden in your file manager. They will still be visible there. What it will do is vanish them from your stock Android app.
From Third-Party Apps
There are many third-party apps you can easily download for free from the Google Play Store, and automatically hide your photos in your Android photo gallery. Some of the toughest, most effective of these apps that I have personally found to work wonders are enlisted below, along with their functioning.
The No. 1 choice for many android users, Keepsafe Photo Vault, is a user-friendly and easy-to-navigate-photo hiding app.
You can create separate folders within the app to store your private photos and share them with other Keep Safe Vault users, or directly go to a folder and protect it. You can also backup your photos to a cloud.
It's fairly easy to use and doesn't entangle you in any complications whatsoever.
Most of its advanced features are available in the paid version but in my opinion, the free version does the job, if you're only concerned with the simple process of hiding your Android photos.
Other apps that are great for hiding your photos on Android are also listed below.  They work on the same principles KeppSafe Vault does and foster user-friendliness.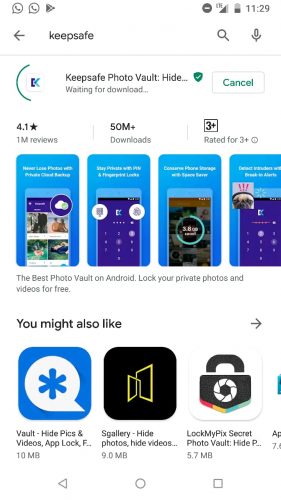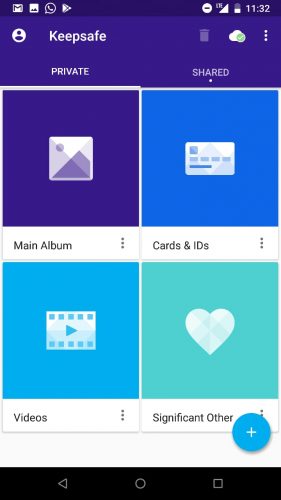 If you need further assistance relating to hiding photos on Android, check out these Tech-Recipes below.