Dropbox has recently introduced a great feature that allows you to automatically synchronize photos and videos that you take on your cell phone or portable device with your Dropbox account. This steps will ensure that your files are both backed up and available for use on your computer immediately.
Before you get started, make sure that the desktop application is updated to the latest version available. You will need Android 3.0 or higher.
1.Launch the Dropbox application.
2.Open the Menu at the top right, marked by three vertical dots.

3.Press Settings at the bottom of the list to navigate to the Preferences page.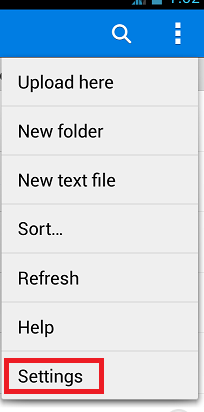 4.Scroll to the Camera Upload section, and press Turn on Camera Upload.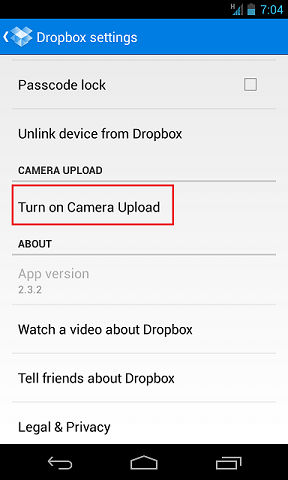 5.At this point, you have the option to select Wi-Fi only or Wi-Fi or data plan. The wi-fi options use wireless only while the data plan option will use your mobile bandwidth as well. If you are limited on your bandwidth, this allows you to wait until you hit wireless access before synchronizing your photos and videos.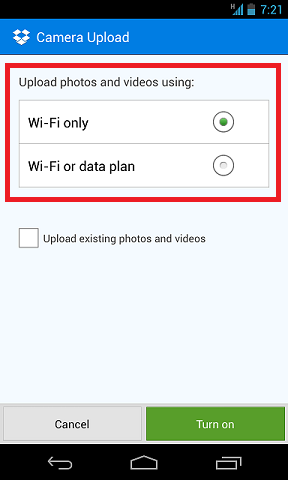 6.You also have the option to select Upload existing photos and videos which will automatically import all of your existing media to your Camera Uploads folder.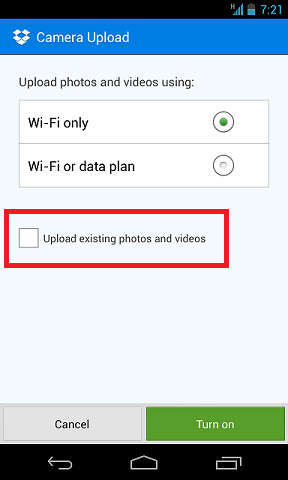 7.Once you are satisfied with your selections, press Turn On in the bottom right corner.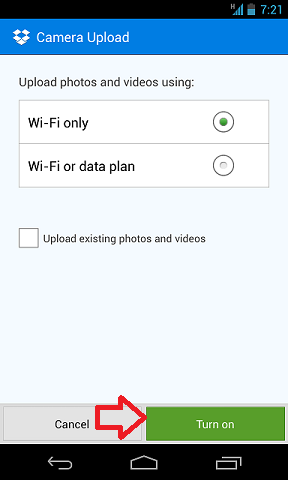 If you picked to upload existing media, your phone will now upload all existing photos and videos to your Dropbox account. Otherwise, you will see that the Camera Uploads folder has been added to your Dropbox and is ready for use. When you next take a picture or record a video, the file will be uploaded and stored in this location.
Disabling the sync option is simple. Follow Steps 1 through 3, and press Turn off Camera Upload.
Note that Dropbox will not delete the files from your mobile device after they are uploaded or after you delete them from the Camera Uploads folder. They need to be removed manually.