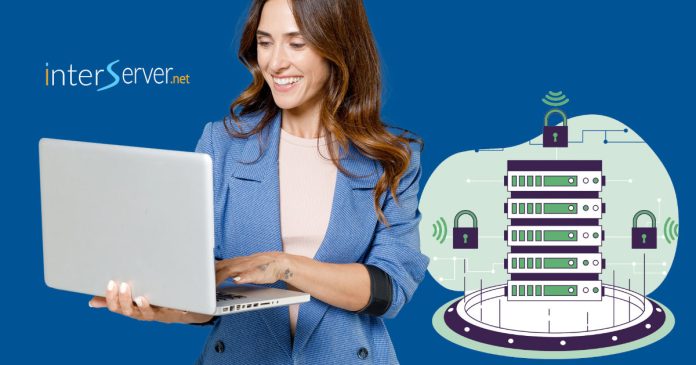 InterServer offers the fastest and most consistent results in the VPS hosting niche. The InterServer VPS hosting services are backed by friendly customer support and above-average pricing policies.
It does this with the aim of ensuring that its clients get to benefit from the robust InterServer VPS packages. And while InterServer is yet to become a household name, the reality is that it does try to do everything within its reach to provide reliable and efficient hosting services.
As you read through this InterServer VPS review, you should note that the company looks more like a family-run venture than anything else. It places a lot of emphasis on fair service and technical perfection, making it a favorite with beginner web owners.
Below is a detailed look at InterServer VPS hosting and what to expect from it.
InterServer VPS Hosting Overall
InterServer's hands-on involvement with provisioning and configuring its VPS services provides customers with a level of flexibility that's not available anywhere else.
InterServer cloud VPS uses slices to ration all the available cloud resources.
The InterServer VPS hosting customers have an option to select a single CPU core or as many as a dozen. Its disk space ranges from sane to absurd amounts, thanks to the presence of solid-state drives (SSDs).

Apart from getting access to this standard, speedy storage feature, you'll love the fact that its servers get provisioned instantly. Each server instance has the latest version of Ruby, PHP, Python, Perl, and MySQL pre-installed and ready for use.
If you wish, you can take further control of the server operations using the web-based InterServer control panel or root access. InterServer cloud VPS offers affordably priced services, with its hosting plans starting from as low as $10 per month.
Cheap pricing aside, clients are also guaranteed access to its free migration services. Thus, move their files from shared hosting to InterServer VPS hosting with ease. Experienced developers may not be wild about the rest of their services because most of them can handle virtual servers. It's, however, essential to note that the InterServer VPS tech team will typically handle support issues related to the control panel or operating system if your account has four slices or more. The minimum specs to receive this support are four cores, 8GB memory, and 120GB SSD storage.
Some website owners may view InterServer as acting unreasonably for placing these requirements. But the one thing you should understand is that its competitors don't offer such a smooth management process.
As an InterServer cloud VPS client, you're guaranteed the following:
Choice of data center and full root access
Access to 7 different operating system options for InterServer windows VPS and Linux cloud VPS
Latest versions of Ruby, Perl, Python, MySQL, and PHP
30GB SSD to 480GB SSD
Pricing

InterServer VPS hosting plans are certainly affordable. It provides you with a broad range of choices, with a single slice costing as low as $6.00 per month. Please note that you may have to fork up some extra cash for a control panel license, depending on your choice.
Although the VPS server services are managed, you'll retain complete control over all the features you wish to use on your plan. Examples of the features you can choose to add in your hosting plan include the following:
Dedicated IP address
Cloud backup
Choice of the control panel
For experienced developers, the flexibility provided by InterServer VPS hosting will translate into substantial cost savings in the long term. WordPress users should take advantage of its fine-tuned WordPress plans, which start at $6.00 per month.
Examples of the available server operating systems to choose from include:
Debian 7
Windows 2016
SUSE
FEDORA
OPEN SUSE
The cheapest InterServer VPS hosting plan is $6.00 per month. It provides access to 1 CPU core, 2GB RAM, and 30GB full SSD storage. Its most expensive option will cost you $96 per month and will bring you 16 cores, 32GB RAM, and 480GB full SSD storage.
Types of InterServer VPS Hosting
If you're a beginner web developer or website owner, you may find it challenging to try to choose between the different options and platforms available today. The first thing you'll notice is that every cloud VPS server provider has more than one option to offer.
InterServer is no different, as it offers its customers access to three other options (more on this below). Each option comes with its own price point and unique pros and cons. As you prepare to choose your preferred option, the following are its main benefits:
99.9% Uptime Guarantee
Remote Backup
Top-notch Security
Dedicated Resources
Lightning Fast Loading Speed
Self-healing Hardware Resources
Linux VPS Hosting
InterServer VPS hosting offers the best Linux VPS with instant scalability. The platform has 20+ years of experience. It's rated as one of the best hosting providers in the market, thanks to its scalability.
The provider allows its clients to configure their own servers. Clients can specify the number of CPU cores they wish to have in their virtual servers. After selecting the number of CPU cores you want, InterServer will provide you with enough transfer limit, RAM, and SSD storage to match.

For example, website owners who choose to get a Debian VPS having three CPU cores will receive 6GB RAM, 90GB SSD storage, and a transfer limit of up to 6TB. When writing this InterServer VPS review, our team established the following:
Performance
InterServer will provide you with a 99.9% uptime guarantee, the opportunity to choose an Ubuntu, CentOS, Linux, or Debian operating system, and high-performance SSD storage. Its storage devices are up to 20x faster than traditional SATA drives. Its servers are located in Secaucus and Los Angeles.
Features
Backup to Cloud Pro, DirectAdmin, CloudLinux, cPanel, Atomicorp, Let's Encrypt, Immunify, Plesk, NodeJs, NGINX, PHP, automated AI-powered regression testing, staging environments, and much more.
Support
InterServer Linux VPS hosting provides 24/7 support via ticketing, email, and live chat systems. Customers can also get assistance via its call centers in Israel, the USA, Brazil, Mexico, and England. Self-service options are available too.
Security
It has a self-healing hardware infrastructure that can detect issues within its system and automatically redirect the available server resources to another node. InterServer uses Hyper-V and KVM virtualization platforms.
Pricing
The platform allows its clients to choose the number of CPU cores they want on their servers. It uses this number to determine your base price. Its monthly prices start at $6.00 per month.
Windows VPS Hosting

InterServer VPS windows server hosting platform is among the few hosts that have taken the initiative to implement Windows Server 2019 into its VPS hosting solution. If this is too advanced for you, you can always opt for the 2012 or 2016 options.
Other than this, you can also receive a complimentary backup service and DirectAdmin or Plesk. That's about it regarding Windows server hosting from InterServer VPS hosting. Its Windows hosting service is best left to technical users, even with the presence of server management services.

Speaking of server management, InterServer provides you with two management options:
Basic Support
It's available for all packages and covers OS installation in case of a problem and ongoing hardware maintenance.
Advanced Level Support
It's available to clients who get a control panel and four or more server slices. The support offered at this level will include the following:
Installation of certain web servers
Control panel installation
Windows update assistance
Repair server features whenever they breakdown
During this InterServer VPS hosting review, we established the following about its VPS windows server hosting services:
Positive Reviews
The service continues to receive positive reviews online from customers who have transferred from other hosting providers. Many are quick to acknowledge its uptime guarantee and lightning-fast speeds.
Support
The Windows VPS server has a decent support team on hand to guide you through any issue you may have encountered. Its support team can resolve all major problems, but you'll have to handle the fine-tuning on your own.
Pricing
InterServer VPS hosting pricing model for its Window servers are as straightforward as you can expect. One server slice costs $10 per month. Customers who want managed Windows VPS will need to pay extra to get a control panel license. The platform uses a price lock guarantee to spice up this offer further, guaranteeing that your InterServer windows VPS hosting fee won't change.
Storage VPS
InterServer has one of the cheapest semi-managed storage VPS hosting plans on the web today. Its clients never have to worry about high renewal fees or signing long-term contracts after exhausting the low introductory offer.
You'll pay $6 per month to access entry-level resources on registration. The rates will rise to $12/month when you double these resources. Please note that the Windows OS option is costlier than the Linux option as its prices start at $10 per month.

Clients who choose the managed storage VPS option will have to buy a minimum of four server slices. Fortunately, those who decide to use the unmanaged services will still get round-the-clock support via its ticketing, chat, and phone support system.
DirectAdmin is the standard control panel available to storage VPS users. You, however, have an option to upgrade to the easy-to-use Plesk or cPanel option. Plesk costs $10 per month, with the cPanel going for $15 per month.
During this InterServer VPS review, we established the following:
Benefits
InterServer VPS hosting provides reselling services for professionals running or selling multiple websites. These reselling services come with unlimited domains and daily backups, costing $19.95 per month. The company provides a separate private email hosting service for only $2.50 per month and promises to ensure a 50% capacity policy.
Pricing
As far as the InterServer cloud VPS costs go, the platform provides an affordable plan for storage VPS clients for a long-year commitment. Its package comes with a 30-day money-back guarantee, a standard offering from web hosting providers. Prices start at $6.00 per month.
VPS Hosting Features

InterServer VPS hosting has some of the best VPS hosting features on the market. It boasts of privately owned and managed data centers guaranteeing strong support and commitment to website owners.
Apart from its full-service array of hosting options, it continues to provide services that are beyond reproach, ensuring it doesn't lose clients to its competitors. The following is a detailed look at what InterServer Windows VPS and cloud Linux VPS offer.
Custom Domain
InterServer VPS hosting allows you to register a domain when signing up for its web hosting services using either the Standard shared hosting plans or ASP.net. Those who want to get domains without buying a hosting plan are urged to use https://my.InterServer.net during the sign-up process.
Once they have logged into their portals, they should select the domains panel to view and access the various types of domains it supports.
InterServer supports a total of 582 TLDs ranging from .sexy to .hosting.
Please note that the new domain registration, domain renewal, and domain transfer fees will vary depending on your chosen domain type. For example, the .sexy domain will cost $3 for all these services, while a .US domain will cost $13 for the same.
InterServer cloud VPS has made it easy for you to register a new domain by providing a YouTube tutorial that helps break down the entire process. You can also use the screenshots provided on the sign-up page to guide you through the buying process.
Email
InterServer cloud VPS doesn't offer a free email service. But, it does have an affordable private email hosting service, which costs $2.50 per month for one year. With this option, InterServer guarantees:
24/7 technical support
Unlimited storage
[email protected]: Use it to give your business a professional look by using a custom domain.
Spam and virus protection: InterServer VPS hosting has premium filtering services that ensure your inbox is free of spam emails and viruses.
Unlimited devices
Private and secure email hosting: You're assured that InterServer will never scan, sell, or read your email content, thereby ensuring your privacy.
Supported devices include Mac, iOS, Windows, and Android gadgets. With this hosting option, you can also access its free and easy migration service.
Support
Whenever you have one co-founder managing the data center and the other answering support tickers, you know that you have found a company that takes customer service seriously. InterServer is one such company!
It provides a seemingly standard uptime guarantee coupled with round-the-clock support. But their availability doesn't mean that you should take the hands-on approach offered by its support team for granted.
The customer support service provided by InterServer VPS hosting includes:
99.9% network uptime guarantee
24/7 on-site support via email tickets, phone assistance in select locations, and a live chat option
Access to an extensive knowledge base
An active community forum
Its customer service is generally decent, although one of the major complaints made by its clients relates to its website. Some users are concerned that it lacks better navigation to the resource materials, some of which contain grammatical and spelling errors.
Security
The InterServer VPS solution doesn't leave anything to chance when it comes to its security. Every plan you buy will include a free SSL certificate. Additionally, it's easy to integrate Cloudflare, and backups are performed weekly.
Did we mention that InterServer also provides free Inter-Insurance and InterShield?
Like all other respectable cloud VPS server providers, InterServer provides a suite of basic security features. Some of the features you'll get access to when you buy a plan include:
An opportunity to integrate the Cloudflare content delivery network known to provide protection against DDoS attacks.
Weekly backups: Its support team claims that all its backups are stored in an offsite location to enhance their security.
Free Let's Encrypt SSL Certificate: If you have ever used hosting services in the past, you know that not all Linux cloud VPS services provide it free of charge. So, take a moment to appreciate this unique offering from InterServer.
Control Panel
InterServer VPS hosting uses cPanel, which is as basic as VPS hosting control panels can get. Regrettably, more and more VPS hosting companies are choosing not to provide it. Reason? cPanel has become so successful that its prices have started to increase with each day.
Fortunately for you, InterServer still has cPanel. The interface is well organized and contains all the tools you'll need to set up your website and maintain it with ease. Examples of tools to look forward to in this cPanel include:
Adding a domain
Editing files stored in your File Manager
Installing and managing WordPress
Adding a webmail account
cPanel is beginner-friendly, as almost all the tools you'll need contain built-in explanations to help guide you on what to do. Moreover, its knowledge base is filled with tutorials covering every topic imaginable. Therefore, apart from its somewhat outdated look, InterServer VPS hosting is easy to use.
Free Trial
InterServer understands that consumers need to test a service before paying to use it. With cloud VPS server hosting, you're assured of access to countless choices from both established and startup providers.
But while a free trial is always a welcome idea, InterServer doesn't have one! What it does offer, though, is what it calls a nearly free InterServer cloud VPS trial. It hopes you can use it to see why InterServer is the best option for your business.
The InterServer VPS hosting service has unlimited support, reliability, and scalability potential. According to the company, it charges a $0.01 fee for its InterServer free trial to prevent abuse on its extensive network.
Once you have paid this fee, you can set your account not to re-bill at the end of service.
Money-Back Guarantee
As mentioned above, InterServer doesn't have a free trial, but it does have one that is almost free. Often, a client may sign-up for a hosting service and change their mind afterwards for various reasons.
If you do find yourself doing this, you can relax knowing that the funds spent on the InterServer cloud VPS account are safe. InterServer provides its clients with a 30-day money-back guarantee that allows them to try out its hosting services risk-free.
Moreover, you don't have to engage the customer support team when cancelling the service. It's completely possible to do so from your account dashboard. The cancellation process also takes about two minutes on average, provided you follow the prompts on your screen.
In case the system fails to notify you that it's processing your refund, worry not. The support team can easily help you with this matter. All you have to do is hop onto the live chat option, and a customer service agent will create a refund ticket for you.
Once created, it shouldn't take more than a couple of business days to receive your refunds. If you're still unsure of how to go about cancelling your InterServer account, check out their website for a detailed step-by-step guide on the same.
Performance
For web users, the question of whether or not they will continue to use a given website comes down to two things: server uptime and page loading speed.
InterServer Windows VPS are spread out on both coasts of the United States, with one in Los Angeles and the others on the East Coast.
Overall, the platform shows standard uptime reliability of 99.99%.

Furthermore, they showcase impressive page loading speeds even when under pressure, and an average server speed. Read on to learn how InterServer performs in various categories, such as response and load times.
Speed
As every website owner knows, a single-second delay can adversely affect your sales and web conversions. It's why you need to have excellent server power behind every available webpage. In the case of InterServer, its speeds are impressive when loading an empty WordPress website.
For example, when testing it from the United States, the website will load in under 0.9s. According to Google, if your website can fit into the 2.5s window, it means you have more than okay speeds.
At 0.9s, this is more than suitable for a standard website. Testing it in other locations shows that the platform loads the site in under 2.5s, too. Despite these locations being further away from its data centers.
Typically, the further away a web visitor is from the data center, the longer the webpage will take to load. On loading a website that can work, InterServer records a loading speed of around 2.3 seconds, which is once again below the 2.5s recommended by Google.
Uptime
Delivery is among the most important qualities to consider in a service provider. When it comes to VPS Windows server hosting, delivery directly translates to site availability, with everything else coming after it.
A look at the service level agreement posted on the InterServer website shows that it offers an uptime guarantee of 99.9% per month. To this end, InterServer has proven that it can deliver on its promises.
Naturally, not many experienced web developers are willing to take a web host at its word and would rather rely on the results from an actual test. When tested over a period of four months, InterServer has continuously provided an uptime average of around 99.96%.
It's, therefore, clear that InterServer fulfils the promises made on its SLA, making it a reliable host.
Response Time
The long-term performance monitoring results are both average and promising. As mentioned above, InterServer maintained an uptime average of above 99.9% over a four-month period, which is exciting for a website owner.
These results mean that you can expect to encounter downtime of barely less than a full hour over a one-year period. That is pretty much the best result you can get from any hosting provider. It's a result that's more appreciated considering its uptime guarantee of 99.9%
While the uptime guarantee holds as expected, there is an issue with the server response time. Tests done on multiple days indicates that the hosts average a server response time of around 662ms, which, regardless of how you look at it, is average.
Performance-focused providers will usually average a server response time of around 300ms or below. This shows that InterServer needs to work on its response times to match those of its competitors.
Load Time
In addition to its high uptime, the InterServer cloud VPS server has one of the fastest site load times around. Many of the sites it hosts can respond within 150 to 220 milliseconds. But, its regularly scheduled maintenance services can sometimes impact the site loading speed.
Another factor affecting loading times is the geographical proximity between the web user and the data centre. The system will tend to respond faster when the distance between where a site is hosted and where its client is is more significant.
Placing up a CDN for your website can assist in alleviating some of these issues.
Ease of Use

Features-wise, anyone can see that InterServer has a lot to offer. Are all the available features as powerful as they are easy to use? Almost! During this review, several issues arose, but there weren't many serious problems.
Have you ever strolled into a brick-and-mortar store in search of something, only to find yourself overwhelmed by the number of available options? Most VPS hosting providers use this tactic and provide similar-sounding plans to confuse their clients.
Many of these plans don't have any major differences, implying that their goal is to attract new clients using all tactics conceivable. You'll be happy to note that InterServer doesn't employ this tactic and its plans are well-explained.
Overall, its account management portal provides a detailed list of tools that will allow you to quickly navigate from one area to the next. The interface is highly navigable, clean, and minimalistic, which works well for both beginner and experienced users.
Differences Between Cloud VPS And Standard VPS
Cloud VPS
Cloud VPS varies from other types of hosting as it's typically used to describe a collection of servers. It spreads its data across numerous physical servers located in different parts of the world.
A hosting environment helps connect all these servers. It's where the 'cloud part' of this name comes from, helping to describe what cloud hosting entails. As with any other type of hosting, cloud VPS does have its pros and cons, which are as follows:
There's no security guarantee for cloud hosting

It comes with a steep learning curve
Standard VPS Hosting
Standard hosting differs from cloud hosting because it doesn't have the pay-as-you-go option. In this plan, you'll continue to pay the same monthly fee for access to a fixed amount of storage resources.
The amount will remain fixed regardless of whether you use the computing resources or not.
| | |
| --- | --- |
| | |
| Fast and reliable performance | Slow response and load times |
Final Thoughts
InterServer VPS hosting does so many things correctly. Even though it's a small company, it has proven that it's reliable and has a solid technical aptitude. And although there are areas where it can improve, e.g., knowledge, it does deliver where it counts the most.
Its locked price guarantee, excellent customer support team, insane speeds, and strong uptime make it the perfect choice for technically inclined web admins. If you're expecting moderate traffic on your website, look no further than InterServer cloud VPS.
Its interface may not be the most user-friendly you have ever used. However, the people behind the platform and its underlying infrastructure help make up for its shortcomings. Additionally, if you need to try out different operating systems, InterServer has got you covered.
So, should you try out the InterServer VPS services? Absolutely! InterServer is the best hosting option for you if you're on a budget and want access to reasonable pricing and reliable customer service. Make sure to also check out its domain offers and affordable email hosting packages.
---
FAQ