It's easy to see why you may get suspicious after looking at Interserver shared hosting reasonably priced plans. Because can a low 30-day $2.50 rate truly get you powerful security tools, useful extra features, and unlimited hosting resources? Is there a catch?
On paper, everything about InterServer looks promising. It's a platform that boasts over two decades of experience in the industry. It also has a wide variety of plans, ranging from shared hosting to reseller plans.
Others include dedicated servers and virtual private servers (VPS), and not forgetting the fact that it has four data centers in the U.S.! This means that its North American clients can expect great speeds when using it. Below is a more detailed look at what to expect with Interserver shared hosting plans.
InterServer Shared Hosting Overall
InterServer is not your everyday hosting provider. Despite having been in the industry for 22 years now, it's yet to make a name for itself, and there are very few people talking about InterServer web hosting.
While this makes it appear like an underdog, most people are surprised when it comes out on top. What makes it even more surprising is realizing just how old it is and trying to acknowledge the kind of impact it is making in the shared hosting niche.
At some point, you can ask yourself the question, 'what has made InterServer shared hosting what it is today?'. Does the platform have a remarkable marketing team on its side, or is it all word of mouth?
So far, all the InterServer hosting reviews you'll find online indicate that this is a platform you can trust. On the other hand, you may see it as one of the best-kept conspiracies you have ever read about! A look at its website indicates that 70% of its clients are migrations. Meaning that there's a reason that they all want to use its unlimited hosting plans. The goal today is to find out what InterServer is hiding under its servers.
Lots of analysis, testing, and checking customer reviews made this InterServer hosting review quite long, but by the end of it, you should have a good overview of the platform. Keep reading to learn more about it.
Pricing
InterServer shared hosting plans start at $2.50 per month. However, the platform provides every type of hosting plan imaginable on its in-house data centers. You can choose data storage, Linux or ASP.net hosting. But also collocations, dedicated servers, or cheap VPS options.
For many years, InterServer only had a single shared hosting plan. A plan that has remained unlimited in every single word of it – bandwidth, number of websites, storage, and email accounts.
NB: Unlimited is limited to the server capacity.
| | |
| --- | --- |
| | |
| | Ideal for beginners looking for low prices and ease of use. |
| | Interserver shared hosting using a Windows interface. |
| | Advanced hosting solution offering a dedicated server space |
| | Advanced users. It provides a private server with all its management responsibilities and unlimited resources. |
| | Leasing data center space for personal use. It guarantees redundancy and security |
| | Designers, freelance developers, or agencies interested in selling websites. |
Based on the table above, it appears as though all the solutions on offer are best for advanced users. Nonetheless, shared hosting is one of the most popular options today, as it works well for small and medium-sized businesses.
Types of InterServer Shared Hosting
If you need a reason to try out InterServer web hosting services, the price guarantee is one of the best perks. The amount you'll agree to pay when subscribing is the same amount you'll continue to pay for the duration of your contract.
However, this may change if you decide to make some adjustments to your shared hosting plan. In example, upgrading to dedicated hosting from VPS hosting. If this doesn't happen, you can expect to continue receiving some steady fees from the hosting types described below.
Linux O.S./ Standard Web Hosting
Standard web hosting services from InterServer are the kind of solution you need when you have a start-up business that you want to take online or are looking to start a blog for personal use. It's basically a one size fit all package that will help you get started.
Whether it is your first time, or you are well experienced with hosting – you will not go wrong with this choice.
With this package, you get straightforward pricing, and 24/7 managed support at only $2.50 per month. Some of its notable features include:
Linux O.S./ Standard Web Hosting

InterShield Security – Provided Free of Charge
InterServer shared hosting has an in-house security solution that relies on data collected from thousands of websites to detect attacks. It uses this data to replicate protection rules across its multitude of servers to prevent these attacks.
The InterShield security solution offers:
Protection against web attacks
Access to the InterServer malware database
A machine learning firewall
An automatic virus scanner
CloudFlare – + Inter-Proxy Caching
Interserver web hosting uses its proprietary caching mechanism, Inter-Proxy, to cache all website content with heavy request loads. So, how does it work?
Packet Level: QUIC—A Google product that helps in reducing the connection times
Raid Level: Also known as the LSI MegaRaid SSD caching level that deals with hot spot caching
Software Level: Caches all dynamic content
Hardware Level: All files under 2 M.B. get stored in the RAM. A typical interserver web hosting node has around 256GB of memory.
InterInsurance – Free
Interserver web hosting will clean up all hacked, compromised, or exploited accounts. It's a service that's available to all new customers who sign up for the Linux O.S./ Standard Web Hosting service.
The platform will clean up your account during the migration process. As a WordPress website, its priority lies in getting you online securely and in ensuring that you never have to worry about future DDOS attacks.
Under this, you'll get:
Restoration: It helps in restoring your website to its original state
Investigation: InterServer determines what caused the initial problem
Prevention: Assists in addressing what caused the problem
Linux O.S./ Standard Web Hosting notable features:
Unlimited storage space
Free Cloudflare CDN
Unlimited data transfer
Ultrafast web server
Weekly backups
Speed optimization
Unlimited FTP accounts
Raid-10 storage
Cloud apps
SSD caching servers
10 G.B. Cisco network
Windows O.S./ ASP.Net
With the InterServer shared hosting Windows O.S./ ASP.Net hosting plan, you get to use its PLESK panel to boost your search engine rankings and boost your website security. The $8.00 per month plan includes an SSL encryption certificate and five different versions of SSL, PHP, Python, and Perl.
There are many benefits to choosing this plan. For example, it's an option that should come naturally to you if you want to build a website using .net language more so because most people are well-versed with the Windows-based O.S.
It's what makes it appealing to many developers as nothing feels new to them when it comes to creating and managing websites/apps based on this O.S. When it comes to pricing matters, you'll find that most web hosting services are typically costly.
Fortunately for you, Windows O.S./ ASP.Net hosting services from Interserver shared hosting are pocket friendly and offer multiple benefits. For example, you can create as many email accounts as you want. And even use the one-click installer to boost your search engine rankings.
Additionally, you can use the Plesk panel, and Web Deploy to simplify the site deployment process. To add to that, this hosting plan provides you with all the freedom you need to work and build websites and apps in the Windows O.S. environment.
Some of the reasons you should consider this hosting plan include:
Free Migration Service
If using a standard InterServer shared hosting migration plan, make sure to have a complete cPanel backup available for download. It's also important to learn about the migration service beforehand to know what's expected of you.
50% Server Capacity
InterServer only uses 50% of all its available resources, which means that it's always in a position to support the growth and development of its customer's websites. Simply put, it's a guarantee that your website will never experience any performance issues.
Guaranteed Email
Using the InterServer control panel, guarantees email delivery of non-bulk, non-spam, and valid emails with the addition of spam blocking and compromised email detection.
Other notable features include
25 domain names
Unlimited email accounts
Easy WordPress installer with free backups and automatic updates
Boost Web Hosting
The boost web hosting solution is perfect for that website owner looking to supercharge their website. It's a web hosting package designed to meet the needs of all popular websites, especially those having heavy traffic.
If you are looking to add a little bit of something extra to your shared plan, then definitely check it out.
Starting at $9.95 per month, boost web hosting offers you the following:
Cloud Apps
Over 400 scripts are available for one-click installation. Examples include:
Mambo
WordPress
Magento
Joomla
Prestashop
Drupal
Easy to Use InterServer control panel
The easy-to-use control panel is perfect for anyone who is unable to use the command line provided by most Linux server providers. InterServer offers a Linux-based control panel. It definitely helps in eliminating any confusion you may encounter when trying to manage your website.

DirectAdmin and cPanel work best on a virtual private server or dedicated server running on Cloud Linux, FreeBSD Enterprise Linux, and CentOS.
Free Migration Service
Remember to have an InterServer control panel setup before you begin the migration service. You can visit InterServer to learn more about the InterServer shared hosting migration service, including the dos and don'ts.
Guaranteed Email Delivery
Interserver web hosting has tried to solve the email deliverability problem. All the emails you send will be processed via its gateway server. Furthermore, it ensures all emails are scrubbed for spam using the Mailbaby SMTP relay.
Cheap eCommerce Solutions to Help Boost Your Store
InterServer provides low-cost boost web hosting services ranging from Standard to Boost 4 ($19.95 per month). That allows you to create an eCommerce store on your preferred platform. You can choose from OpenCart, Magento, WooCommerce, PrestaShop, and much more.
As a hosting provider, the platform continuously tries to improve its services by experimenting with new technologies. It's an approach that has helped it remain ahead of the curve and ensure that its clients can host websites wherever they choose, even on the Macintosh platform. And this is all without having to switch from Windows or Linux.
The table below provides a breakdown of all its important features: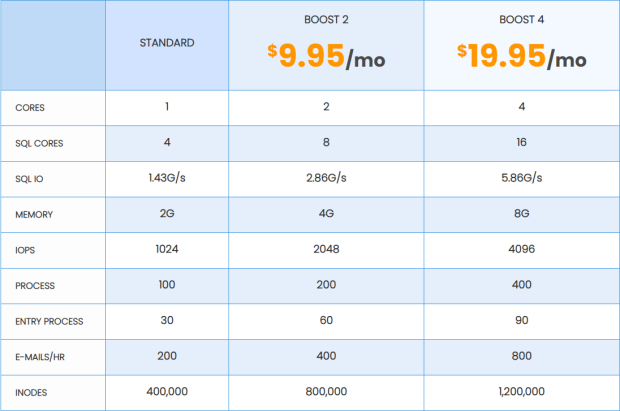 Shared Hosting Features
As a website owner looking for a basic, shared hosting plan, InterServer has three options to offer. Each option comes with unlimited email, storage, and free transfer. The WordPress and standard plans additionally come with free SSL certificates.
When looking for your perfect hosting provider, it is always best to take a good look at their features. Carefully evaluating each one will significantly ease the process and help you choose. Let's dive into InterServer shared hosting features now.
The three plans are as shown below:
Standard: It's perfect for people who are just getting started out or those whose websites have light traffic.
ASP.Net/Windows: It's quite similar to the standard plan, the only difference being that the server runs on Windows products as opposed to using Linux/open-sourced software.
WordPress: As the name suggests, it's best for that person looking to host a WordPress site. Its features are similar to those of the other plans, but it comes with the added benefit of daily backups, anti-virus protection, and version control.
Custom Domain
You'll normally find a limit on the number of individual websites you can create using a shared hosting plan. In most cases, you'll find yourself having a small project that you would like to bring online but are limited to using subdomains.
In other cases, you may even lack root access to the database that you need to install a WordPress instance. The good news is that this isn't the case with InterServer shared hosting, as it allows you to run completely different websites and create as many databases as you want.
You can use its domain manager to add extra domains and even customize your domain names. The latter is particularly important for that person or business that would like brand recognition. Or those who expect massive traffic on their websites.
It will also work well for you if you want to make the most out of your unlimited InterServer web hosting plan.
Email
InterServer provides private email hosting at $2.50 per month for up to 12 months. With this service, you get:
Customized email address, e.g., your@name.com
24/7 technical support
Unlimited storage
Unlimited devices
Spam and virus protection
Private and secure mail
The InterServer shared hosting unique solutions and expertise is designed to offer you a good experience. Supported devices include Mac, iOS, Windows, and Android. If running a business, you can opt for a customized email that will only set you back $5 a month.
For this, you'll receive:
File storage and email archiving
Mobile access, webmail, and outlook
Unlimited aliases forwarding and group lists
100% uptime guarantee
Up to 25 G.B. storage for your email
While InterServer shared hosting may not provide free emails, it does provide free email migrations. The platform understands the challenges that come with changing email providers, which is why it has an in-house team of experts dedicated to making this process easy. Just remember where you host your domain name.
Support
InterServer web hosting has an excellent in-house customer support team. You can reach them via multiple channels, including telephone, live chat, and email. However, telephone support is only available for clients in the U.K., U.S, Israel, Mexico, and Brazil.
Its customer support team has previously won awards for its quality service, with many acknowledging its swiftness in addressing customer complaints. However, those looking for a knowledge base or documentation will be disappointed as this does not exist.
From experience and an analysis of tens of customer reviews, the fastest way to contact the support team is by using the live chat option. It may take a few days to have the same resolved over email.
Security
Keeping your website free of malicious files and secure at all times is of utmost importance to any business website. But more often than not, you'll find that most hosting companies tend to act like your fun uncle than your ever-overprotective father or mother.
Generally, some will try to upsell their security solutions, while others will try to offer some insight into how to manage your website. Of all these, none will do what needs to be done to ensure that your website remains safe.
InterServer shared hosting shines in this area. Its InterShield security firewall ensures that your site remains safe by blocking all outside attackers. It uses machine learning to help keep it ahead of all possible threats.
It's a defence that InterServer automatically includes with every plan you buy. On purchase, you'll also gain access to the ModSecurity tool, which assists in providing another layer of defence.
Immunify360 is another security tool available. It protects you by continuously scanning the hosting drive for viruses and other malicious files. And the good news is that all of this is included free of charge.
Control Panel
InterServer actually offers you not one but two options – both are equally good and easy to use. You ultimately have a choice between DirectAdmin and cPanel.
DirectAdmin is the automatic option when setting up your package. It is, honestly, great to use even if you are not familiar with it. Simple interface but with a ton of functionality surely won't disappoint. Coming with all tools needed to successfully run your website.
On the other hand, if you are more used to cPanel you have the option to choose it. CPanel is one of the most popular Linux-compatible control panels on the market and most customers prefer it. It is well organized and contains all the tools you may need to maintain a website. It will enable you to add a domain, edit your files using File Manager, install WordPress, or add a webmail account.
Making a choice ultimately boils down to your preference and expertise. You won't go wrong with either of them. Take note that this relates to Standard/Linux web hosting as for the Windows alternative you have the Plesk panel at your disposal.
Free Trial
InterServer shared hosting understands the need to try out a service before committing to using it. For this reason, it does provide you with a chance to try out the service at no cost for thirty days.
The free trial applies to all its shared and VPS hosting services. During this period, you have an opportunity to test its uptime, customer support, and even the free email migration services. You can choose to cancel the plan at any time within this period if you're unsatisfied with its services.
InterServer web hosting will not bill or charge you for this, provided you do it within the 30-day timeframe. You can also order free VPS hosting at only $0.01 for the first month. Website owners who select this option can set their accounts not to automatically re-bill.
Money-Back Guarantee
There are plenty of reasons why a person may want to cancel their InterServer unlimited shared hosting subscription. Luckily for you, every available unlimited shared hosting plan comes with a 30-day money-back guarantee assuring that your funds are safe.
The guarantee means that you can get started with this host relatively risk-free and without any worry in the world. As mentioned elsewhere in this article, you can use this trial period to test the host to check whether it meets your needs.
If you do choose to sign up and later on decide that this isn't the right host for you, the cancellation process is pretty straightforward. You can cancel your subscription straight from the dashboard without having to involve the customer support team.
Performance
As with almost everything else mentioned in this InterServer hosting review, its performance is pretty much standard. InterServer, as indicated on its website, shows a reliable 99.99% uptime, impressive website loading speed, and an average server speed.
Its network, hardware, and infrastructure uptime guarantee are up to par with industry standards. Many website owners are thrilled by the fact that it has an in-house team which means that the company tends to overdeliver on its SLA promise.
If you do choose to sign up for an InterServer shared hosting, you can expect the following:
Choice of data center and full root access
$0.01 for the first thirty days with a money-back guarantee
Seven operating system options for Windows or Linux
$6 monthly charge with no extra charges
Latest of Ruby, PHP, Python, Perl, and MySQL
The following is a detailed breakdown of its performance:
Speed
For a budget web host, the InterServer speed is way above average. For example, you can use caching to help increase the website's speed. Caching refers to a process that assists in saving static pages of the site for use at a later date.
InterServer users can access LiteSpeed caching using its cPanel. Once there, the tool will quickly scan through all the web pages and save cached copies of each. The process can save valuable loading time, especially for advanced pages that may need lots of computing power.
Another significant integration is with the content delivery network provided by Cloudflare. Its worldwide fleet of servers will cache all the pages on your website, ensuring that your visitors get served from a server location closest to them.
Uptime
It's important to note that InterServer shared hosting provides a 99.9% uptime guarantee with every hosting plan. Its terms are well laid out in Service Level Agreement (SLA), which, if you take the time to go through, you'll realize is quite basic stuff.
Although its speed might dip every once in a while, you'll find that this is one of the fastest hosts in the U.S. You can make a few tweaks using the control panel to help boost these speeds and improve the reliability of your website.
We advise website owners to keep monitoring their website response and reach out to the company in case performance falls below the stated guarantee.
Response Time
When it comes to response times, InterServer shared hosting fairs quite well, with many site owners recording an average response time of about 400 milliseconds. However, you should note that this isn't guaranteed.
A cursory look at various online reviews reveals that there are problematic months when this speed may dip to around 700 milliseconds. Taking this into account, it means that InterServer web hosting isn't as fast as its competitors. However, it still does better than other bargain hosts.
Load Time
InterServer offers top-notch hardware even for users using unlimited shared hosting plans. In addition to providing solid-state drives for storage purposes, every site gets hosted on a server that is never more than 50% full.
It's a setup meant to ensure that there is a reduced likelihood that another website hosted on the same server as your eCommerce store will cannibalize all the available resources. What this means is that you're assured of fast load speeds at all times.
You can use a load time tester to check how long it takes to load an individual webpage.
Ease of Use
All things considered, InterServer shared hosting doesn't have a flashy interface. For example, the InterServer control panel has its original skin. Luckily, it's easy to use and has all the modules you may need to manage a website.
Everything will run smoothly regardless of whether you're a beginner or an experienced user. The account management portal enables you to adjust or order new hosting services quickly. Its simplistic nature means it's clean, easy to navigate, and quite minimalistic.
Though the interface makes it appear basic, service and support are what truly matter. This is one area where InterServer truly excels. You can use the account management portal to ask for help whenever you run into an issue or if you would like help setting up certain things.
Remember, live support is available 24/7; all you have to do is hit the chat button.
Why should I choose InterServer Shared Hosting?
InterServer shared hosting is a refreshing, independent solution built on modern infrastructure. Its infrastructure is supported and deployed at its company headquarters based in New Jersey. The unlimited shared hosting plans on offer come with all the features you would expect to find from top-tier hosting providers, e.g.,
$7.99 domains
Unlimited storage
SSL certificates
Unlimited email
Tons of storage
Unlimited bandwidth and emails
Free Migration
Beginner site owners may become intimidated by its long list of features, but these features are there to help them succeed in their hosting ventures. Its favorably priced solutions are ideal for applications or websites seeking to venture into dedicated or VPS hosting.
It has IT-minded co-founders and a 24/7 on-site support team, so you never have to worry about your website going offline. Moreover, the platform provides a price-lock guarantee regardless of the chosen hosting package.
Whichever price you sign up for, this is the same price you'll continue to pay for as long as you have that InterServer account. This may only change if you decide to upgrade or add to your available services.
So, who should use InterServer shared hosting? Well, this is an all-rounder that will support start-up websites using its Standard plan. This includes hosting portfolios, small online stores, blogs, and business sites. You have an option to upgrade as its popularity increases.
Final Verdict
InterServer web hosting is affordable and reasonably priced. It's flexible and reliable, with an uptime guarantee of 99.95%. Furthermore, website owners have an option to upgrade to dedicated or VPS hosting as their site traffic increases.
For many of its clients, InterServer is a rare gem in the modern web hosting environment. Its good spread of hosting plans, impressive hosting speed, and reliable servers make it the best fit for all clients, no matter the type of website they would like to run.
Top these features with a reasonable and affordable price tag of $2.50 per month for new clients and $7 a month to renew, and you don't see a reason why you shouldn't try it. Plus, it has a free trial and a money-back guarantee ensuring your funds are safe.
As a budget hosting solution, InterServer has everything that a website owner will ever need to manage and set up their website.
---
FAQ