The iPad and iPhone obtain your position using either the GPS device or your wireless connection. Apple says it uses crowdsourcing to obtain a map of wireless connection points and their locations. That is a polite way of saying that it has recorded the longitude and latitude of wireless routers, without asking one's permission. When you use an iOS app, it broadcasts your networking connection information to Apple. If Apple knows where the router is located, it knows where you are located. Knowing one gives them the other and that works in both directions. Fortunately, Apple provides a way for you to turn off geolocation.
It is usually faster to obtain your location with the wireless hotspot than with GPS.  GPS takes a few seconds to load and only works when you are outside and have a view of the sky.  GPS can give your location with a few meters. Because the Wi-Fi signal only travels up to maybe 100 meters, Apple can pin you down to somewhere in a circle of that radius. That is enough to tell them what floor in what building you are located.
A new locator known as BLE Beacons, which will be rolled out to retail stores, uses triangulation and multiple tracking devices (beacons) to locate you within centimeters.  It first will ask your phone for permission and then begin to track you by the IMEI (serial number) of your phone.  That integration is not built into iPad cameras, yet.
You would have to say that Apple is more honest about tracking you than Google.  After all, it is not an advertising company like Google, which can use your location to sell ads.  Apple gives you fine grained control over giving away your location.
Turn off Location Service when using the iPad Camera
1.On iOS 8, go to Settings>Privacy>Location Services.  Here, you can turn that off completely, or turn it on where it only makes sense, like when you use Google Maps.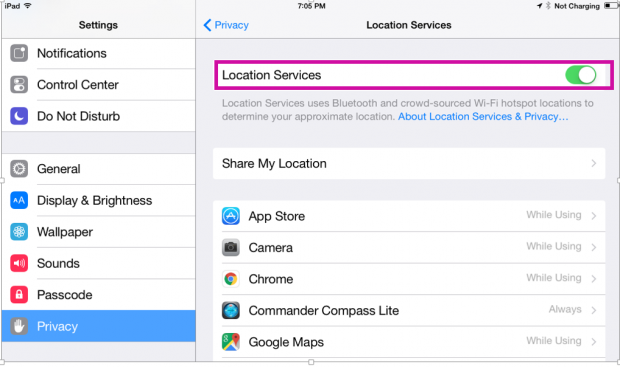 2.If you click on the Camera, you can tell it to use Location Services only while you are taking pictures.  No further adjustment is needed in the default camera app.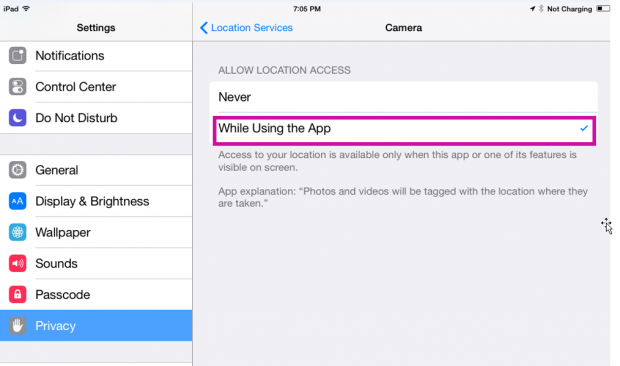 3.This small icon appears at the top of the screen when your iPad is tracking your location.