iOS 9 learns with you. iPhone's latest operating system for 2015 will now display the applications you use most on your phone. People that you frequently call and message from your Contacts are also displayed. This is made possible through Siri Suggestions, a new feature that allows you to navigate through your phone faster. Aside from displaying contacts and apps, Siri Suggestions also lets you search applications, text messages, email messages, and other data on your phone. Learning how to use Siri Suggestions will make you more efficient in using your iPhone.
Some users may not want to show the applications they use most often and the people they frequently contact. If you are one of those who wants to turn off Siri Suggestions, then this article will be helpful for you.
Disable Siri Suggestions on iPhone iOS 9
To prevent Siri Suggestions from displaying apps and contacts, disable the feature through the Settings. To do that, follow these steps:
1.Get to the Home screen by pressing the Home button once.

2.From the Home screen, open the Settings menu by tapping on the gear icon.

3.In the Settings page, tap on General.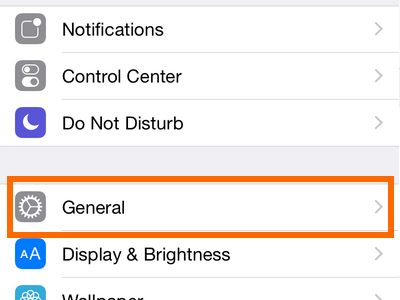 4.In General, tap the Spotlight Search option.

5.In the Spotlight Search page, tap on the switch button located to the right of Siri Suggestions.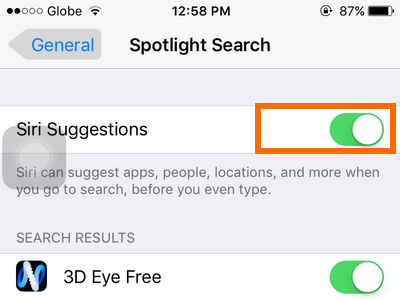 6.Siri Suggestions is now turned OFF. Applications and contacts will no longer be displayed in the Siri Suggestions page.
Currently, there is no way to clear Siri Suggestions without jailbreaking your iPhone. When Siri Suggestions is enabled again, the applications you use most often and the people you most frequently contact will be displayed once more. This article will be updated once the feature to clear Siri Suggestions is available.
Did you have problems with any of the steps above? Let us know in the comments section.