Google Sheets is a free alternative to Microsoft Excel that has a mobile and web version. Sheets does not have the full functionality of Excel, but it works well with the touch interface of a mobile phone. Although I would not use Sheets to manage large datasets or do any serious computation, it has the functionality that I am likely to use on the go. Google Sheets can be used offline, or it can sync with your Google Drive so that you can pull up all your Sheets on any computer or device. If you do not already have the Google Sheets app, you can download it by following these links for android or iOS.
One of the drawbacks of using spreadsheets on a mobile device is that it is difficult to fit a lot of data onto a small screen. One way to mitigate this problem is to reduce your column width so that more columns are visible on the screen at a time.
1.To resize a column, select it by tapping on the letter header for the column. It will highlight the row in blue. Put your finger on the border between the header letter of your column and the header next to it, and drag it to the width you want. You will see a blue double line previewing the new width of your column. If you are having trouble getting this to work, try using your pointer finger instead of your thumb for increased precision.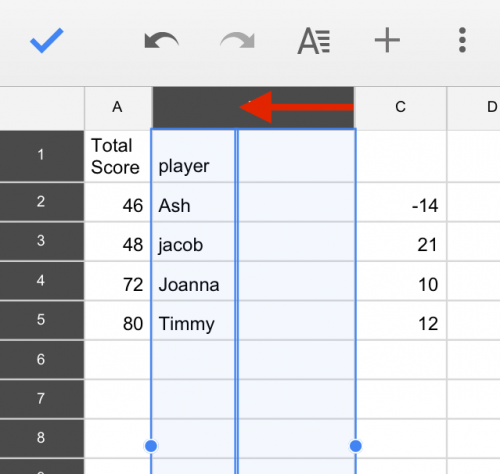 2.To resize multiple columns at once, select a column by tapping the header letter. Then put your finger on the circle on the edge of the highlighted row, and drag it over until all the columns you are trying to resize are highlighted. Click and drag the boundary line between any two of the letter headers in your highlighted columns to the desired width.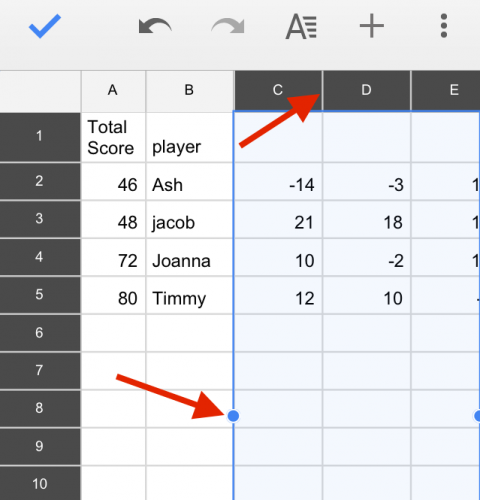 3.The process for resizing rows is the same as outlined above for columns. Select a row by tapping on the numerical header for the row, or select multiple rows by tapping a row header then dragging the blue grab point on the center of the edge of the highlighted region. Drag the boundary between two row headers to adjust the height of the rows.