Google Photos movie maker is truly incredible. Choose a few videos or pictures on your phone, and Google Photos will automatically pick out short clips from each, slap a cool filter on them, and add a soundtrack. You get a fun, quality movie montage in less than a minute with absolutely no skill required. If you already have Google Photos synced on your phone, you do not even have to worry about downloading/uploading your video clips. They will already be right there for you to use in your movie. The steps below explain how to use your clips to make a movie of your own.
This feature is only available on the Google Photos app. It will work on any iPhone or iPad, as well as most android devices. Check to see if your device is supported here.

1.Open the Google Photos app
on your phone or tablet. Tap on the "+" at the top of the screen, and then select Movie from the 'create new' list.
2.Select the videos and photos you want to use in your movie. Any photos that you include will be given a Ken Burns effect, which looks like the camera moving across your picture. To add multiple items at once, tap and hold your finger on the first photo until the check appears on it. Then drag your finger to include as many pictures as you want. You can tap a selected photo to remove it from your selection. Click Create when you are done.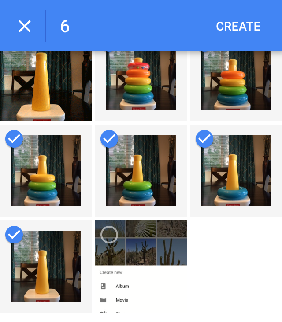 3.It might take a little while to make your movie if you have used a lot of long videos. Once it is created, it is automatically saved to your collections. Make sure to give your video a name. Do this by tapping Untitled and typing in your own name. The three icons across the bottom are used to edit the theme (filter), soundtrack, and clips used in your movie.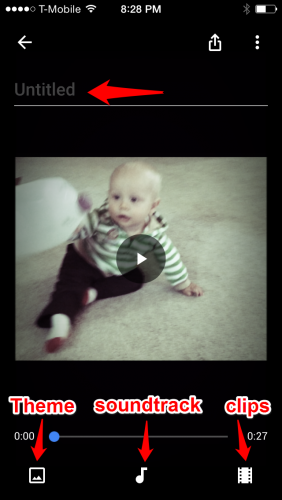 I usually love the movies that Google makes, but occasionally I want to edit the theme, soundtrack, or clips. Read all about how to do that in the next part of this series here.