You usually use VPN for two purposes:  to connect to your company's network from home and when traveling or to connect to a public VPN service. You use a public VPN service for two reasons as well:  to hide your real IP address and to spoof your geographical location so that you can watch geographically-restricted video or music.
Using VPN to cloak your identity is really not going to work to hide your identity.  You need to use TOR for that. If you are doing something illegal, like violating copyright law, then attorneys or law enforcement will be able to find you anyway with or without VPN. VPN just adds one additional layer of obfuscation and means they need to serve a subpoena to one additional organization to find the name behind the IP address.
The reason I use VPN is so that I can watch video that is blocked outside the USA.  For example, Amazon Streaming Video at this moment only works in the UK and the USA.  Hulu.com only works in the USA.  Where I live in Chile, I can only see Crackle.cl (Chile), which is owned by SONY.  Most of that is in Spanish. I can stream Spotify, but the certain radio stations on TuneIn are blocked, like CNN television broadcast over the radio.  PBS Frontline works, but PBS Nova does not.  I cannot watch certain Argentina TV, nor can I watch the BBC iPlayer. Therefore, I use VPN to connect to servers in those countries to get around that.
To use VPN, you need to sign up with one of the VPN companies.  There are many, such as IPVPN. Be careful who you pick since a whole industry of affiliates (resellers) exists to push onto consumers, not necessarily the best product, but the service which has the most affiliates. These people have gamed the system by writing favorable reviews on their own product and getting their affiliates to do the same.
How to Set up VPN on iPad iOS8
1.Go to Settings, and select VPN.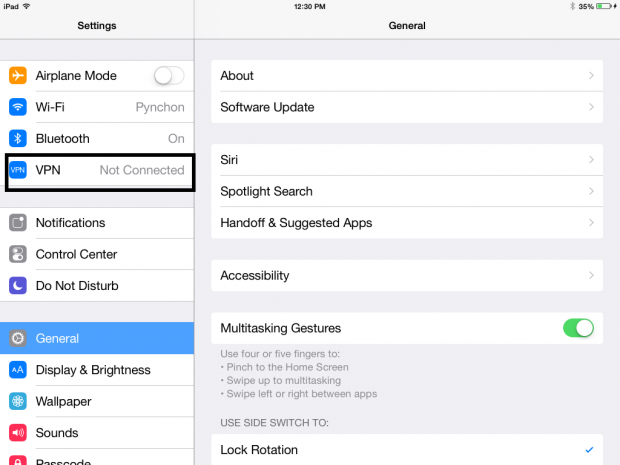 2.Select Add VPN Configuration.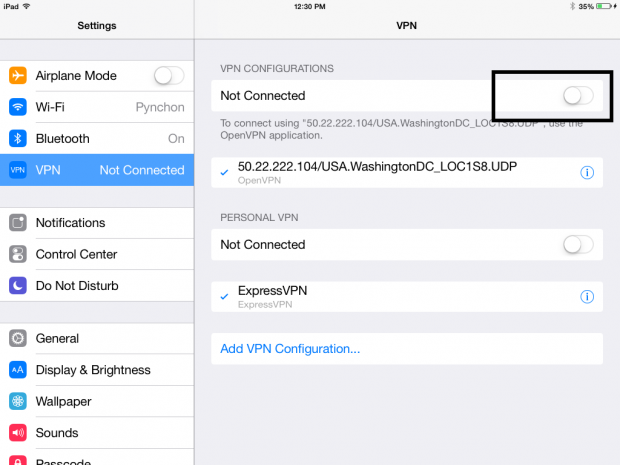 3.Now, fill in the screen, picking either the L2TP, PPTP, or IPSec protocol. Pick whatever protocol your VPN company tells you to use.  If you do not know, pick L2TP as that usually will work. If you are connecting to a company, most likely you will use the IPSec, since it has advanced security.
The steps below explain how to use the L2TP protocol. Fill in the fields as show here.  Do not fill, change, or fill in any of the fields not mentioned.
Description—Create a generic name such as "New York."
Server—This is the IP address of the VPN server.  You can use a number like 123.123.123.123 or letters like us.vpncompany.net.  Get that data from the website of your VPN company, picking the one that matches the country to which you want to connect.
Account—This is your user ID.  It is important to note that the VPN company has different user IDs and passwords for different protocols and their website login or their own custom client.  It is kind of messy, but that is usually how it works.
Password—This is the password for your account.
Secret—A shared secret is used to encrypt data over the VPN connection.  What you enter here must match the server to which you are connecting.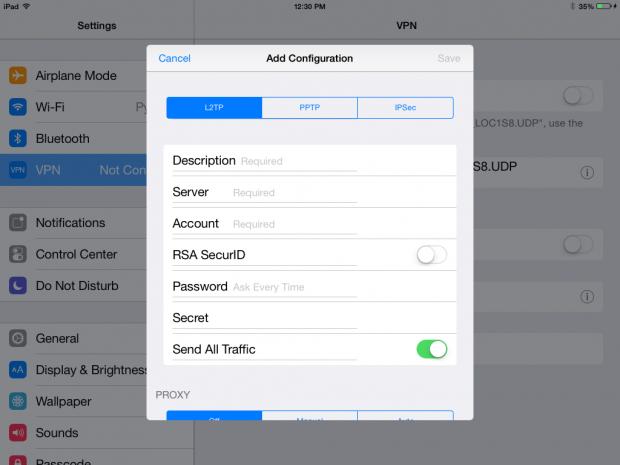 4.To connect, select the connection, and then press the toggle button highlighted below.  It will turn green when you are connected. If you want to verify that it is really working, you can go to http://www.whatismyip.com/, and it will show the city to which you are connected and your new public IP address.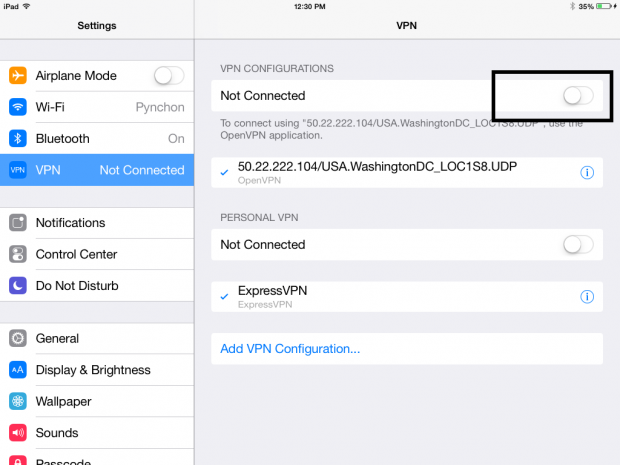 5.Here are some reasons it might not work:
Your user ID or password are incorrect. Upper and lower case matter.
The server to which you are connecting does not support the protocol you picked (e.g., L2TP). Try another.
You might now have an internet connection at all.  Make sure you can open a web page.
A firewall is blocking you.  That might be the case in an office or if you are in a country which censors the internet.
The server to which you are trying to connect is down.  Pick another.
The shared secret is spelled wrong.  Upper and lower case matter.