Many users feel the need to password protect a word document for a variety of reasons. Locking the document helps protect the confidentiality of your information. You might be working on a new novel and might want to keep it a million miles away from someone who could steal your ideas.
In any case, whatever your reasons are, password protecting a Microsoft word document is highly recommended to ensure the safety of your data or information.
And it's quite easy. It doesn't break your back or require tons of time. In this tutorial, I'm going to show you how to get it done in just a few easy steps.
Method 1: How to Password Protect a Word Document with Encrypt Password Option
Microsoft word 2010 and subsequent versions have an in-built encrypt password protect option that is really easy to access. Here's how you can find it.
1.  Open Your MS word document and go to file.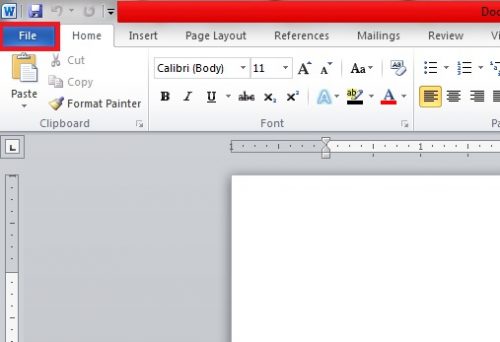 2.  Scroll down to Info.
3.  Go to Protect document>Encrypt with password from the Permissions Section.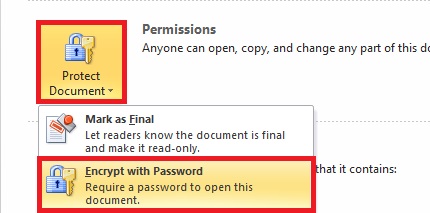 4.  Type your preferred password and select Okay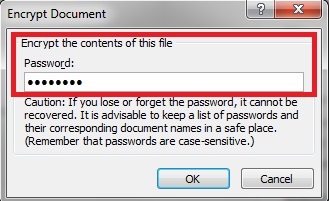 Method 2: Protect Your Document with Mark as Final Option
Okay, this doesn't really protect your word document, but it's a good way to restrict editing and inform the readers that the document is final an doesn't require changes. Although, if someone wants to edit it, he can do so by clicking the edit anyway button on top of the document.
1. Go to file on the upper left-hand corner.
2.  Move down to info.
3.  Tap Protect Document.
4. Tap Mark as Final.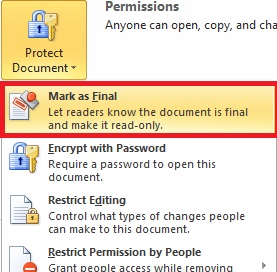 How to Remove Password from Word Document
Well, this is quite identical to assigning a password.
1. Locate File on the upper left-hand corner.
2. Scroll down to Info.
3. Tap Protect document>Encrypt Password.
4. Remove the Password by deleting it.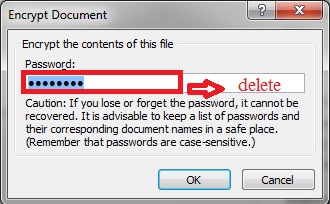 Increased Security
You can also use the first and second method to supplement each other and maximize security. For instance, you can password protect the word document and mark it as final. This will erect two defensive barriers to make any sort of changes in your word document. And also, if you're really wary of its security, upload it on dropbox or some other secure file hosting website, preferably a place where spyware or viruses aren't likely to assault you.
Following these guidelines will definitely prove pivotal in safeguarding a word document from potential hackers or unwanted edits.
Frequently Asked Questions
How do I password protect a word document in MS office 2018?
You can use the methods mentioned in this tutorial for MS 2018 as well. They work quite well for all versions preceding MS 2007.
How do I password Protect MS Excel or powerpoint files?
The methods will remain for all MS office files. You just have to follow the aforementioned steps in powerpoint or excel to achieve the same results.
if you have any questions or queries, our team here at tech-recipes will gladly help you out. Leave them in the comments and we will get back to you ASAP.
For further guidance, check out these related tech-recipes.
How to Create a Strong Password