Citations, footnotes, and endnotes are important for academic writing.  Microsoft Word 2013 generates these items for the writer automatically. It can also make a table of figures and an index.  It would take much effort to do this manually, which is what publishers did for many years. Here is how to make a citation, footnote, and an endnote.
Definitions
Footnote: These are added at the bottom of the page.   The footnote number appears as a superscript, meaning it is slight higher than the text it follows:  word.1  The actual reference where you cite the referenced work is at located at the bottom of the page.
Endnote: These are the same as footnotes except they are added at the end of the document. In a book, these often appear at the end of a chapter, or they can be at the end of the book.
Citation: This replaces the footnote or endnote number with an abbreviation of an entry that appears in the bibliography.  You generate the bibliography where you want, but usually it goes at the end of the document.  Word generates the bibliography for you based upon the citations you create.
Footnotes and Endnotes
The way you create a footnote or an endnote is the same.  On the Reference menu, you just pick either Insert Footnote or Insert Endnote.  Then the cursor moves there where you enter the reference while the footnote or endnote number is located where you told Word to put the endnote or footnote.  Unlike citations, you have to format the footnote or endnote yourself, meaning you have to use take the name, publisher, web link, date web link accessed, author, and so forth that makes a footnote or endnote and put it into the format of the style guide you are using automatically. Citations in Word do all that automatically.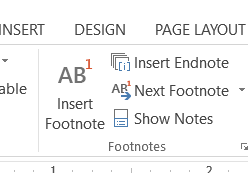 Here, I have split the screen in Word so that you can see both the footnote number and the footnote at the bottom of the page.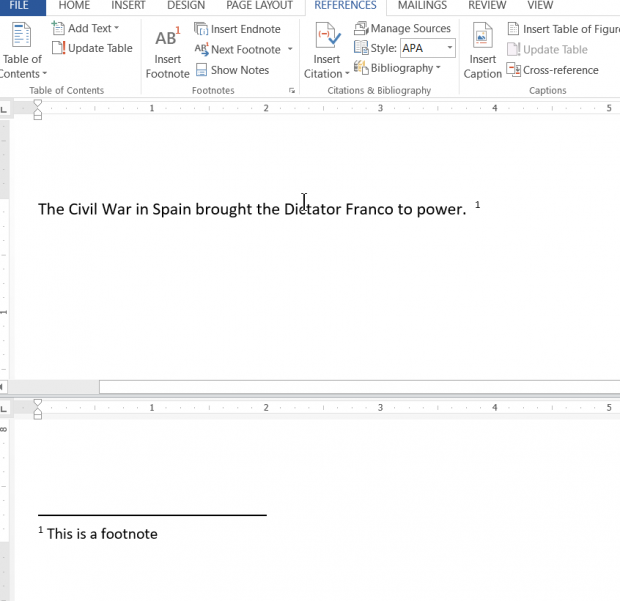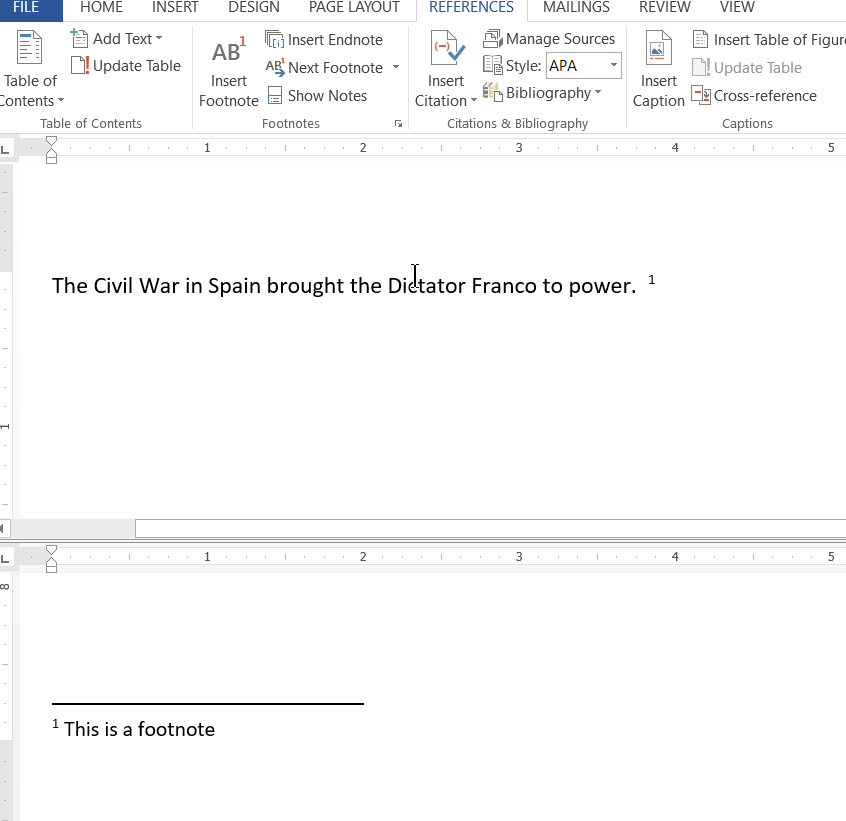 Citation
A citation is an abbreviation of a bibliographical entry that appears in the text.  On the Reference menu, you click Insert Citation.  If this is the first time you have referenced this work, you select Add New Source.  Otherwise, select one of the works already listed. Works are called "sources."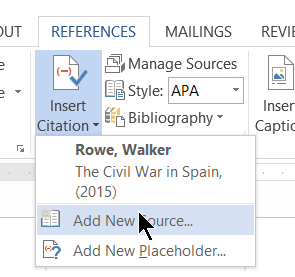 You fill out the details of the reference, and then Word generates the citation according to the style you have chosen. In this example, I picked APA style.  There are lots of style guides like the Modern Language Association (MLA), the Chicago Style Guide (Chicago), and others.

Here is the page showing the citation as well as a bibliography.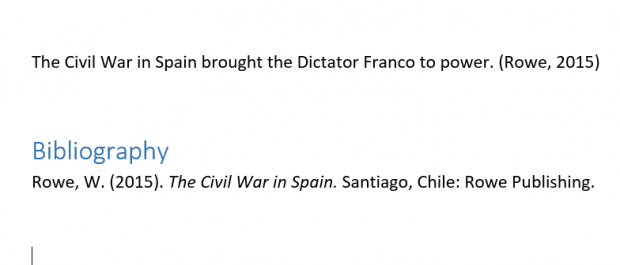 To generate the bibliography, just click Bibliography, and then select from any of the different formats.