Windows 10 comes with a Maps app that, like all of the new Universal Apps, works on all Windows devices such as PCs, phones, and tablets. To get the most out of Maps, you should save places you frequently visit to your Favorites list so that you can quickly find directions and commute times to and from the places that are important to you (e.g., your home, work, favorite restaurants, or Grandma's house).
1. Launch the Windows Maps app. Search for the location that you want to save by typing in an address or the name of a public place.
2. Maps will show you a variety of information about the location you entered, including photos, a Streetside view from Bing Maps, and reviews from Yelp, if applicable. This should help reassure you that Maps has found the correct place. Click on the star icon in the left panel to add the location to your favorites.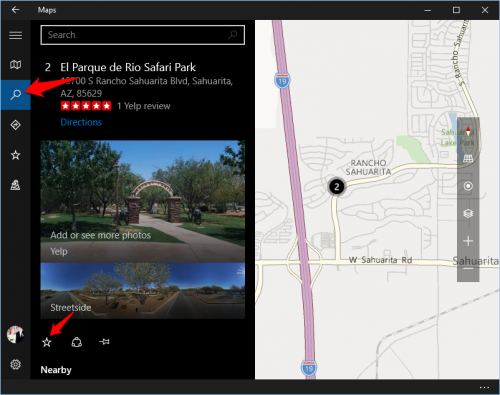 3. If the address you are adding to your Favorites is a private residence, the Edit favorite window will open. Here you can give the place a helpful nickname, such as "Mary's house." You have the option to mark the location as your home or your work using the toggle options under the Nickname box.
If the address you are adding is a public area, it will be added to your Favorites without prompting you for a nickname, but you can still add one if you want. After you add a place to your Favorites, the star icon that you clicked to add it will have a small pencil appear on the corner of it. Click the new star-with-pencil icon to edit the place nickname, mark it as home or work, or delete it from your favorites.
4. To view your Favorites, click on the star icon on the left of the window. Here you will see a list of all your favorite places. You can click the blue Directions text to get directions quickly from your current location. Clicking on an item in your favorites list will open up details on that location, and you will see the star-with-pencil icon to edit or delete the location as you see fit.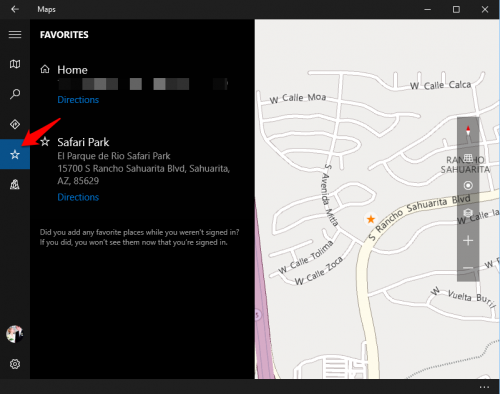 5. Cortana knows your favorite places. You can ask her things like "commute time to work" to get commute information without even opening your Maps app.