Smartphones will slowly revolutionize the way health care is delivered. The iHealth Blood Pressure Dock is part of this wave. This device is designed to allow people to record, save, and share their blood pressure and pulse with their iOS devices. Continue reading for my complete review of this system.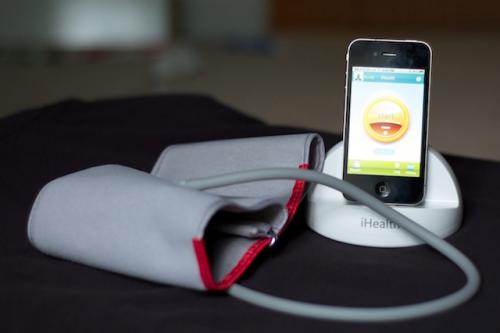 Sadly, I rarely get to use both my medical and tech skills simultaneously. Therefore, I was excited about the opportunity to try out this blood pressure measuring and recording dock. It is compatible with all iOS devices including iPads, iPhones, and iPod Touch devices.
The device appears like a typical charging dock except for the additional connection for a blood pressure cuff. A USB cable and the partner blood pressure cuff come in the Apple inspired package design. However, a USB charging connector is not included.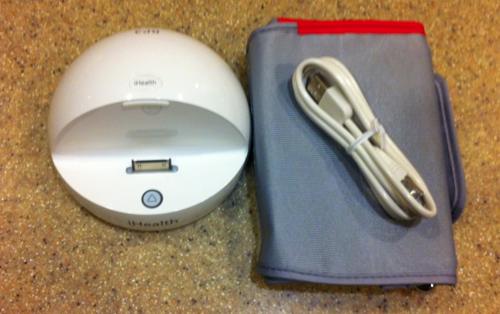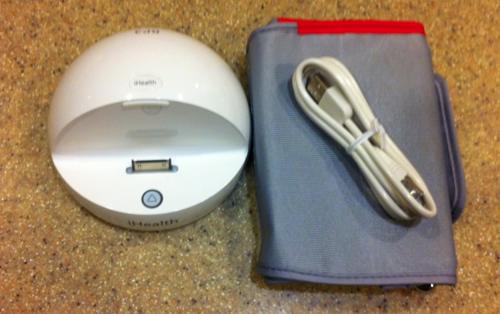 To use the device, you initially need to install the free iHealth BPM app from the iTunes store. I found no problem installing on a wide range of my hardware including my developmental iPhone 4 running iOS5.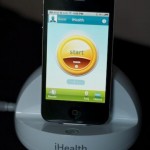 The dock needs power independent of your iOS device to function. If it is being used as a traditional charging dock, it is going to be plugged in all the time any way. However, it is designed to be portable as well. The device itself contains a rechargeable battery which allows for much great independence. The device held its charge much better than I expected over my week of testing.
Lord knows I have seen a great deal of blood pressure cuffs in my life. The cuff is of extremely high quality, comfortable cloth and should hold up even after years of use. The cuff to dock connector is plastic and slides in easily. For measuring blood pressure, cuff size and placement is essential.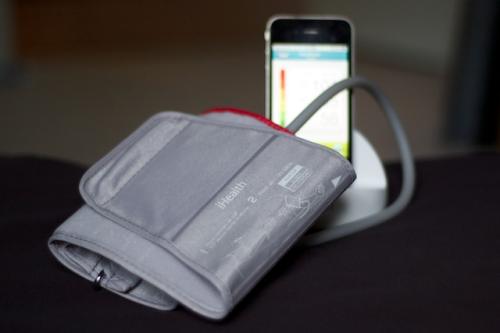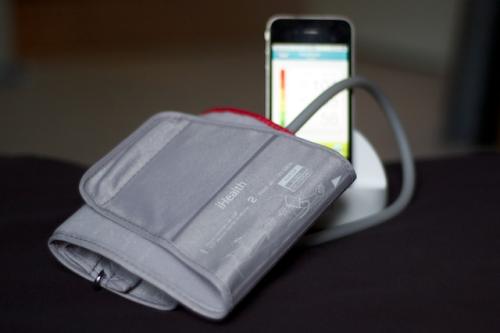 The design and instructions written directly on this cuff should allow any user to establish correct placement. The device can be purchased with the average sized or large sized cuff. The larger size cuff can also be purchased separately for a reasonable amount. Children and extremely thin adults are out of luck so far.
After placing the iOS device in dock, the user just needs to launch the iHealth app. When the device is seated correctly in the dock, the yellow start button will be bright and ready for use. The results are presented in large, understandable text.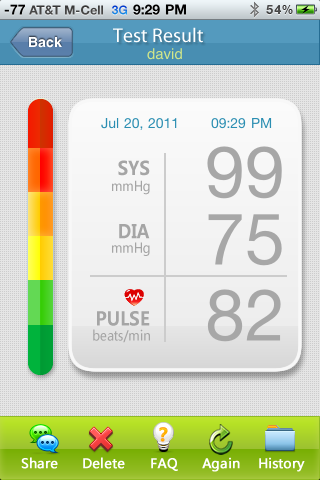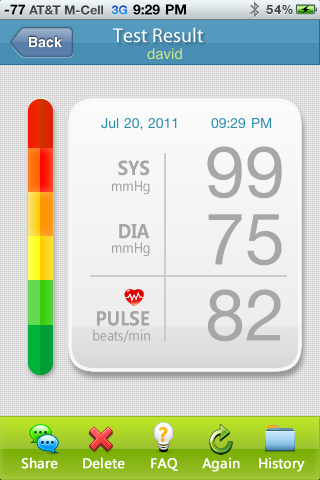 Multiple user accounts can be created so each member of the family can track their own blood pressure and pulse. If you wish the information can be shared via Facebook, Twitter, or through email. Most users will just need to remember to show the history section to their physicians.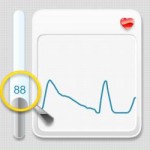 While the blood pressure and pulse are being measured, the application gives wonderful visual feedback. I enjoyed watching the actual pressure waves that are being detected. Other than being pretty, the pressure tracing is helpful in reminding the user to be still as the tracing is visibly altered with movement.
In conclusion, I believe this is an amazingly clever and useful device for anybody that needs to monitor and track their blood pressure. The hardware is simple and high quality while the software is beautiful and intuitive. Smartphones are slowly changing the way health care is recorded and delivered. The iHealth Blood Pressure dock is bringing this technology directly into our homes.
This review was independently created without any financial support or encouragement from iHealth Labs.